Single Center Experience in Using Donor-Derived Cell-Free DNA in Kidney Transplant
1Medicine, Division of Nephrology, Kidney and Pancreas Transplant Programs, UCLA, Los Angeles, CA, 2Department of Pharmacy, UCLA, Los Angeles, CA
Meeting: 2020 American Transplant Congress
Abstract number: A-302
Keywords: Kidney transplantation, Non-invasive diagnosis, Rejection
Session Information
Session Time: 3:15pm-4:00pm
Presentation Time: 3:30pm-4:00pm
Location: Virtual
*Purpose: While the gold standard for diagnosing allograft rejection in kidney transplant recipients (KTX) continues to be histopathologic evaluation, it has been well recognized that a kidney biopsy is not without risks for complications such as bleeding. The introduction of a Medicare approved donor-derived cell-free DNA (dd-cfDNA) testing has potentially allowed for a non-invasive method for detecting allograft injury. As it requires only patient serum, dd-cfDNA may be safer and can be performed more frequently than a kidney biopsy. We herein describe our experience in utilizing commercial available dd-cfDNA to help determine patients with vs. without rejection.
*Methods: We included all KTX who had dd-cfDNA testing at our institution between 3/2018-10/2019. Patients were stratified into for cause vs. surveillance dd-cfDNA. Correlation between dd-cfDNA level and allograft rejection was assessed. Acute rejection were all defined by kidney biopsy. Per manufacturer, dd-cfDNA level > 1% is considered active rejection and result < 1% is considered no active rejection. KTX with dd-cfDNA but without concurrent kidney biopsy nor rejection treatment were presumed to be without allograft rejection.
*Results: A total of 139 dd-cfDNA results from 95 KTX were included, of which 77 dd-cfDNA were for cause vs. 62 dd-cfDNA were surveillance. In the 77 for cause dd-cfDNA, there were 16 biopsy proven rejections but only 6 had positive dd-cfDNA. In the 62 surveillance dd-cfDNA, there were 7 biopsy proven rejections but only 3 had positive dd-cfDNA. Positive and negative predictive values for rejection in for cause KTX were 53.3% and 85.4%, respectively. In surveillance, positive and negative predictive values for rejection were 56.7% and 93.8%, respectively. Median dd-cfDNA level was 0.65% in rejection group and 0.29% in no rejection group.
*Conclusions: Donor-derived cell-free DNA level < 1% may be used to exclude rejection in KTX with stable allograft function. However, among those with dd-cfDNA > 1%, a kidney biopsy will still be needed to confirm rejection diagnosis as a positive predictive value was only 53.3-56.7%.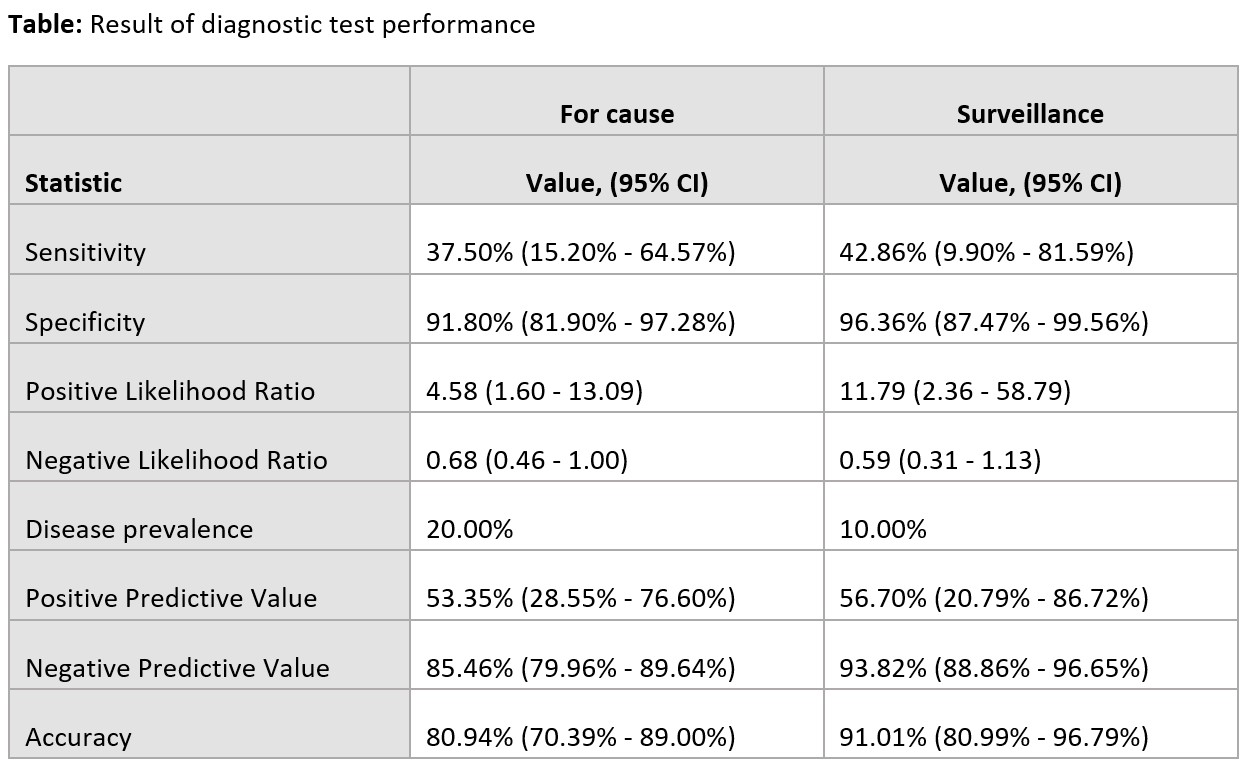 To cite this abstract in AMA style:
Homkrailas P, Lee S, Kandagedon B, Danovitch G, Bunnapradist S. Single Center Experience in Using Donor-Derived Cell-Free DNA in Kidney Transplant [abstract].
Am J Transplant.
2020; 20 (suppl 3). https://atcmeetingabstracts.com/abstract/single-center-experience-in-using-donor-derived-cell-free-dna-in-kidney-transplant/. Accessed May 14, 2021.
« Back to 2020 American Transplant Congress