Single Cell Analysis of Living Donor Kidneys Characterizes Resident Parenchymal and Immune Populations in Male and Female Donors
1Toronto General Hospital Research Institute and UHN Transplant Centre, UHN, Toronto, ON, Canada, 2Toronto General Hospital Research Institute, Dept. of Immunology, UHN Transplant, Toronto, ON, Canada
Meeting: 2020 American Transplant Congress
Abstract number: 405
Keywords: Inflammation, Kidney, Living donor
Session Information
Session Time: 3:15pm-4:45pm
Presentation Time: 3:27pm-3:39pm
Location: Virtual
*Purpose:
Understanding the molecular profiles and individual contributions of kidney parenchymal and resident/infiltrating immune cells during homeostasis would facilitate development of treatments for kidney graft disease. Single-cell RNA sequencing enables precise characterization of the transcriptional signature from individual cells and identification of common and rare cell types. Previous efforts to characterise renal parenchymal and immune cell populations were limited by utilization of model organisms, or use of human samples from inflamed allograft tissue, rejected deceased donor kidneys or nephrectomy specimens, which do not recapitulate homeostatic conditions. Furthermore, the impact of sex on the transcriptional profile of the human kidney has yet to be addressed.
*Methods: We sequenced single-cell suspensions of 20 pre-implantation living donor biopsies comprised of 10 male and 10 female living kidney donors (10X Genomics-Version3). 10 biopsies (5 male, 5 female) underwent CD45+ selection to enhance representation of immune cell populations.The Cellranger software package was used for mapping and quantification. Ambient RNA contamination was corrected using SoupX. Standard pre-processing and normalization were performed using components of the Seurat pipeline in R, with scClustViz used for cluster visualization.
*Results: Parenchymal populations from glomerular (podocytes, endothelial cells) and tubulointerstitial compartments (Loop of Henle, distal convoluted tubule, principal cells and intercalated cells) featured on our map (Fig1A). Immune cells represented a minor contribution (<1%) to the total map, in contrast to prior studies using deceased or rejected donor kidneys. CD45+ selection enabled identification of B cells, T cells, resident and newly infiltrated macrophages, as well as a population of innate lymphoid cells (Fig1B). Our healthy living donor kidney map reveals sex-specific differences, such as altered metabolic gene expression in living-donor proximal tubule cells (Fig1C).
*Conclusions: We have generated a comprehensive healthy kidney map with novel focus on sex-specific differences on both parenchymal and immune populations. Living donor kidneys contain a dominant portion of tubular epithelial cells, with a small immune cell population. Male and female tubular epithelial cells display marked changes in metabolism.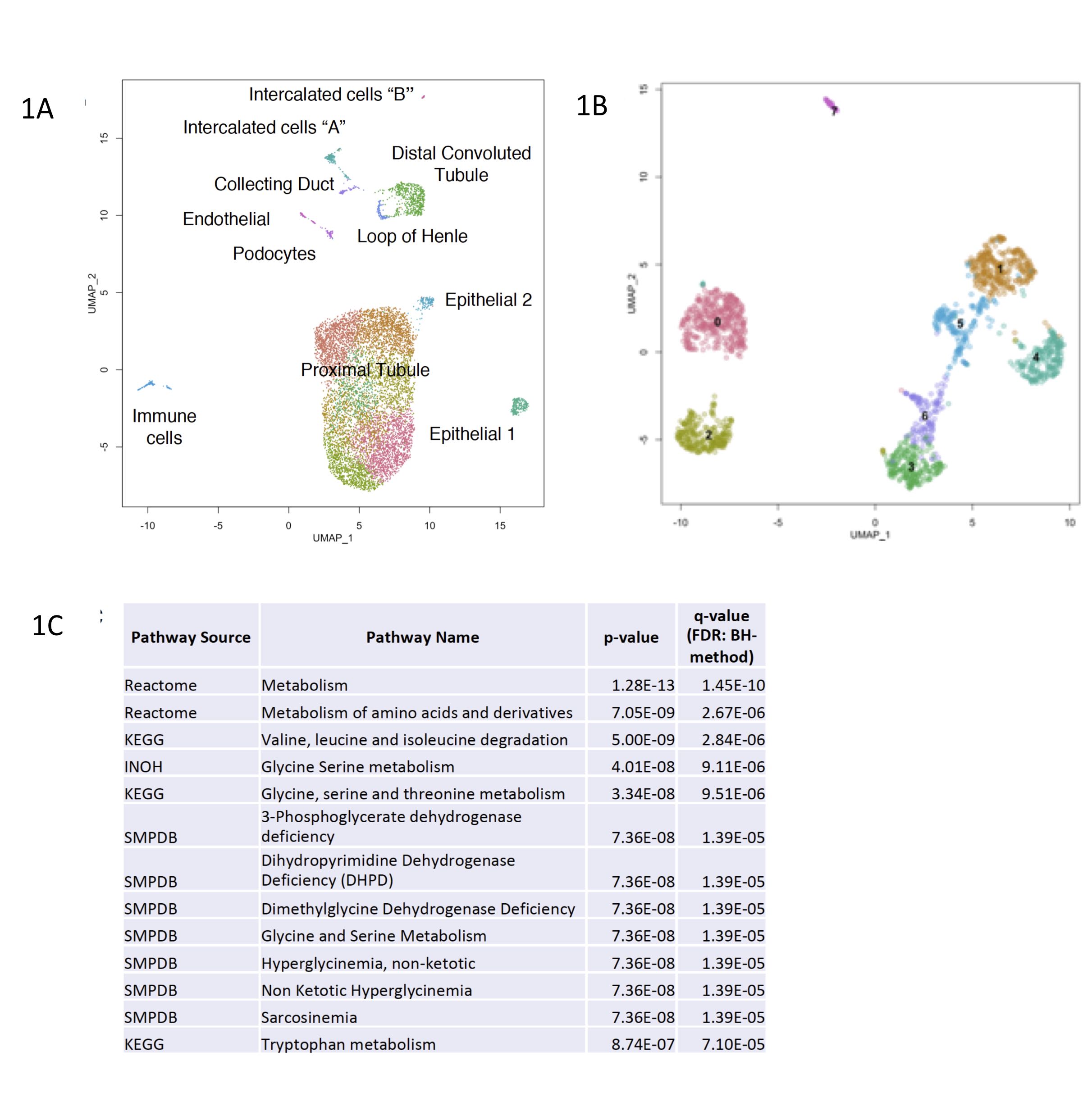 To cite this abstract in AMA style:
McEvoy C, Szusz J, Clotet-Freixas S, An J, Crome S, Konvalinka A. Single Cell Analysis of Living Donor Kidneys Characterizes Resident Parenchymal and Immune Populations in Male and Female Donors [abstract].
Am J Transplant.
2020; 20 (suppl 3). https://atcmeetingabstracts.com/abstract/single-cell-analysis-of-living-donor-kidneys-characterizes-resident-parenchymal-and-immune-populations-in-male-and-female-donors/. Accessed March 8, 2021.
« Back to 2020 American Transplant Congress