Safety and Efficacy of All Oral DAA Therapy for Genotype 1 HCV Post-Liver Transplant: Interval Results from the HCV-TARGET Multicenter Prospective Observational Study
J. O'Leary,1 R. Brown,2 K. Reddy,3 A. Kuo,4 G. Morelli,5 R. Stravitz,6 G. Everson,7 C. Durand,8 H. Vargas,9 P. Kwo,10 C. Frenette,11 J. Peter,12 M. Vainorius,12 L. Akushevich,12 D. Nelson,5 M. Fried,12 N. Terrault.13
1Baylor University Medical Center, TX
2Columbia University, NY
3University of Pennsylvania, PA
4UCSD, CA
5University of Florida, Gainesville, Gainesville, FL
6Virginia Commonwealth University, VA
7University of Colorado, CO
8Johns Hopkins, MD
9Mayo Clinic, AZ
10Indiana University, IL
11Scipps Clinic, CA
12University of North Carolina, NC
13UCSF, CA.
Meeting: 2015 American Transplant Congress
Abstract number: 221
Keywords: Hepatitis C, Liver transplantation
Session Information
Session Time: 2:15pm-3:45pm
Presentation Time: 2:27pm-2:39pm
Location: Terrace IV
The safety and efficacy of direct-acting antivirals (DAA) for HCV post-LT remain unknown. METHODS: We describe the safety and efficacy of all oral DAA-therapy for genotype-1 recurrent HCV post-LT in the prospectively enrolled multicenter HCV-TARGET consortium treated from 12/2013 to 11/2014. RESULTS: 155 genotype 1 subjects started treatment. The Safety Cohort(n=117) reached an end-of-treatment time point, & the Efficacy Cohort(n=80) reached a known virological outcome. All patients were treated interferon free with sofosbuvir (SOF) + simeprevir (SMV) w/ or w/o ribavirin (RBV). Most subjects were older( 60 yo) men(74%) with recurrent cirrhosis (63%). 57% failed prior antiviral therapy. 14 patients also had a renal transplant. Immunosuppression included tacrolimus (79%), cyclosporine (10%), & mTOR (15%). At least one AE was reported in 80% of patients. Most AEs were mild, & most commonly included fatigue, headache, & anemia. Patients treated w/ vs w/o RBV more commonly experienced anemia(37.5% vs 3%). SAEs occurred in 13.7% of patients, including 3 deaths. One episode of liver allograft rejection was reported. Overall SVR4 was 86%. CONCLUSION: Despite the presence of recurrent cirrhosis & prior treatment failure in more than half of this real-world prospectively enrolled multicenter observational cohort, SVR4 rates with all oral SOF+SMV+/-RBV were high(86%) & tolerability was excellent in genotype 1 post-LT patients. Updated SVR rates will be presented.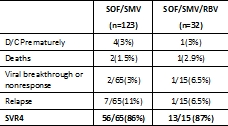 To cite this abstract in AMA style:
O'Leary J, Brown R, Reddy K, Kuo A, Morelli G, Stravitz R, Everson G, Durand C, Vargas H, Kwo P, Frenette C, Peter J, Vainorius M, Akushevich L, Nelson D, Fried M, Terrault N. Safety and Efficacy of All Oral DAA Therapy for Genotype 1 HCV Post-Liver Transplant: Interval Results from the HCV-TARGET Multicenter Prospective Observational Study [abstract].
Am J Transplant.
2015; 15 (suppl 3). https://atcmeetingabstracts.com/abstract/safety-and-efficacy-of-all-oral-daa-therapy-for-genotype-1-hcv-post-liver-transplant-interval-results-from-the-hcv-target-multicenter-prospective-observational-study/. Accessed September 22, 2019.
« Back to 2015 American Transplant Congress