Session Information
Session Time: 3:15pm-4:00pm
Presentation Time: 3:30pm-4:00pm
Location: Virtual
*Purpose: C3GN encompasses a group of renal diseases often associated with paraproteinemias. Recurrence in renal allografts is reported. Currently, there are no effective or curative therapies. Here we report our experience using the plasma cell depleting humanized monoclonal antibody daratumumab (anti-CD38) for treatment.
*Methods: Patient is a 64 y.o. male with a history of ESRD secondary to an C3GN, with initial biopsy (2011) showing an MPGN type I pattern and elevated levels of IgG3λ restricted free light chains (356mg/L) with negative BM biopsy. Patient was treated with anti-CD20 X 2 courses and steroids, but progressed. Patient received a LD kidney transplant (ABOi) 12/2018 and initially did well but presented at 1M post-transplant with rising SCr 1.0mg/dl->2.4mg/dl and +dd-cf-DNA test. A repeat biopsy was done.
*Results: IgG3λ-light chains were +280mg/L, DSAs and anti-A/B antibodies were negative. Proteinuria was 1gm. The biopsy revealed recurrence of cryoglobulinemic GN with IgG3λ-R cryoglobulin immune thrombi in the glomeruli (Figure 1). Initial treatment with PLEX + steroids was completed with SCr decreasing 2.4mg/dl->1.2mg/dl. However, renal dysfunction rapidly returned with SCr 1.7mg/dl and rising IgG3λ-light chains. BM aspirate revealed 1.5% CD38+/λ light chain+ plasma cells. Patient was then treated with daratumumab (anti-CD38, anti-plasma cell) 16mg/kg IV weekly x8 doses. Over the next 1-2 M, patient showed significant reductions in IgG3λ-light chains(285mg/L->48mg/L), resolution in proteinuria and improvement in SCr 1.4mg/dl. A repeat renal biopsy showed complete resolution of cryoglobulinemic GN, no ABMR, no CMR (Figure 2). Patient is stable 1 year post-diagnosis.
*Conclusions: C3GN can recur after transplant. Since no effective therapy currently exists, those nephritides associated with paraproteinemia may benefit from treatment with the plasma cell depleting monoclonal daratumumab.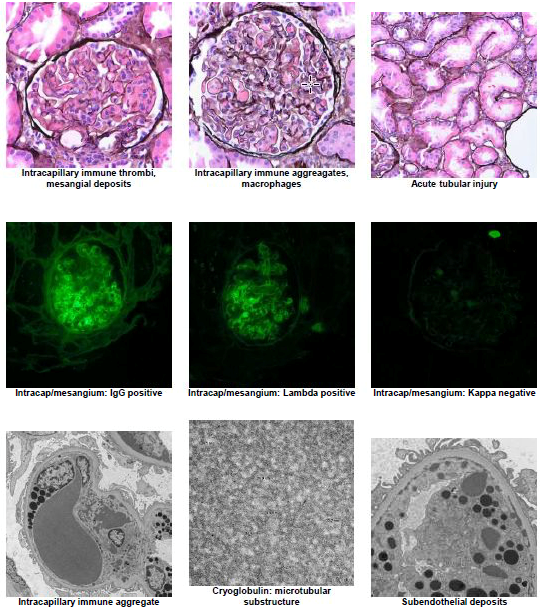 To cite this abstract in AMA style:
Jordan SC, Vescio R, Hou J, Ammerman N, Najjar R, Sethi S, Huang E, Peng A, Vo A. Recurrence of Igg3Lambda Restricted Cryoglobulinemic Glomerulonephritis in a Renal Allograft: Resolution after Daratumumab Treatment [abstract].
Am J Transplant.
2020; 20 (suppl 3). https://atcmeetingabstracts.com/abstract/recurrence-of-igg3lambda-restricted-cryoglobulinemic-glomerulonephritis-in-a-renal-allograft-resolution-after-daratumumab-treatment/. Accessed December 7, 2021.
« Back to 2020 American Transplant Congress