Pregnancy Outcomes by Conception Age in Female Liver Transplant Recipients
M. Sarkar1, L. A. Coscia2, D. Kliniewski2, S. Rao3, S. Constantinescu4, M. J. Moritz5
1Medicine, University of California San Francisco, San Francisco, CA, 2Gift of Life Institute, Transplant Pregnancy Registry International, Philadelphia, PA, 3Medicine, University of Virginia Health System, Charlottesville, VA, 4Lewis Katz School of Medicine, Temple University, Philadelphia, PA, 5Surgery, Lehigh Valley Health Network, Allentown, PA
Meeting: 2019 American Transplant Congress
Abstract number: D316
Keywords: Age factors, Liver transplantation, Pregnancy, Quality of life
Session Information
Session Time: 6:00pm-7:00pm
Presentation Time: 6:00pm-7:00pm
Location: Hall C & D
*Purpose: The purpose of this study is to compare pregnancy outcomes in liver transplant recipients by different conception ages. Background: Over 30% of female transplant patients are reproductive aged, including women who are transplanted as children. Fertility is rapidly restored following liver transplant, leading to both unplanned and planned pregnancies. How pregnancy rates and outcomes differ by age at conception in liver transplant recipients is not known.
*Methods: Data were collected by the Transplant Pregnancy Registry International (TPR), a voluntary pregnancy registry using questionnaires, telephone interviews, and medical records review. Maternal, fetal, and transplant outcomes were compared by age at conception.
*Results: Data from 576 pregnancies were analyzed with conception dates from Nov 1985-May 2018. The younger subgroup of women (18- < 25 years) had the highest percentage of unplanned pregnancies at > 62% (Table).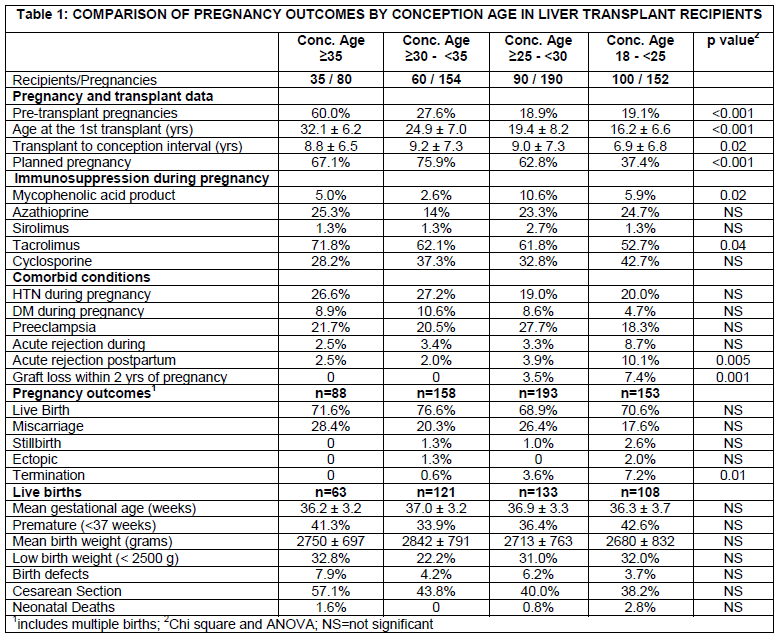 Graft outcomes were worse in this young subgroup, including higher percentage of acute rejection episodes during pregnancy (8.7%) and the postpartum period (10.1%), as well as greater graft loss within 2 years of pregnancy (7.4%). Pregnancy termination was also more common in the youngest subgroup at 7.2% (vs < 4.0% for other age groups). Live birth outcomes were similar by age at conception.
*Conclusions: In this large cohort of pregnancy after liver transplant we identified notable differences in maternal and fetal outcomes by age of conception. Women less than 25 years at conception were more likely to have unplanned pregnancies, as well as acute rejection and graft loss. Given the adverse outcomes on fetal and graft health in this young subgroup, efforts to improve family planning counseling are greatly needed, with particular emphasis on contraception management in young transplant patients wishing to appropriately plan pregnancy.
To cite this abstract in AMA style:
Sarkar M, Coscia LA, Kliniewski D, Rao S, Constantinescu S, Moritz MJ. Pregnancy Outcomes by Conception Age in Female Liver Transplant Recipients [abstract].
Am J Transplant.
2019; 19 (suppl 3). https://atcmeetingabstracts.com/abstract/pregnancy-outcomes-by-conception-age-in-female-liver-transplant-recipients/. Accessed July 24, 2021.
« Back to 2019 American Transplant Congress