Session Information
Session Time: 2:30pm-4:00pm

Presentation Time: 2:30pm-2:42pm
Location: Room 606/607
Purpose: We previously described a smartphone application that harnesses social media to increase potential living donors among kidney and liver transplant candidates. We compared potential living donors (PLDs) for transplant candidates using the application (donor app) to PLDs identified through standard of care.
Methods: We previously enrolled 54 adult kidney-only and liver-only waitlisted candidates in a pilot study from 2014-2015 to evaluate the feasibility and efficacy of the donor app, a smartphone and web-based application that helps transplant candidates create a Facebook post describing their illness and expressing need for a live donor. We compared PLDs identified through the donor app pilot to PLDs identified through standard of care.
Results: Candidates using the smartphone application were not significantly different from waitlist patients in regards to sex, race, or age.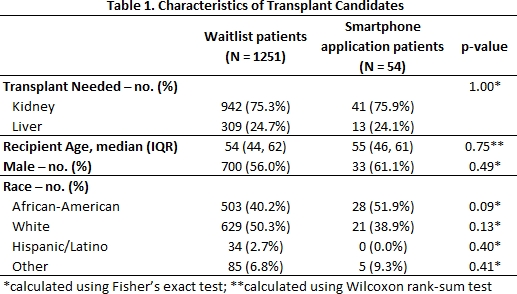 However, PLDs who came forward on behalf of donor app pilot participants were twice as likely (risk ratio 2.03, p = 0.03) to be African-American; all African-American PLDs who came forward for pilot participants did so on behalf of African-American candidates.
There were not significant differences in the nature of relationships between donors and candidates between groups. The two groups of PLDs did not differ in other respects.
Conclusions: Despite concerns about the appropriate use of social media in increasing organ donation, results from our pilot study demonstrate that chaperoned social media donor recruitment may reach populations of a patient's social network who are currently underutilized in standard of care recruitment of living donors.
CITATION INFORMATION: Weeks S., Kumar K., Konel J., King E., Henderson M., Cameron A., Garonzik Wang J. Potential Living Donors Identified through Social Media Am J Transplant. 2017;17 (suppl 3).
To cite this abstract in AMA style:
Weeks S, Kumar K, Konel J, King E, Henderson M, Cameron A, Wang JGaronzik. Potential Living Donors Identified through Social Media [abstract]. https://atcmeetingabstracts.com/abstract/potential-living-donors-identified-through-social-media/. Accessed September 26, 2023.
« Back to 2018 American Transplant Congress