Session Information
Session Time: 6:00pm-7:00pm
Presentation Time: 6:00pm-7:00pm
Location: Hall C & D
*Purpose: The purpose of this study was to examine the characteristics and risk factors for PTLD after intestinal transplant.
*Methods: Retrospective review of intestinal transplant recipients between 11/2003 and 11/2017 at a single-center academic institution. Demographic, immunologic characteristics, treatment, graft and patient survival were compared between those with PTLD and those without.
*Results: Of the 234 patients who underwent intestinal transplant, 21 (9%) experienced an episode of PTLD. There was no significant difference between the two groups with regards to age, sex, initial disease type, EBV High risk status, donor characteristics, or prior episodes of acute rejection. Those with PTLD were more likely to have received Thymoglobulin induction compared with controls (54% vs 26%, p = 0.005) and a multivisceral transplant including a liver (20% vs 3 %, p = 0.024). The most common presenting signs and symptoms were EBV viremia (89%), lymphadenopathy (57%), and fever (38%). Fifty-seven percent of patients had graft involvement. PTLD was fatal in 29% (6/21) of cases and required explant in 14% (3/21). When comparing those who died from PTLD and those who survived, there was no difference in age, Ki-67, CD20 positivity, type of PTLD, rates of CNS or BM involvement, or treatment type. Patient and graft survival at 5 years was lower in those with PTLD compared to those without (50% vs 70%, p = 0.044 and 45% vs 67%, p = 0.019, respectively).
*Conclusions: While the incidence of PTLD has improved in the contemporary period, our experience shows that induction immunosuppression with Thymoglobulin is associated with PTLD. Additionally, patients with PTLD had worse graft and overall survival than those who did not.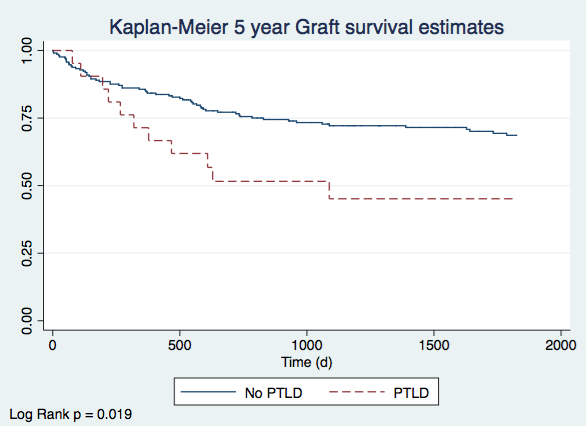 To cite this abstract in AMA style:
Zimmerman A, Hawksworth J, Kroemer A, Radkani P, Khan K, Kaufman S, Yazigi N, Subramanian S, Fishbein T, Matsumoto C. Post-transplant Lymphoproliferative Disorder Following Intestine Transplantation: Contemporary Single Center Experience [abstract].
Am J Transplant.
2019; 19 (suppl 3). https://atcmeetingabstracts.com/abstract/post-transplant-lymphoproliferative-disorder-following-intestine-transplantation-contemporary-single-center-experience/. Accessed August 3, 2021.
« Back to 2019 American Transplant Congress