Plasmapheresis and Rituximab for Prevention of Focal Segmental Glomerulosclerosis Recurrence Post-Kidney Transplantation
1Pharmacy, Houston Methodist Hospital, Houston, TX, 2Nephrology, Houston Methodist Hospital, Houston, TX, 3Surgery, Houston Methodist Hospital, Houston, TX
Meeting: 2022 American Transplant Congress
Abstract number: 1418
Keywords: Graft failure, Nephrotic syndrome, Proteinuria, Protocol biopsy
Topic: Clinical Science » Kidney » 49 - Recurrent Kidney Disease & Genetics
Session Information
Session Time: 7:00pm-8:00pm

Presentation Time: 7:00pm-8:00pm
Location: Hynes Halls C & D
*Purpose: Primary focal segmental glomerulosclerosis (FSGS) recurs after kidney transplantation (KT) in 30-50% of recipients with a median time of 1.5 months post-KT. Recurrence is associated with early graft loss in 60% of cases. The aim of this study is to assess the efficacy of pre-emptive therapeutic plasma exchange (TPE) and rituximab for the prevention of FSGS recurrence post-KT.
*Methods: This single-center, retrospective study included patients receiving KT for primary FSGS between May 2016 and August 2021. Living-donor KT recipients received three sessions of TPE prior to scheduled transplant. Recipients of both living and deceased donor KT received 3 postoperative sessions of TPE followed by one dose of 375 mg/m2 rituximab with or without intravenous immune globulin (IVIG) 0.5 g/kg. Recipients underwent protocol biopsy at one month to screen for FSGS recurrence. The primary endpoint was a composite for disease recurrence including proteinuria (≥1 g/day) or/and biopsy-proven FSGS within one month.
*Results: 54 patients received KT for FSGS during the study period using the TPE/rituximab protocol. 5 patients (9%) experienced FSGS recurrence within one month of transplant. A total of 10 patients (19%) were found to have disease recurrence within a year, with median (IQR) time to recurrence of 37 days (27-66). White race and history of hypertension were independent risk factors for recurrence, whereas African American race and diabetes were associated with a reduced risk of recurrence. 31 patients (57%) also received IVIG prior to discharge due to concerns for hypogammaglobulinemia. There were 18 documented infections in 13 patients (24%) within 3 months of transplant. Patients who received IVIG had significantly fewer cases of infection (3 cases: 1 viral and 2 COVID-19) compared to patients who did not receive IVIG (15 cases: 4 bacterial, 9 viral, 1 fungal, and 1 COVID-19), p<0.001. At one year, 9 patients (19%) had biopsy-proven rejection (5 acute cellular rejection, 1 antibody-mediated rejection, and 3 mixed rejection). There were no instances of graft loss or mortality observed at one year.
*Conclusions: The utilization of plasma exchange and rituximab may prevent early disease recurrence of FSGS without significant rates of infection, graft loss, or mortality.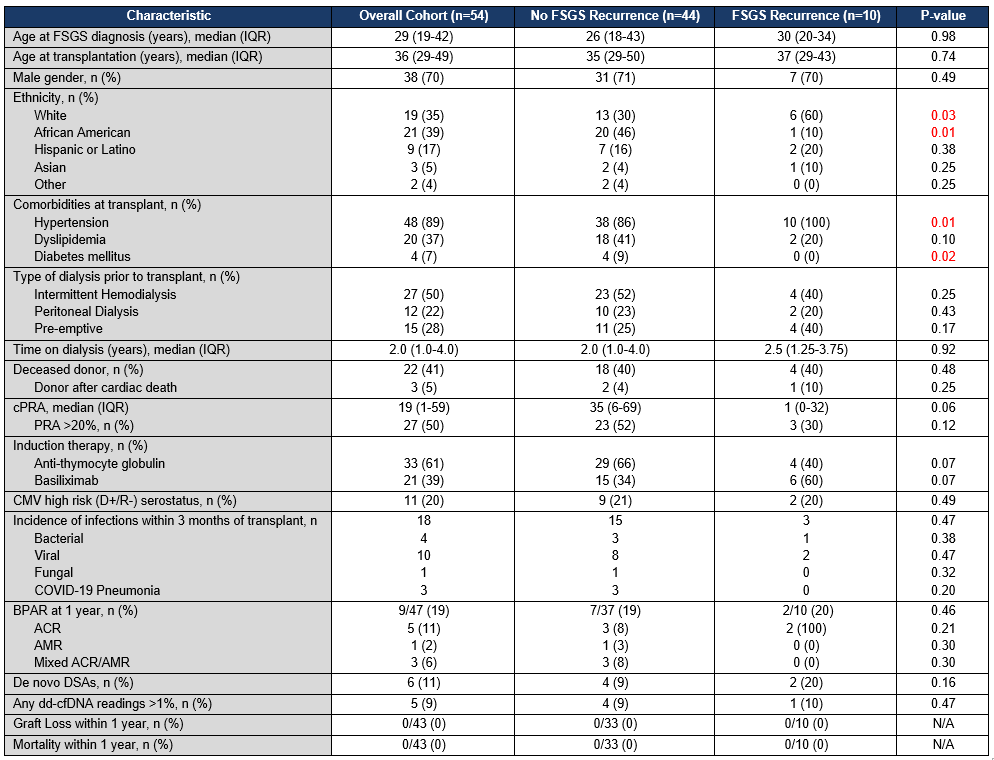 To cite this abstract in AMA style:
Yun AN, Rogers AW, Krisl JC, Kagan A, Adrogue HE, Khan AJ, Khairallah P, Yi SG, Hobeika MJ, McMillan RR, Podder H, Gaber AO, Knight RJ. Plasmapheresis and Rituximab for Prevention of Focal Segmental Glomerulosclerosis Recurrence Post-Kidney Transplantation [abstract].
Am J Transplant.
2022; 22 (suppl 3). https://atcmeetingabstracts.com/abstract/plasmapheresis-and-rituximab-for-prevention-of-focal-segmental-glomerulosclerosis-recurrence-post-kidney-transplantation/. Accessed March 26, 2023.
« Back to 2022 American Transplant Congress