Peri-operative Liver Transplant Anesthesia Practice Patterns in the United States
1Department of Anesthesiology, University of Colorado, Aurora, CO, 2Medical University of South Carolina, Charleston, SC, 3Emory University, Atlanta, GA, 4Lahey Health, Burlington, MA, 5University of Texas Health Science Center at Houston, Houston, TX, 6University of Pittsburgh, Pittsburgh, PA, 7University of Toronto, Toronto, ON, Canada, 8University of Texas Health Science Center San Antonio, San Antonio, TX, 9University of Michigan, Ann Arbor, MI, 10Georgetown University, Washington DC, DC
Meeting: 2021 American Transplant Congress
Abstract number: LB 26
Keywords: Echocardiography, Liver transplantation, Resource utilization
Topic: Administrative » Quality Assurance Process Improvement & Regulatory Issues
*Purpose: Transplant anesthesiology is an evolving subspecialty and has not been the subject of an overall review of practice patterns in the United States since 2013. The Society for the Advancement of Transplant Anesthesia Quality & Standards Committee conducted a survey to evaluate current practice patterns among all transplant programs in the United States.
*Methods: A web-based survey was sent to every identified Director of Liver Transplant Anesthesia at each transplant center based on information from the Scientific Registry of Transplant Recipients database. A total of 112 surveys were distributed during a 3-month period ending in January 2021.
*Results: Sixty-five responses were collected from both academic and private practice programs. Results showed wide variation in pre-operative evaluation, intraoperative management and postoperative disposition. Interestingly, 41.5% of responding programs report utilize veno-venous bypass; surprisingly, 18.5% of programs do not use any form of intraoperative renal replacement therapy. The use of viscoelastic coagulation testing and transesophageal echocardiography also appears to be expanding amongst transplant anesthesiologists. Pulmonary artery catheters, however, remain common practice in almost half of responding institutions.
*Conclusions: Substantial differences exist in liver transplant anesthesiology practice in the United States. Transplant anesthesia is vital for the overall success of multidisciplinary liver transplant programs. This data will prove essential in determining future recommendations as our subspecialty continues to grow.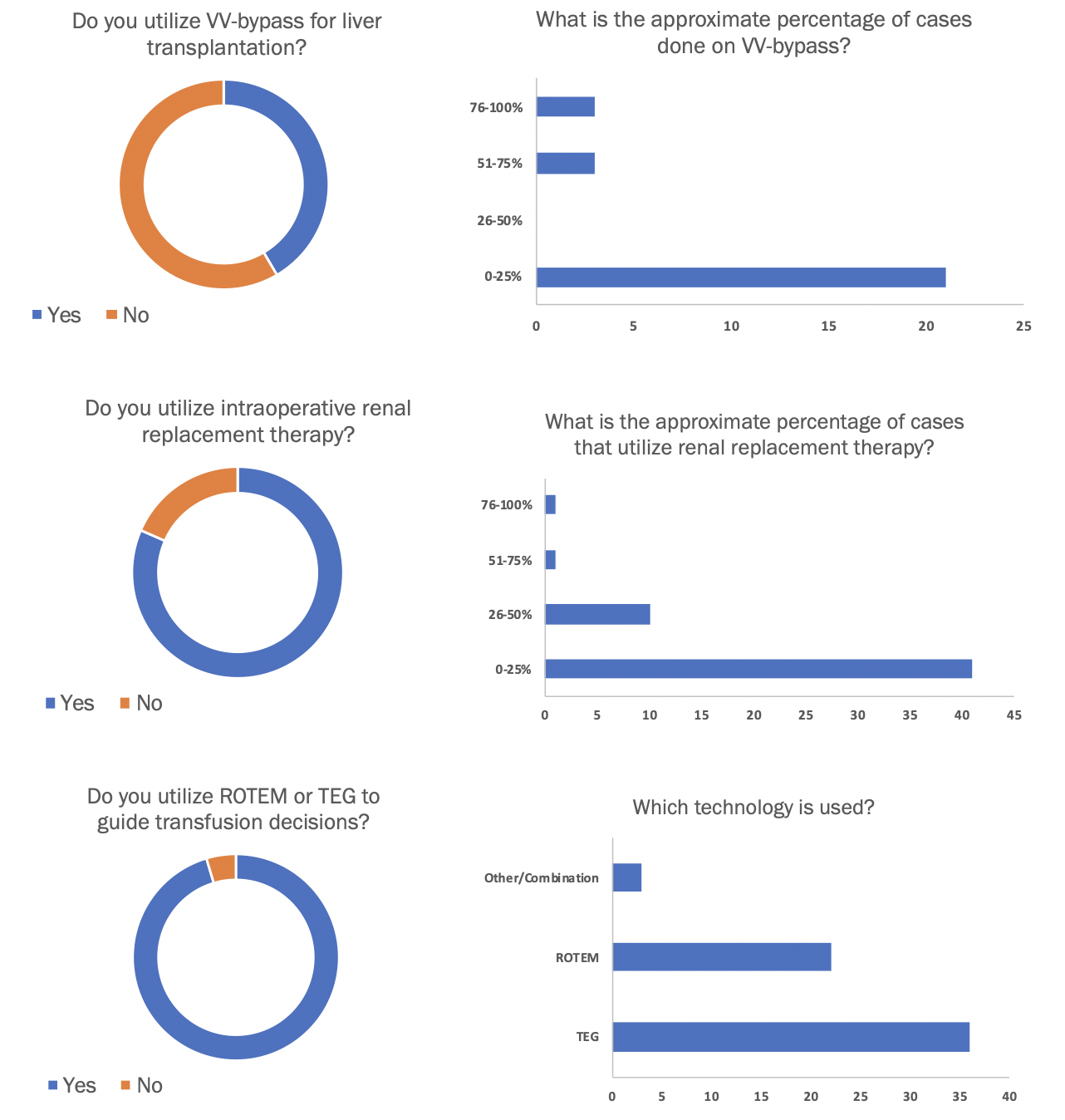 To cite this abstract in AMA style:
Crouch C, Hendrickse A, Stoll W, Sullivan C, Kaufman M, Pivalizza E, Damian D, Sellers D, Little M, McCluskey S, Kumar S, Marchi LDe, Sridhar S, Sakai T. Peri-operative Liver Transplant Anesthesia Practice Patterns in the United States [abstract].
Am J Transplant.
2021; 21 (suppl 3). https://atcmeetingabstracts.com/abstract/peri-operative-liver-transplant-anesthesia-practice-patterns-in-the-united-states/. Accessed December 7, 2021.
« Back to 2021 American Transplant Congress