Session Information
Session Time: 6:00pm-7:00pm
Presentation Time: 6:00pm-7:00pm
Location: Hall C & D
*Purpose: To demonstrate that an effective DCD program can lead to an increase in the procurement of transplantable organs with satisfactory transplant outcomes from uncontrolled DCDs.
*Methods: This was a single OPO, multi-center study evaluating the procurement and utilization of uncontrolled DCD donor organs. Ongoing hospital education on early referral and uncontrolled DCD protocols, including the development of a rapid recovery priority action checklist, were initiated prior to uncontrolled DCD donor recoveries.
*Results: Since the implementation of its DCD program in June 1995 through December 2017, this OPO has procured 186 uncontrolled DCD organ donors including 87 Maastricht Category II and 99 Maastricht Category IV donors. Uncontrolled DCD donor procurement increased the DCD donor pool by 15% and resulted in the transplantation of 254 organs including 239 kidneys, 12 livers, 2 pancreas and 1 lung. Mean donor age was 32 years (r = 27 days – 76 years). The mean time from donor asystole to cross-clamp, or warm ischemic time (WIT) for kidneys transplanted (N=239) was 48 minutes (r = 2 – 214). Over the 23 year evaluation period, the kidney ATN rate was 60% and kidney graft survival was 89% at 3 months, 86% at 6 months, 81% at 1 year, and 74% at 3 years. The mean WIT for livers transplanted (N=12) was 24 minutes (r =2 – 49). Of the 12 livers transplanted, 9 failed within 2 months while 3 continued to function for over 10 years.
*Conclusions: An effective uncontrolled DCD program increased the DCD donor pool by 15% over the 23 year evaluation period. Early graft loss was significantly higher in comparison to controlled DCD donor kidneys, but there were satisfactory long term survival rates for kidneys transplanted from these donors. Increased education and resources should be applied across the U.S. to expand the donor pool through uncontrolled DCD donor recoveries.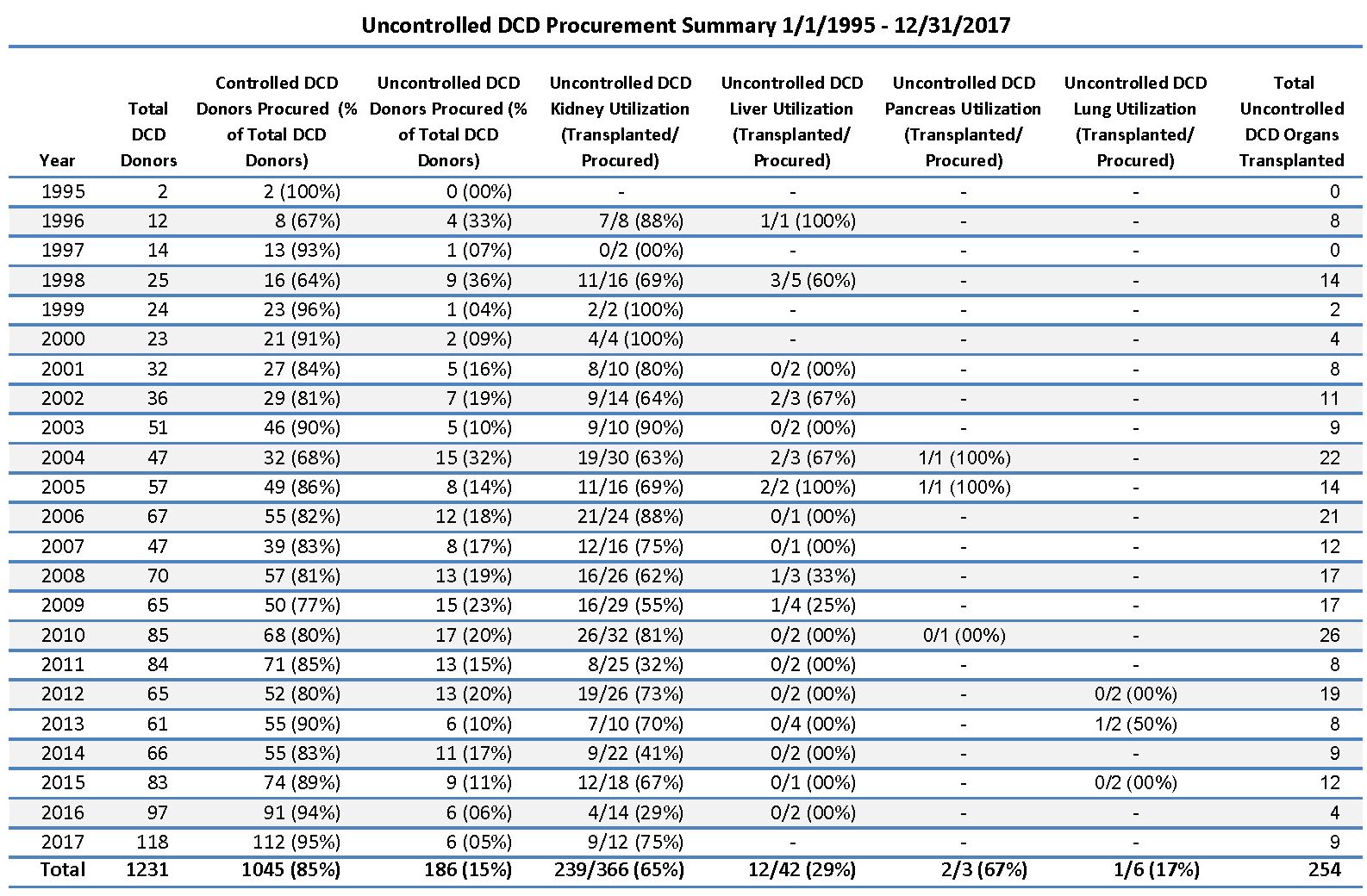 To cite this abstract in AMA style:
Hasz RD, West SM, Nathan HM. One Organ Procurement Organization's Uncontrolled Donation After Cardiocirculatory Death Program Increases The Donor Pool And Results In The Transplantation Of 254 Organs [abstract].
Am J Transplant.
2019; 19 (suppl 3). https://atcmeetingabstracts.com/abstract/one-organ-procurement-organizations-uncontrolled-donation-after-cardiocirculatory-death-program-increases-the-donor-pool-and-results-in-the-transplantation-of-254-organs/. Accessed September 24, 2021.
« Back to 2019 American Transplant Congress