Session Information
Session Time: 5:30pm-7:30pm
Presentation Time: 5:30pm-7:30pm
Location: Hall D1
Many transplant centers will not accept NDDs less than 25 because of: a) concerns about maturity; and b) they potentially have decades during which they could donate. Yet some potential NDDs argue that now is the ideal time as they have no job or family responsibilities. We compared post donation outcome of NDDs age 21-25 to directed donors (DirDs) of similar age. The evaluation and the acceptance criteria were identical for the two groups except that NDDs also saw a neuropsychologist. Between 1/1999 and 1/2016 we did 1809 LD transplants. Of these, 99 donors were age 21-25 (8 NDDs; 91 DirDs). All donors were surveyed at 6, 12, 24 months and q. 3 years thereafter. Donor characteristics are shown in Table 1. NDDs were more likely to have education beyond high school, to be working, and have health insurance. Median f/u was similar for both groups. There were no significant differences in post-op stay or complication rates; 2% DirDs were re-admitted, 0% NDDs. There is no difference in latest Cr level (NDD = 1.0 ± 0.1; DirDs=1.1 ± 0.3). Interestingly, a similar percentage of NDDs and DirDs reported that during recovery they had trouble paying bills, had borrowed money from family, or dipped into savings (Table 2). For both groups, SF-36 scores were in the normal range (data not shown). Long-term surveys regarding psychosocial outcomes were answered by 5 (63%) of NDDs; 22 (24%) of DirDs. Of note, 1 NDD was denied health insurance and life insurance (1 DirD had a higher health insurance premium). Of responders, 100% of both groups said they would donate again; 4 of 5 (80%) NDDs and 22 of 22 (100%) DirDs said they would recommend donation; 1 NDD was unsure. Although the number of NDDs is small (n=8), we found no signal that suggest that NDD candidate between 21-25 years should be turned down based on age alone.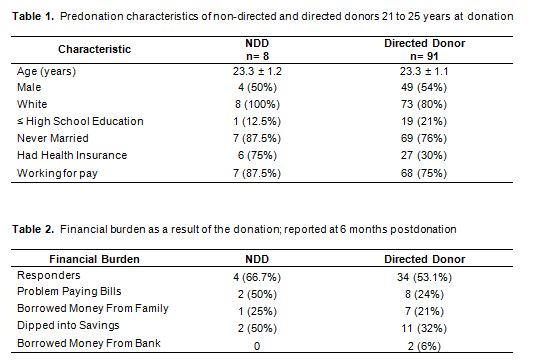 CITATION INFORMATION: Larson D, Wiseman J, Roman A, Berglund D, Ibrahim H, Matas A. Non-Directed Donors (NDD) Less Than 25 Years. Am J Transplant. 2017;17 (suppl 3).
To cite this abstract in AMA style:
Larson D, Wiseman J, Roman A, Berglund D, Ibrahim H, Matas A. Non-Directed Donors (NDD) Less Than 25 Years. [abstract].
Am J Transplant.
2017; 17 (suppl 3). https://atcmeetingabstracts.com/abstract/non-directed-donors-ndd-less-than-25-years/. Accessed May 14, 2021.
« Back to 2017 American Transplant Congress