*Purpose: Antibody-mediated rejection (ABMR) is a major cause of chronic renal allograft failure without effective treatment, and developing a novel therapy is an urgent need. Here, we hypothesized that Iguratimod (IGU), an immunomodulator that has been approved for treating rheumatoid arthritis, can prevent the ABMR in kidney transplantation.
*Methods: Human PBMCs were stimulated with anti-CD3 and anti-CD28 with and without iguratimod as well as were cultured for 5 days in the presence of IL-2 and R848, with and without various concentration of iguratimod, or bortezomib (BTZ, positive control) in vitro to test the effect of iguratimod on cell proliferation and whether iguratimod affects human B cell differentiation to antibody-stimulating cells (ASCs). To dissect the exact mechanism, we immunized C57BL/6 mice with NP-OVA/CFA, pre- and post-treated the IGU (30 mg/kg/d, PO, from day -7 to day 10), isolated serum and draining lymph nodes (dLNs) for analysis. Using a sequential skin and kidney transplantation ABMR model in rat to explore its function in organ transplant.
*Results: We found iguratimod did not affect survival of T and B cells after stimulation for 5 days. In the absence of iguratimod, about 15% of B cells differentiated into ASCs (CD19+CD38+CD27+, (Figure A)). Iguratimod inhibited B cell differentiation to ASCs in a dose-dependent manner (Figure A, right). A clear reduction was shown in the frequency of CD19+FAS+GL7+ germinal center (GC) B cells in the IGU group (Figure B). IGU attenuated IgG1+ class-switched B cells, IgG1+CD38+ memory-like B cells and NP-specific IgG and IgM in serum, suggesting that IGU inhibited B cell differentiation and proliferation, and antigen-specific antibody responses by inhibiting early GC responses. In B cells isolated from dLN, NF-KB, one of the key transcription factors regulating GC formation, was inhibited by IGU in dLNs, which is consistent with OVA stimulation data (Figure C). This suggests that IGU inhibited GC formation probably by regulating the NF-KB pathway. Finally, in ABMR rat model, we found IGU attenuated ABMR and prolonged the graft survival, with histological evidence of ameliorated glomerulitis and peritubular capillaritis, less C4d deposition in kidney grafts, and lower titer of DSA in serum.
*Conclusions: IGU specifically inhibited GC formation and thus attenuated DSA formation without impacting T cell survival. IGU can be a potential new immunosuppressant to prevent and attenuate ABMR in kidney transplantation (Figure D).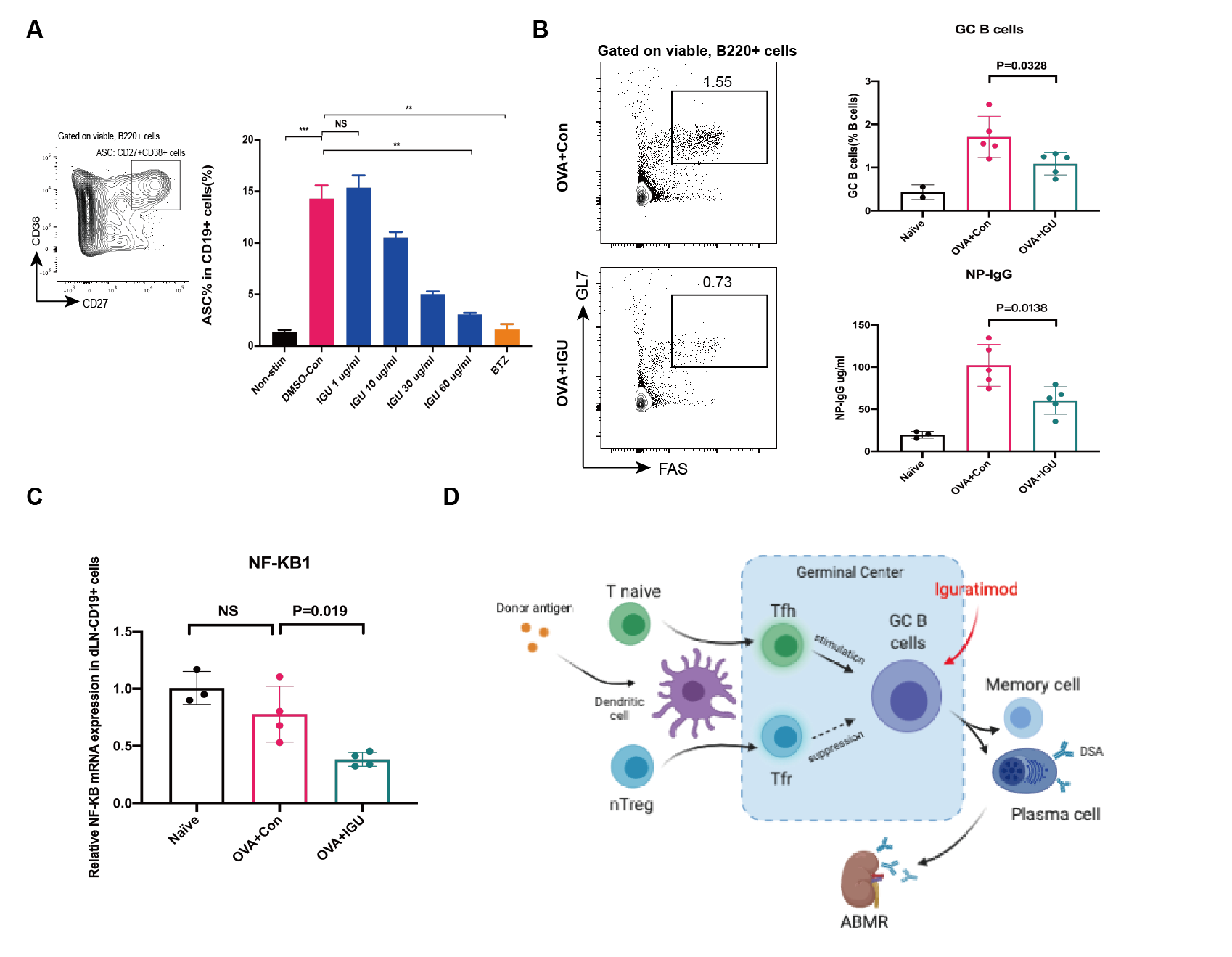 To cite this abstract in AMA style:
Zhang H, Chandraker A, Sage P, Murakami N. Iguratimod Prevents Antibody-mediated Rejection by Regulating Germinal Center Formation and Antibody Production [abstract].
Am J Transplant.
2021; 21 (suppl 3). https://atcmeetingabstracts.com/abstract/iguratimod-prevents-antibody-mediated-rejection-by-regulating-germinal-center-formation-and-antibody-production/. Accessed June 20, 2021.
« Back to 2021 American Transplant Congress