Session Information
Session Time: 6:00pm-7:00pm
Presentation Time: 6:00pm-7:00pm
Location: Hall C & D
*Purpose: Costimulation blockade (CoB) is a promising new transplant immunosuppression strategy offering improved long-term patient and allograft survival without the nephrotoxicity of calcineurin inhibitors. However, increased risks of acute rejection have impeded widespread adoption of CoB. Type I interferons (IFN), produced mainly by plasmacytoid dendritic cells (pDCs) in response to innate immune signals, induce systemic inflammation that may prime the adaptive immune system for acute rejection. In this study, we examine the contribution of signaling through the type I IFN receptor (IFNAR) to CoB-resistant allograft rejection.
*Methods: We performed fully MHC-mismatched skin grafts from Balb/C donors to C57BL/6 recipients. Mice were treated with CoB alone (250ug CTLA4-Ig + 250ug anti-CD154 given by IP injection day 0, 2, 4, 6) or in conjunction with anti-IFNAR (250ug). Mice were euthanized 1, 2 and 3 weeks post-transplant and the lymphocytes were analyzed by flow cytometry.
*Results: We have previously shown that transplanted untreated mice reject rapidly (MST=11 days), that CoB treatment improved survival but resulted in CoB-independent rejection (MST=23d), and that CoB+aIFNAR significantly improved survival (MST>60d). Here we show that IFNAR was highly expressed on murine pDCs (PDCA1+SiglecH+B220+CD11b-) relative to conventional DCs (cDCs) and T cells (Fig 1). Combination treatment with CoB+anti-IFNAR significantly reduced MHC I expression on pDCs compared to CoB alone (Fig1a), and reduced CD80 expression on pDCs at the peak of rejection (Fig2b), suggesting that IFNAR blockade attenuates the ability of pDCs to prime CD8+ T cells. We investigated the phenotype of CD8+ T cells at the peak of rejection and found that CoB+anti-IFNAR led to a reduction in activation and effector functions of CD8+ T cells compared to CoB alone, demonstrated by reduced frequencies of CD44+CD8+ T cells in draining lymph nodes (Fig2c), and an inhibition of IFN-gamma and TNF production by CD8+ T cells (Fig2d).
*Conclusions: These data suggest that signaling through IFNAR augments pDC activation and is associated with CD8+ T cell activation and effector functions in order to promote CoB-resistant allograft rejection.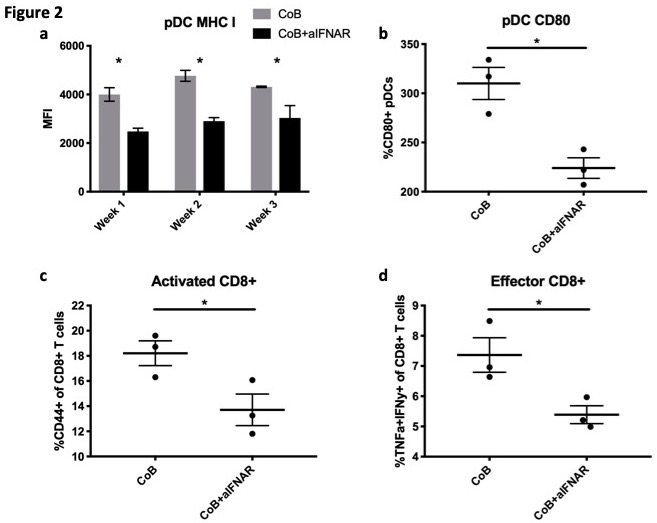 To cite this abstract in AMA style:
Habib J, Mathews D, Dong Y, Stephenson A, Ghosh A, Breeden C, Adams A. IFNAR Signaling Augments Plasmacytoid Dendritic Cell Activation during Costimulation Independent Rejection [abstract].
Am J Transplant.
2019; 19 (suppl 3). https://atcmeetingabstracts.com/abstract/ifnar-signaling-augments-plasmacytoid-dendritic-cell-activation-during-costimulation-independent-rejection/. Accessed September 21, 2021.
« Back to 2019 American Transplant Congress