Human Urine-Derived Stem Cells Protect against Renal Ischemia Reperfusion Injury via Releasing Exosomal miR-146a-5p Which Targets IRAK1 in a Rat Model
Organ Transplant Center, Sun Yat-sen University, Guangzhou, China
Meeting: 2019 American Transplant Congress
Abstract number: 592
Keywords: Renal ischemia, Stem cells
Session Information
Session Time: 4:30pm-6:00pm
Presentation Time: 4:30pm-4:42pm
Location: Room 310
*Purpose: Severe ischemia reperfusion injury (IRI) causes delayed graft function and impaires renal allograft survival. Human urine-derived stem cells (hUSCs) is a new source of stem cells detached from kidneys and may possess tissue-specific previldge in treatment of kidney injury. Transplantation of hUSCs may be a potential therapeutic strategy for treatment of renal IRI. This study investigated the protective effect of hUSCs on renal IRI in a rat model and explored the underlying mechanism involving the exosomal microRNAs.
*Methods: hUSCs was harvested from fresh spot urine. The phenotype of cell surface markers and differenatiation ability was analyzed to determine the characteristics of hUSCs. Adult male SD rats were used to induce a lethal renal IRI model. Left renal pedicles was occluded with a vascular clamp for 45 minutes. The contralateral kidney was nephrectomized after reperfusion of the left kidney. One dose of hUSCs (2*106 cells) in the experiment group or saline in the control group was intravenously administered right after blood reperfusion. Blood was drawn every other day to measure sCr, BUN.
*Results: We identified hUSCs by the morphological feature, growth curves, CD markers (like CD29, CD73, CD44), renal markers (like NEPHRIN, WT-1) (Fig 1). Compared to the IRI control group, hUSCs significantly increased survival rate, decreased sCr and BUN after reperfuion. Acute tubular injury score was significantly decreased in hUSCs group (Fig 2). TUNEL analysis showed fewer apoptotic cells in hUSCs group. The cleaved-caspase 3 and apoptosis-related protein bax were decreased while anti-apoptotic protein bcl2 was increased in hUSCs group. MPO staining score was significantly lower in hUSCs group. MDA level was lower and SOD level was significantly higher in hUSCs group (Fig 3). We seprated the exosomes from hUSCs conditional medium, and identified by TEM images, Western blots and sizes analysis. miR-146a-5p is the highest in the miRNA pool of exosomes by microRNA sequence. Through bioinformatics analysis, we found that miR-146a-5p could target and degrade IRAK1 mRNA 3'UTR, and confirmed the reaction between them and subsequently inhibits the activation of NF-κB signaling (Fig 4). Overexpress miR-146a-5p by mimic could reduce the oxidase stress level and downregulate the level of IRAK1, and finally inhibit the nuclear translocation of NF-κB p65 in HK2 cells after H/R injury (Fig 5).
*Conclusions: We systematically analyze the protective function of hUSCs in a rat IRI model and demonstrate the underlying molecular mechanisms. hUSCs could protect renal function after IR injury and hUSCs derived exosomes contained miR-146a-5p, which could target IRAK1 3'UTR region, subsequently inhibit the activation of NF-κB signaling, infiltration of inflammatory cells and protect the renal function. As a novel cell source, hUSCs act as an excellent non-invasive therapy approach for kidney tissue regeneration, specifically for IR injury.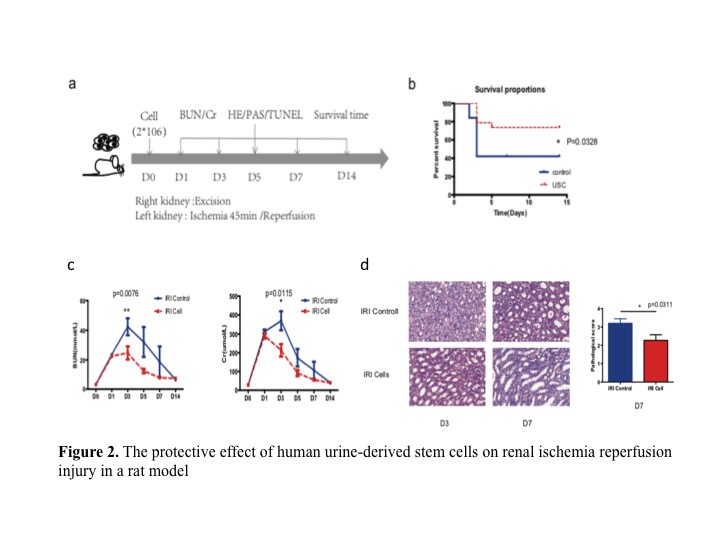 To cite this abstract in AMA style:
Li X, Bi Z, Su Q, Huang H, Liu L, Wang C. Human Urine-Derived Stem Cells Protect against Renal Ischemia Reperfusion Injury via Releasing Exosomal miR-146a-5p Which Targets IRAK1 in a Rat Model [abstract].
Am J Transplant.
2019; 19 (suppl 3). https://atcmeetingabstracts.com/abstract/human-urine-derived-stem-cells-protect-against-renal-ischemia-reperfusion-injury-via-releasing-exosomal-mir-146a-5p-which-targets-irak1-in-a-rat-model/. Accessed July 24, 2021.
« Back to 2019 American Transplant Congress