Histone Deacetylase-2 Knockout in Renal Tubular Cells is Protective in Renal Ischemia-Reperfusion Injury
1General Surgery, Hospital of the University of Pennsylvania, Philadelphia, PA, 2Pathology, Children's Hospital of Philadelphia, Philadelphia, PA, 3Transplant Surgery, Hospital of the University of Pennsylvania, Philadelphia, PA
Meeting: 2019 American Transplant Congress
Abstract number: 275
Keywords: Mice, Renal ischemia, Warm ischemia
Session Information
Session Time: 2:30pm-4:00pm
Presentation Time: 2:42pm-2:54pm
Location: Room 313
*Purpose: Ischemia-reperfusion injury (IRI) is a major source of morbidity in renal transplantation and is without targeted therapy. In renal transplantation, IRI contributes to poorer outcomes and early graft loss. Histone deacetylases (HDACs) are enzymes responsible for the epigenetic modification of histones and other nuclear proteins, thereby altering gene expression and regulating diverse cellular processes. We have previously demonstrated that class I HDACs (HDAC1 and HDAC2) have reciprocal effects on renal IRI. In mouse models, HDAC1 deletion increases vulnerability to IRI while HDAC2 deletion or inhibition provides significant protection against IRI. Understanding whether this protection is due to extra-renal inflammatory modulation or whether effects are intrinsic to renal tissue is critical to the development of specific targets in the mediation of IRI.
*Methods: Renal tubule-specific tamoxifen-inducible HDAC 2 knockout (HDAC2-pax8 KO) mice, and tamoxifen-treated wild-type female (WT) control mice were used. Mice were subjected to 28 minutes of temperature controlled warm renal IRI through unilateral clamping of the renal pedicle and contralateral nephrectomy. Creatinine and BUN were examined at 24-, 48-, 72-, and 96-hours post IRI. Sirus red fibrosis scoring was performed at 30 days post IRI.
*Results: HDAC2-pax8 KO mice developed significantly less renal injury after renal IRI than controls, with significantly decreased post-operative BUN and Cr (Figure 1, p<0.005). HDAC2-pax8 KO mice developed significantly less fibrosis relative to controls at 30 days (Figure 2, p=0.005).
*Conclusions: Renal tubule-specific HDAC2 knockout appears to be protective in a standard model of renal warm IRI. This demonstrates that the benefit of HDAC2 deletion is specific to the renal tissue. This finding has important translational potential and provides guidance for identifying renal specific targets for clinical use.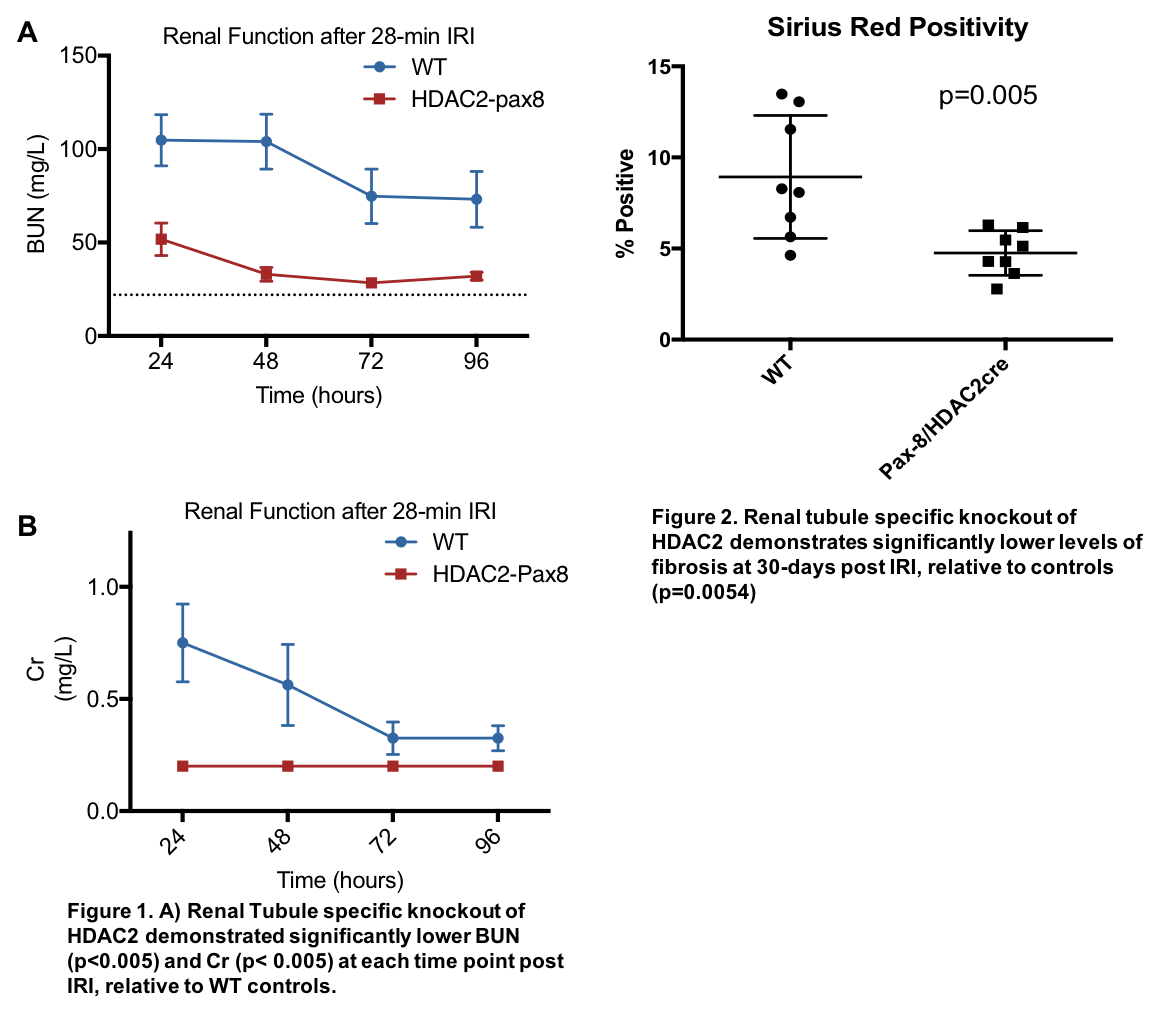 To cite this abstract in AMA style:
Hernandez PT, Concors SJ, Krumeich L, Aufhauser DD, Wang Z, Murken DD, Ge G, Hancock W, Levine M. Histone Deacetylase-2 Knockout in Renal Tubular Cells is Protective in Renal Ischemia-Reperfusion Injury [abstract].
Am J Transplant.
2019; 19 (suppl 3). https://atcmeetingabstracts.com/abstract/histone-deacetylase-2-knockout-in-renal-tubular-cells-is-protective-in-renal-ischemia-reperfusion-injury/. Accessed June 25, 2021.
« Back to 2019 American Transplant Congress