Session Information
Session Time: 3:15pm-4:00pm

Presentation Time: 3:30pm-4:00pm
Location: Virtual
*Purpose: Sensitization is an important immunologic risk factor considered in renal allograft allocation and influences immunosuppression. Unfortunately, there is a lack of consensus regarding the management of immunosuppression given a recipient's degree of sensitization. The aim of this study was to assess the impact of PRA on rates of rejection in the first-yr post kidney transplant for recipients that received alemtuzumab for induction.
*Methods: This was a single-center, retrospective, cohort analysis in adult renal transplant recipients from Jan 2013-Oct 2018. Data was collected via chart review and descriptive statistics were used for analysis. Patients were divided into PRA cohorts (PRA <20, PRA 20-80, PRA >80). Patients received 30mg of alemtuzumab, followed by tacrolimus, MMF and early steroid withdrawal. The primary outcome was BPAR at 1 yr. Secondary outcomes analyzed in the first yr consisted of CMV infection, BK viremia, filgrastim use, WBC, eGFR, and hospital days. Other secondary outcomes included serious infections, malignancy, graft loss, and death. Immunosuppression with tacrolimus and MMF were collected at 3-, 6-, and 12 months.
*Results: This study included 568 patients [324(57%) PRA <20, 77(14%) PRA 20-80, 167(29%) PRA >80]. Baseline characteristics were similar, except for more males in the PRA <20 group and a higher percentage of African Americans, fewer living donors, longer CIT and more PHS high risk in the PRA >80 group. There were significantly more patients with BPAR at 1 yr, specifically ABMR, in the PRA >80 group, despite similar renal function (Figure 1). CMV, BK, and serious infections were more prevalent in the PRA >80 group, as well as number of days spent in the hospital within the first yr (Table 1). Immunosuppression between all 3 groups was similar, except for MMF use at 3 months (Figure 2).
*Conclusions: Despite higher rates of BPAR at 1 yr, renal transplant recipients that received alemtuzumab for induction with a PRA >80 did not have worse renal function. Infectious complications and hospitalizations were more common in this group, suggesting higher healthcare utilization.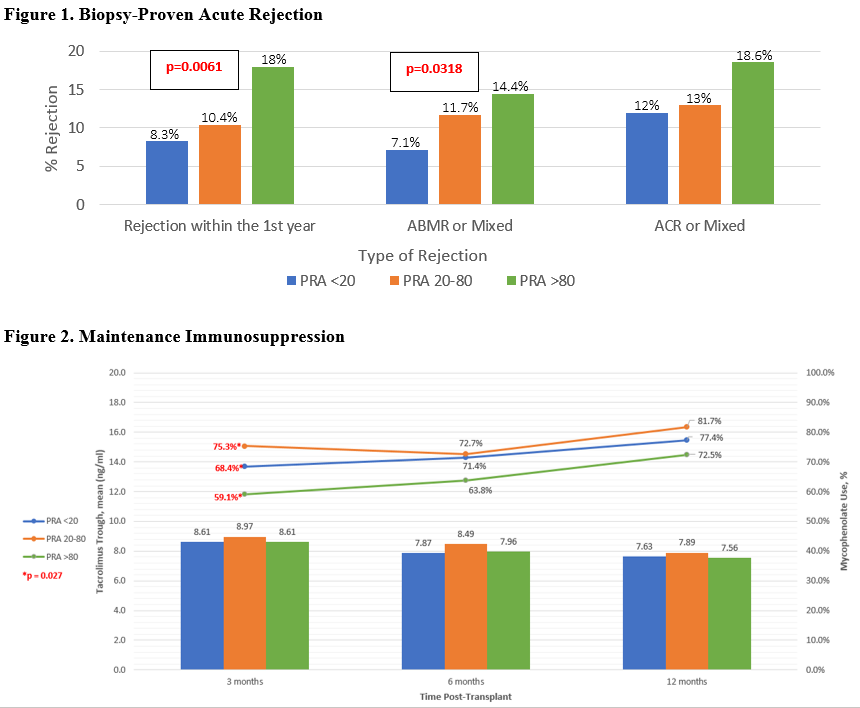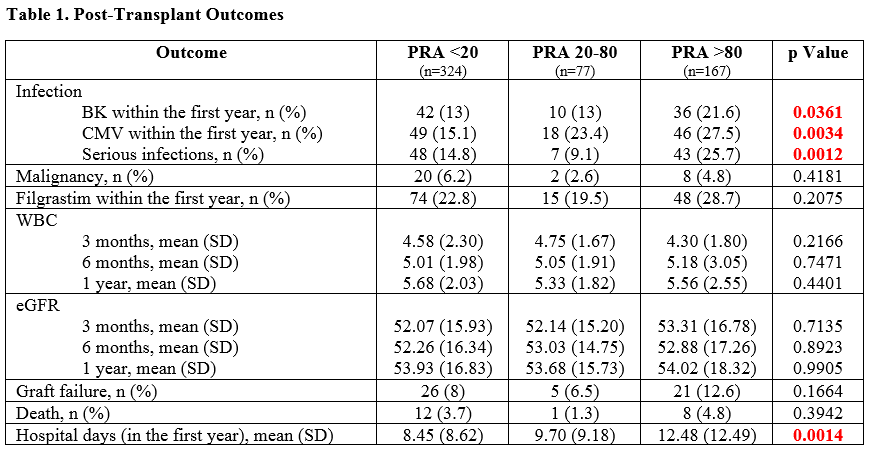 To cite this abstract in AMA style:
Wise B, Freeman A, Janusek M, Anders S, Hutchinson L, Kaszubski U, Marroquin D, Martin D, Bohorquez H. High PRA Increases Rejection but Does Not Worsen Renal Function in the First Year Post Kidney Transplant with Alemtuzumab Induction [abstract].
Am J Transplant.
2020; 20 (suppl 3). https://atcmeetingabstracts.com/abstract/high-pra-increases-rejection-but-does-not-worsen-renal-function-in-the-first-year-post-kidney-transplant-with-alemtuzumab-induction/. Accessed December 2, 2023.
« Back to 2020 American Transplant Congress