Ex Vivo Resection And Autologous Liver Transplantation As Management Concept For Extensive Malignancy
1Columbia Center for Translational Immunology, Columbia University, New York City, NY, 2Columbia Center for Liver Disease and Transplantation, Columbia University Medical Center, New York City, NY, 3Morgan Stanley Children's Hospital, Columbia University Medical Center, New York City, NY
Meeting: 2019 American Transplant Congress
Abstract number: C364
Keywords: Liver transplantation, Malignancy, Pediatric, Survival
Session Information
Session Time: 6:00pm-7:00pm
Presentation Time: 6:00pm-7:00pm
Location: Hall C & D
*Purpose: Neuroblastomas are rare neural crest derived tumors which contribute disproportionally to childhood morbidity and mortality. Surgical resection remains standard treatment, however adequate resection is often complicated by their infiltrative nature. Ex vivo resection and autologous liver transplantation (LTx) offers a formidable treatment option in tumor entities that present under challenging anatomical circumstances.
*Methods: A 5-year-old girl presented with neuroblastoma extending through the liver into the right atrium. Shortly after referral, she developed progressive abdominal distention, ascites, dyspnea and jaundice. The tumor was completely obstructing the IVC and causing liver congestion, ascites and impairing venous return to the heart. To overcome these anatomical challenges, hepatic ex-vivo resection with cardiopulmonary bypass and circulatory arrest was performed in order to remove the tumor from the atrium, replace the IVC and maintain hemodynamic stability.
*Results: The patient was put on cardiopulmonary bypass after tumor and right kidney mobilization. Circulatory arrest was achieved after portal vein and proximal IVC cannulation allowed for opening of the right atrium and tumor removal from the atrial muscle. The liver, tumor and right kidney were removed en bloc and tumor resection was performed on the back table. Simultaneously, the right atrium was closed and elongated by a Gore-Tex graft. The liver autograft was then reimplanted and anastomosed directly to the Gore Tex graft, followed by traditional choledocho-choledochostomy. After prolonged recovery, this pediatric patient had a favorable long-term outcome several years after tumor resection.
*Conclusions: Ex vivo resection and liver auto-transplantation supported by cardiopulmonary bypass and hypothermic circulatory arrest is a radical but feasible management approach for extensive, infiltrating tumor entities and should be considered as a valid treatment option in selected cases.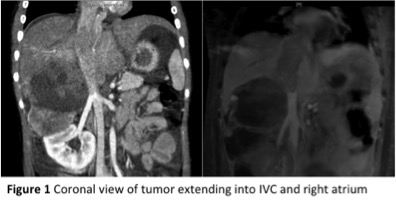 To cite this abstract in AMA style:
Bruestle K, Griesemer A, Lobritto S, Martinez M, Vittorio J, Yamashiro D, Bacha E, Kato T. Ex Vivo Resection And Autologous Liver Transplantation As Management Concept For Extensive Malignancy [abstract].
Am J Transplant.
2019; 19 (suppl 3). https://atcmeetingabstracts.com/abstract/ex-vivo-resection-and-autologous-liver-transplantation-as-management-concept-for-extensive-malignancy/. Accessed May 8, 2021.
« Back to 2019 American Transplant Congress