Ex Vivo Generated Regulatory B Cells Can Suppress Donor-Specific CD4 T Cells Proliferation In Vivo
1Center for Transplantation Sciences, Massachusetts General Hospital, Harvard Medical School, Boston, MA, 2Organ Transplantation Center, Sichuan Provincial People's Hospital and School of Medicine, University of Electronic Science and Technology of China, Chengdu, China
Meeting: 2020 American Transplant Congress
Abstract number: D-328
Keywords: B cells, Donor specific transfusion, Lymph node, Skin transplantation
Session Information
Session Time: 3:15pm-4:00pm

Presentation Time: 3:30pm-4:00pm
Location: Virtual
*Purpose: B cells expanded in vitro via TLR9 agonist CpG and activated by LPS, PMA and ionomycin have been previously denoted "TLR-Bregs" by our team. These TLR-Bregs have shown the capacity to inhibit the proliferation of T cells in in vitro MLRs and to prolong survival of allografts in vivo when administered to B cell deficient mice. Here, we explore the mechanism of their suppressive function in vivo.
*Methods: TLR-Bregs were expanded in vitro from naive C57BL/6 B cells (B6 TLR-Bregs) or B cells from transgenic OB1 mice whose B cell receptor is OVA-specific (OB1 TLR-Bregs). Skin transplant experiments utilized OVA-expressing B6 transgenic mice as donors and naive B6 mice as recipients. CFSE-labeled OVA-specific TCR transgenic (OT-II) CD4 T cells were adoptively transferred with or without B6 TLR-Bregs or OB1 TLR-Bregs. Cells from draining lymph nodes (DLN), non-draining lymph nodes (NDLN), and spleen were harvested and examined by flow cytometry.
*Results: Flow cytometry revealed T cell proliferation concentrated in the DLN, but not the NDLN or spleen. The average percentage of proliferated CD4+T cells was 80% when no B cells were given and 83% with 5 million (M) naive B6 B cells. Recipients given a dose of 5M or 10M B6 TLR-Bregs showed significantly less proliferation of CD4+T cells (50%, p<0.05), but no change with 3M B6 TLR-Bregs (90%). Furthermore, the average percentage of proliferated CD4+T cells was even lower when recipients were given 3M OB1 TLR-Bregs (27%, p<0.001) and 5M OB1 TLR-Bregs (15%, p<0.01) in comparison to the same dose of B6 TLR-Bregs.
*Conclusions: A model was established that allows specific tracking of donor specific Bregs and of their interactions with donor specific T cells. When compared to naive B6 TLR-Bregs, the OVA-specific TLR-Bregs showed stronger suppression of OVA-specific CD4+T cell proliferation against OVA skin grafts. We hypothesize that the increased precursor frequency of OVA-specific suppressive Bregs from OB1 mice explains this difference in the ability to prevent skin graft rejection. Alterations in the phenotype, gene expression and function of the responding T cells induced by Bregs is currently under study.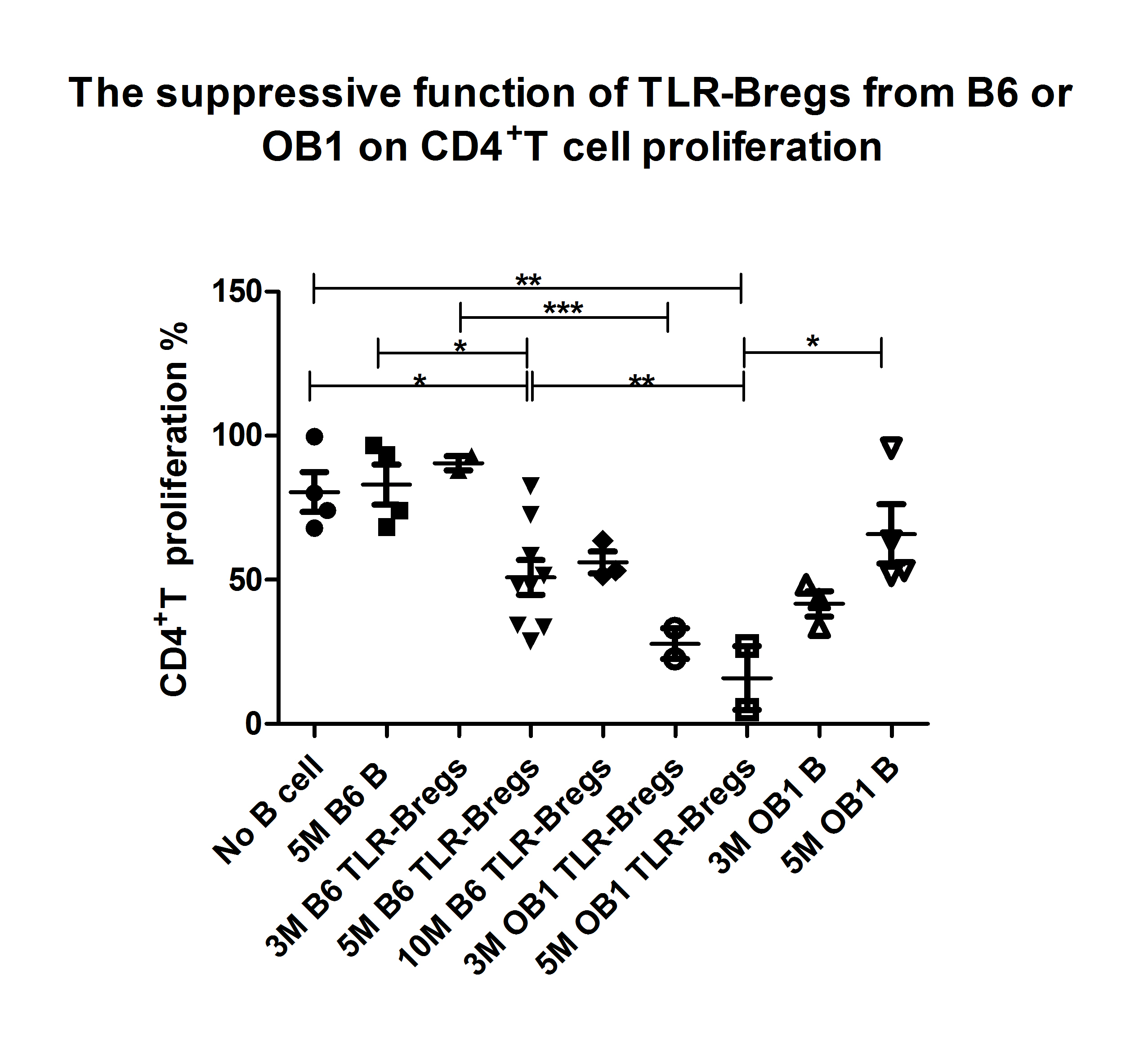 To cite this abstract in AMA style:
Huai G, Lee KM, Fu Q, Deng K, Feeney NJ, Leguern C, Tanimine N, Rickert CG, Deng S, Markmann JF. Ex Vivo Generated Regulatory B Cells Can Suppress Donor-Specific CD4 T Cells Proliferation In Vivo [abstract].
Am J Transplant.
2020; 20 (suppl 3). https://atcmeetingabstracts.com/abstract/ex-vivo-generated-regulatory-b-cells-can-suppress-donor-specific-cd4-t-cells-proliferation-in-vivo/. Accessed May 26, 2022.
« Back to 2020 American Transplant Congress