Evaluation of the Safety and Tolerability of Clazakizumab® as a Desensitization Agent in Highly-HLA Sensitized ESRD Patients (NCT03380962): 12m Follow-Up
1Kidney Transplant, Cedars Sinai Medical Ctr, Los Angeles, CA, 2Transplant Immunology Laboratory, Cedars Sinai Medical Ctr, Los Angeles, CA
Meeting: 2020 American Transplant Congress
Abstract number: 573
Keywords: B cells, Highly-sensitized, Kidney transplantation, Rejection
Session Information
Session Time: 3:15pm-4:45pm
Presentation Time: 4:15pm-4:27pm
Location: Virtual
*Purpose: IL-6 mediates inflammation and activation of T-cells, B-cells & plasma cells. Thus, IL-6 may represent an important target for desensitization (DES). Here we report a 12M follow-up of this single center Phase I/II study to assess safety & efficacy of Clazakizumab (anti-IL-6, Vitaeris) for DES in highly-HLA sensitized (HS) patients.
*Methods: Ten HS patients (cPRA >50%) received PLEX x5 followed by IVIg 2gm/kg X1. Post-IVIg, patients received anti-IL-6 25mg SC Q4W X6 with monitoring of HLA antibody and other immune parameters. Study end point was transplantation by day 270 post-Rx. Transplanted patients received claza 25mg SC Q4W. After protocol biopsy at 6M, patients continued claza for 12M post-transplant. The primary end point was reduction of HLA antibodies from baseline. All transplanted patients received induction with alemtuzumab and maintained on tac/mmf/pred.
*Results: Nine patients were transplanted. Briefly, mean time from dialysis to transplant was 96±52M and from last claza to transplant was 5.5±3.6M. All patients had previous transplants; 78% had cPRA 99-100%, 67% were B-cell FCMX+ and CII DSA+ @transplant. Mean MFI for HLA CI & CII were: pre-des v. post claza: CI 13062±3123 v. 8585±4597 (p=0.05) and CII 13519±2966 v. 8344±4836 (p=0.03). Figure 1 showed DSA MFI pre & post-tx to month 12. No patients had detectable DSA @6M post-tx. Protocol biopsies @6M in 8 patients (89%) showed mean g+ptc: 0.75±1.9, cg: 0.375±0.99, c4d: 0.625±1.1, ci+ct: 1.25±1.4, and i-IFTA: 0.75±1.1 respectively (Figure 2). Two patients developed rejection CMR/ABMR and cABMR as a result of DSA rebound. Mean eGFR @12M was 51±26 ml/min.
*Conclusions: Overall, there was a significant reduction in HLA MFI for CI and CII post-claza in 9/10 patients. No patient had detectable DSA 6M post-transplant. Therefore, anti-IL-6 appears promising as a desensitization agent when used with PLEX + IVIg. Anti-IL-6 also reduced antibody rebound post-PLEX + IVIg likely allowing successful HLAi transplantation for these patients.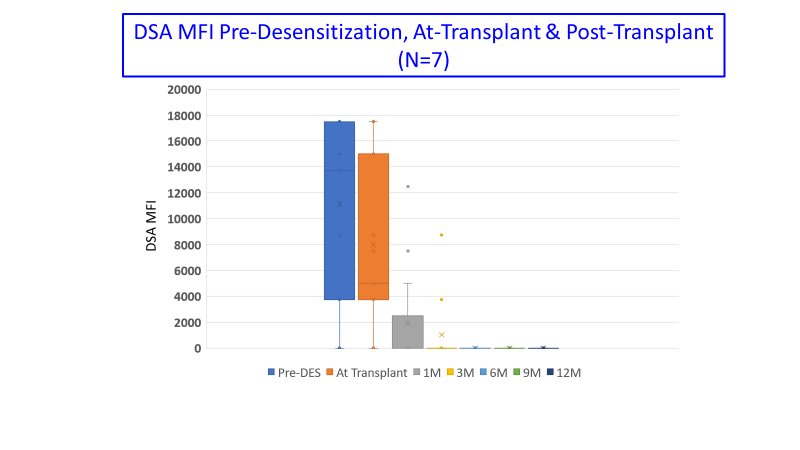 To cite this abstract in AMA style:
Vo AA, Ammerman N, Huang E, Toyoda M, Ge S, Peng A, Najjar R, Williamson S, Meyers C, Sethi S, Lim K, Choi J, Jordan SC. Evaluation of the Safety and Tolerability of Clazakizumab® as a Desensitization Agent in Highly-HLA Sensitized ESRD Patients (NCT03380962): 12m Follow-Up [abstract].
Am J Transplant.
2020; 20 (suppl 3). https://atcmeetingabstracts.com/abstract/evaluation-of-the-safety-and-tolerability-of-clazakizumab-as-a-desensitization-agent-in-highly-hla-sensitized-esrd-patients-nct03380962-12m-follow-up/. Accessed February 28, 2021.
« Back to 2020 American Transplant Congress