Evaluation of SUBA-Itraconazole Use in Lung Transplant Recipients
1Department of Medicine, Houston Methodist Hospital, Houston, TX, 2Department of Pharmacy, Houston Methodist Hospital, Houston, TX
Meeting: 2020 American Transplant Congress
Abstract number: B-281
Keywords: Drug interaction, Fungal infection, Infection, Lung
Session Information
Session Time: 3:15pm-4:00pm

Presentation Time: 3:30pm-4:00pm
Location: Virtual
*Purpose: Itraconazole (IT) is commonly used after lung transplant for fungal prophylaxis, particularly in those with a history of skin cancer, concern for Histoplasmosis infection, or contraindication to voriconazole. Several formulations of IT exist including an oral capsule and solution, however, concerns regarding absorption and drug interactions exist for both formulations; adequate absorption of capsules requires separation from acid suppressive therapy while the solution carries logistical barriers for post-transplant patients. SUBA-itraconazole (SIT) is a newly approved formulation (65 mg/capsule) of IT with ~2x greater bioavailability compared to conventional IT, with once daily administration and can be used with acid suppressive therapy. Evaluation of the safety of SIT is important given significant drug interactions with maintenance immunosuppression.
*Methods: A retrospective, descriptive review was conducted of lung transplant recipients receiving SIT. Indication for use/switch to SIT, prior antifungal use, and demographics were collected. Immunosuppressant levels and doses were also analyzed to assess both the impact of drug interaction between SIT and calcineurin inhibitors and calculate time within desired therapeutic range. Liver function tests were collected to review tolerability of SIT.
*Results: From 2018-2019, 11 patients were switched to SIT. The majority of patients (n=5) switched from voriconazole after experiencing hallucinations. Two patients switched from IT solution for ease of administration, and three received SIT due to a preexisting history of skin cancer or to prevent additional voriconazole exposure. SIT appears to be well-tolerated with no effect on liver function in our short-term analysis. One patient who received SIT after experiencing transaminitis with voriconazole also failed to tolerate SIT and received prophylaxis with inhaled amphotericin. Immunosuppression dose, levels, and time in therapeutic range are displayed in Table 1. Barriers to receiving SIT included outpatient insurance coverage as well as need for medication administration per tube.
*Conclusions: SUBA-itraconazole appears to be a useful tool for fungal prophylaxis in lung transplant patients who are either intolerant of voriconazole, have a history of skin cancer, must receive acid suppression medication, or would benefit from a once daily formulation. In our short term observation period, SIT appeared tolerable except in those patients intolerant of other azoles.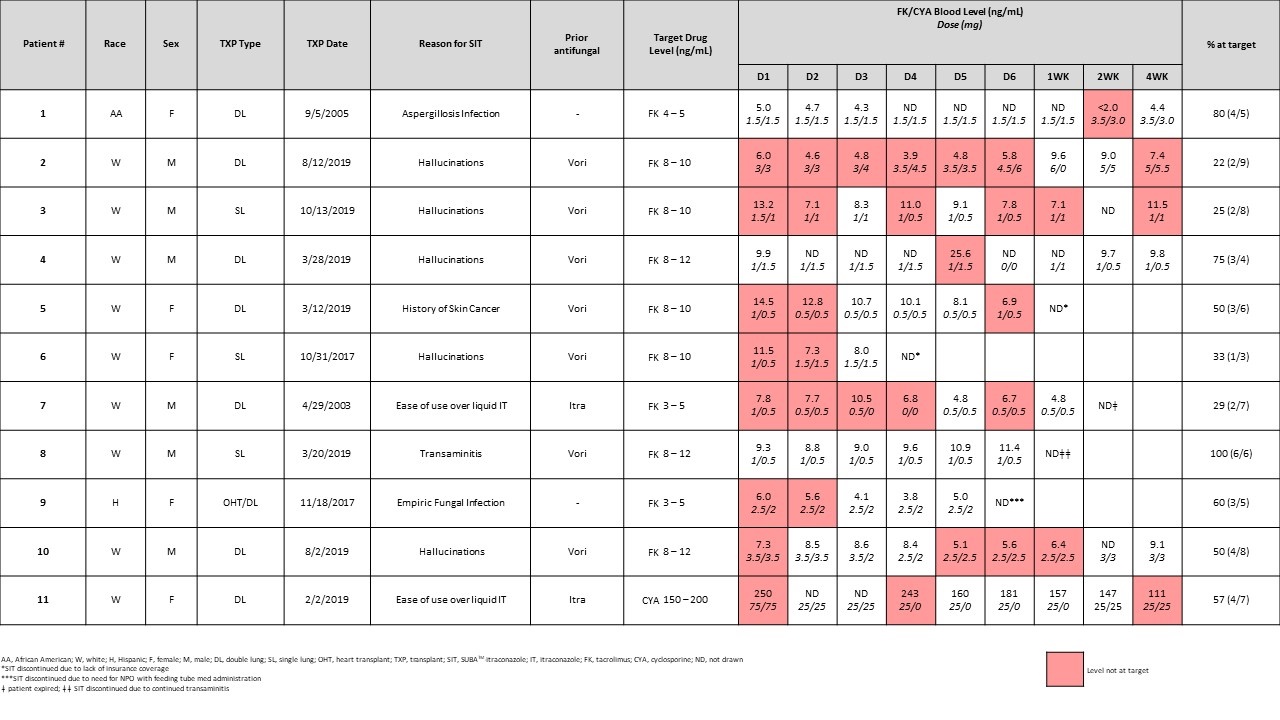 To cite this abstract in AMA style:
Youssef JG, Ahmed C, Pierce BJ, Pham C, Ye F, Tatum K, Yau S, Goodarzi A, Huang HJ. Evaluation of SUBA-Itraconazole Use in Lung Transplant Recipients [abstract].
Am J Transplant.
2020; 20 (suppl 3). https://atcmeetingabstracts.com/abstract/evaluation-of-suba-itraconazole-use-in-lung-transplant-recipients/. Accessed December 1, 2023.
« Back to 2020 American Transplant Congress