Session Information
Session Time: 3:15pm-4:00pm

Presentation Time: 3:30pm-4:00pm
Location: Virtual
*Purpose: Solid organ transplant (SOT) recipients face increased risk of Clostridioides difficile infection (CDI), with reported CDI incidence of 7.4%-20% far exceeding that of the general hospitalized population (0.9%), limited information is available about CDI in intestinal and multivisceral transplant recipients specifically.
*Methods: Since 2013, our center greatly expanded its intestinal and multivisceral transplant program, providing the consummate opportunity to examine the epidemiology of CDI in this vulnerable population. We conducted a retrospective study of all intestinal and multivisceral transplant recipients between 2009 and 2018. CDI was defined as presence of diarrhea with a positive polymerase chain reaction (PCR) test for the toxin B gene. Early CDI was defined as an episode of CDI occurring within the first six months post-transplant. Data were collected on demographics, clinical features, medication exposures, severity of infection, and outcomes.
*Results: We identified 86 patients who underwent a total of 94 transplants. There were 60 (64%) isolated intestinal transplants, 21 (22%) intestine/liver/pancreas, 10 (11%) intestine/pancreas, two (2%) intestine/liver/pancreas/kidney, and one (1%) intestine/kidney transplant. All but three patients received perioperative metronidazole. Four patients (5%) had CDI prior to transplant, but none of them experienced recurrence in the first six months post-transplant. Five patients developed a total of seven mild-moderate episodes of early CDI (attack rate = 5.9%). Three patients (60%) with early CDI developed rejection, similar to the observed incidence (70%) in patients without CDI. Two patients with early CDI developed recurrent infection; both of these patients underwent intestinal re-transplantation. Overall one-year mortality was similar (20% among patients with early CDI vs. 23% among those without early CDI).
*Conclusions: For certain SOT recipients, an association between CDI and allograft loss, rejection, and mortality has been shown. Although limited by sample size, we observed that early CDI was not associated with those outcomes in our patient population. Multicenter studies are merited to explore risk factors for CDI and associations with outcomes in intestinal and multivisceral transplant recipients.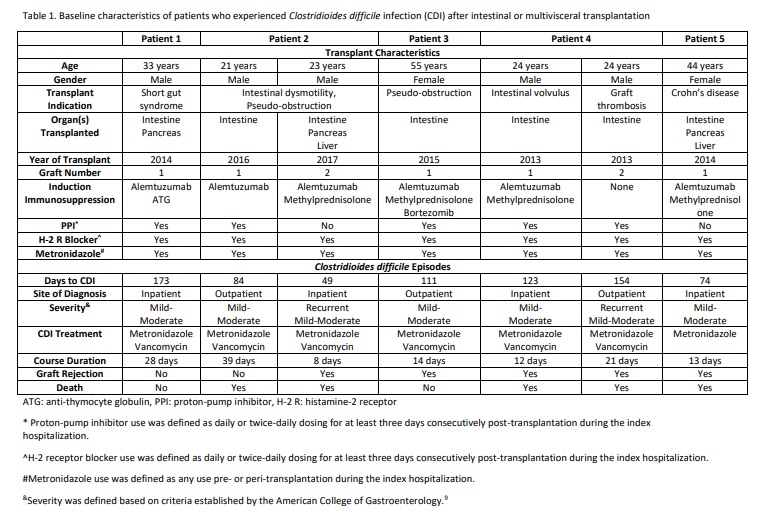 To cite this abstract in AMA style:
Modi A, Gonzalez B, Brizendine K. Epidemiology of Clostridioides Difficile Infection in Intestinal and Multivisceral Transplant Patients at a Single Transplant Center [abstract].
Am J Transplant.
2020; 20 (suppl 3). https://atcmeetingabstracts.com/abstract/epidemiology-of-clostridioides-difficile-infection-in-intestinal-and-multivisceral-transplant-patients-at-a-single-transplant-center/. Accessed December 7, 2023.
« Back to 2020 American Transplant Congress