Session Information
Session Time: 6:00pm-7:00pm
Presentation Time: 6:00pm-7:00pm
Location: Hall 4EF
Objectives:
Xenotransplantation represents the best near-term solution to address the current organ shortage. We have developed a pre-clinical model of pig-to-primate liver xenotransplantation (LXT), and now assess the effect of preformed antibodies (Ab) on post-transplant survival.
Methods:
GalT-KO pig-to-primate LXT was conducted in five animals using immunosuppression consisting of thymoglobulin, tacrolimus, steroids, and co-stimulation blockade (belatacept or anti CD-40). Serum samples taken both pre- and post-transplant were analyzed by a complement-mediated cytotoxicity assay on target cells from GalT-KO miniature swine to determine the presence of Abs, using FACS analysis to evaluate cell death.
Results:
All baboon LXT recipients had pre-transplant cytotoxic IgM Ab. Of note, the longest LXT survivors (25- and 29-day) were found to have lower concentration of cytotoxic Ab (Figure). Post-transplant, these two recipients showed an initial increase in cytotoxic Ab formation, reaching the highest concentration on post-operative day 7, followed by a decrease at each time point thereafter. Final pathology for both animals was C4d negative. The other three recipients showed a continuous post-operative increase in concentration of cytotoxic Ab until their death (Days 8, 5, and 7), with two of the three (B1 and B3) demonstrating C4d-positive staining on final pathology.
Conclusions:
Low concentrations of pre-formed cytotoxic IgM xeno-Abs do not appear to limit post-LXT survival. The fact that recipients surviving nearly one month following LXT showed a reduction in cytotoxic antibodies throughout their post-operative course, suggests that the xeno-Ab barrier may be surmountable with conventional immunosuppression.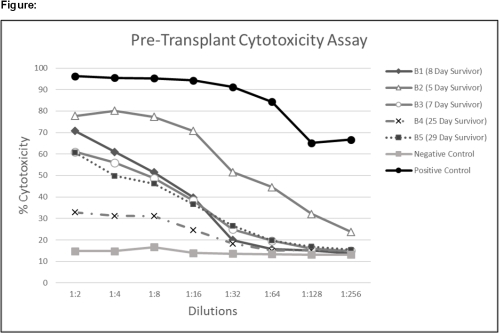 CITATION INFORMATION: Louras N., Patel M., Shah J., Andrews A., Wang Z., Sachs D., Vagefi P. Effects of Preformed Antibody on Survival Following Pig-to-Primate Liver Xenotransplantation Am J Transplant. 2017;17 (suppl 3).
To cite this abstract in AMA style:
Louras N, Patel M, Shah J, Andrews A, Wang Z, Sachs D, Vagefi P. Effects of Preformed Antibody on Survival Following Pig-to-Primate Liver Xenotransplantation [abstract]. https://atcmeetingabstracts.com/abstract/effects-of-preformed-antibody-on-survival-following-pig-to-primate-liver-xenotransplantation/. Accessed April 23, 2021.
« Back to 2018 American Transplant Congress