Session Information
Session Time: 5:30pm-6:30pm
Presentation Time: 5:30pm-6:30pm
Location: Exhibit Hall E
Background: Despite being an effective strategy for overcoming ABO and HLA incompatibilities, desensitized kidney transplantation still has limitations. Early antibody mediated rejection (ABMR) may be triggered by viral upper respiratory tract infection (URI) but treatable with a rescue eculizumab.
Case description: A 38-year-old highly sensitized woman with ESRD underwent a living unrelated renal transplantation (LURT) in a kidney paired donation (KPD) combined with pretransplant desensitization. Pre-transplant DSA was 1:4. One dose of rituximab was administrated and 3 rounds of plasmapheresis (PP) followed by IVIG were given. DSA decreased to be undetectable before an uneventful operation. On postoperative day (POD)1, serum Cr (SCr) decreased to 2 mg/dL. She received PP and IVIG on POD1 and 4 per desensitization protocol. On POD 6, she developed URI from rhinovirus and SCr up to 5.59 mg/dL. Allograft biopsy revealed diffuse C4d reactivity in peritubular capillaries. DSA became highly positive. PP was performed followed by IVIG on POD8, 9, and 10 with decreased DSA; however, SCr had still trended up to 6 mg/dL. Eculizumab was initiated on POD13 and weekly for 3 doses. SCr decreased to 1.2 mg/dL on POD64 and DSA titers remained suppressed. (Figure1)
Discussion: After doing well with LURT and desensitization our patient developed severe, early ABMR likely due to an immune trigger from rhinovirus infection causing an anamnestic response with multiple DSA increasing. As complement activation is a major mechanism of ABMR, eculizumab, an anti-C5 Ab interrupting terminal complement cascade, may be one of the effective parts of treatment for early ABMR.
Conclusions: Combined KPD and desensitization maximize the chance of successful sensitized transplantation; however, risk of early ABMR still exists. This case illustrates the tenuous nature of Ab desensitization in the setting of an acquired, otherwise fairly benign viral URI. Frequent HLA Ab monitoring and a low index of suspicion in patients undergoing desensitization can allow for prompt treatment with eculizumab, a potential strategy to rescue the allograft and reverse ABMR.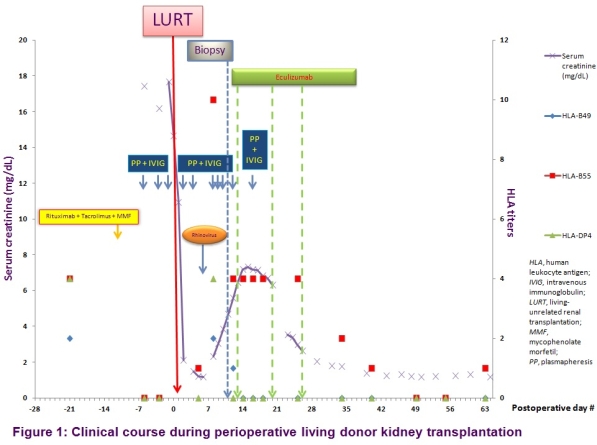 To cite this abstract in AMA style:
Tantisattamo E, Shetty A, Ho B, Gallon L, Friedewald J. Eculizumab as a Rescue Therapy for Rhinovirus-Induced Antibody Mediated Rejection After Incompatible Kidney Transplantation [abstract].
Am J Transplant.
2015; 15 (suppl 3). https://atcmeetingabstracts.com/abstract/eculizumab-as-a-rescue-therapy-for-rhinovirus-induced-antibody-mediated-rejection-after-incompatible-kidney-transplantation/. Accessed July 30, 2021.
« Back to 2015 American Transplant Congress