Donor-specific Regulatory B Cells Prolong Skin Graft Survival by Preventing the Proliferation of Donor-specific CD4 Helper but Not of CD8 Effector T Cells
1Department of Organ Transplantation Center, Sichuan Provincial People's Hospital, University of Electronic Science and Technology of China, Chengdu, China, 2Center for Transplantation Sciences, Massachusetts General Hospital, Harvard Medical School, Boston, MA
Meeting: 2021 American Transplant Congress
Abstract number: 518
Keywords: B cells, Proliferation, Skin transplantation
*Purpose: TLR-Bregs were defined by our group as B cells generated in vitro. They have demonstrated the ability to inhibit CD4 T cell proliferation. Since CD8 T cells are also major players in rejection of organ transplants, the present report explores the mechanisms by which TLR-Breg suppression may differentially affects CD4 and CD8 T cells in a transplantation setting.
*Methods: B6 TLR-Bregs and OB1 TLR-Bregs were generated from B cells isolated from C57BL/6 and transgenic OB1 mice (B cell receptor specific to ovalbumin, OVA). In vitro MLR was set up in co-culture of CFSE-labeled CD8+ T cells (OVA-specific) as responders, irradiated OVA splenic cells as stimulators, and OB1 TLR-Bregs as suppressors. For in vivo suppression experiments, CD8 T cells were adoptively transferred to B6 underwent OVA skin graft, with or without B6 or OB1 TLR-Bregs. Cells from draining lymph nodes (DLN), non-draining lymph nodes (N-DLN), and spleen (SP) were harvested and analyzed by flow cytometry. The combination of anti-CD8 mAb and OB1 TLR-Bregs were administrated to check skin graft survival.
*Results: In vitro assays showed that OB1 TLR-Bregs suppress CD8+T cell proliferation and INF-γ production (p<0.05, vs control). In contrast to previous results showing that CD4+ T cells were concentrated in DLN, CD8+ T cells were not only found in the DLN, but also in the N-DLN and spleen (Figure 1). Suppression assays in vivo confirmed the inability of either B6 or OBI TLR-Bregs to inhibit CD8+ T cell proliferation, positive controls of proliferation were at 79.9%±3.8% and had no significant difference with Bregs treatment (64.7%±17.3%, Figure 2). Importantly, the in vivo depletion of CD8+T cells in mice treated with OB1 TLR-Bregs (61 days) did not significantly prolong graft survival than OB1 TLR-Bregs alone treatment (38 days).
*Conclusions: The lack of TLR-Breg control over CD8+ T cell proliferation may result from a more disperse lymphoid tissue distribution of these cells as compared to that of CD4+ T cells. Collectively, these data indicate that ex-vivo generated Bregs promote prolongation of graft survival, mainly by downregulating CD4+ helper T cell proliferation, which in turn may curtail graft-specific CD8 reactivity. Additional studies will be required to identify potential therapeutic targets to improve graft survival.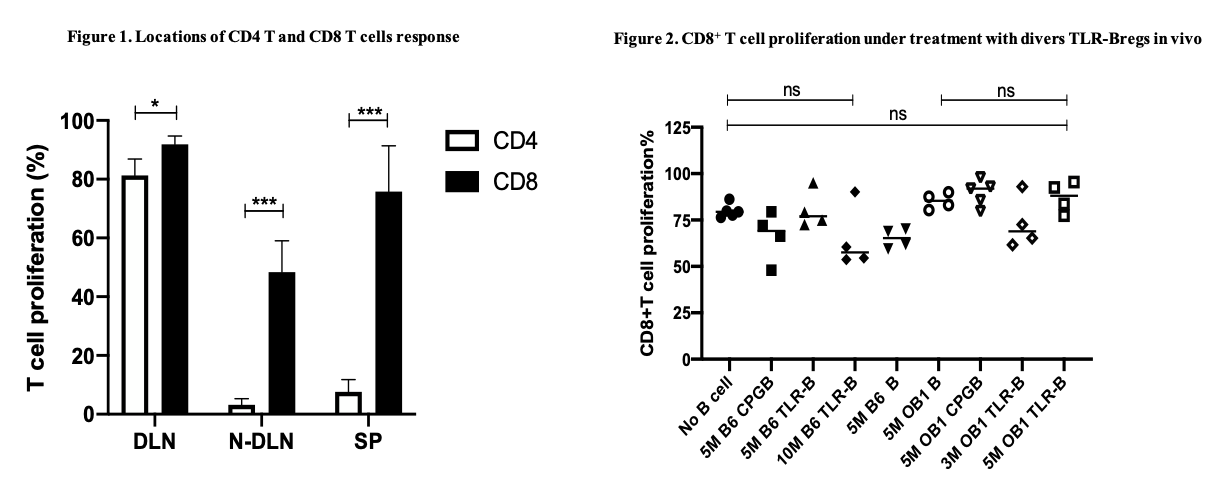 To cite this abstract in AMA style:
Huai G, Lee K, Deng K, Fu Q, Rickert CG, Deng S, LeGuern C, Markmann JF. Donor-specific Regulatory B Cells Prolong Skin Graft Survival by Preventing the Proliferation of Donor-specific CD4 Helper but Not of CD8 Effector T Cells [abstract].
Am J Transplant.
2021; 21 (suppl 3). https://atcmeetingabstracts.com/abstract/donor-specific-regulatory-b-cells-prolong-skin-graft-survival-by-preventing-the-proliferation-of-donor-specific-cd4-helper-but-not-of-cd8-effector-t-cells/. Accessed September 25, 2021.
« Back to 2021 American Transplant Congress