Diligent Prospective BK Virus (BKV) Monitoring and Management Post Kidney Transplant to Mitigate Risk of BK Nephropathy and Rejection: A Single Center Experience
1Medical City Transplant Institute, Fort Worth, TX, 2Tarrant Nephrology Associates, Fort Worth, TX
Meeting: 2020 American Transplant Congress
Abstract number: B-204
Keywords: Kidney transplantation, Monitoring, Polyma virus
Session Information
Session Time: 3:15pm-4:00pm

Presentation Time: 3:30pm-4:00pm
Location: Virtual
*Purpose: BK viremia and nephropathy are evolving challenges in post-kidney transplants. Currently, monitoring and management strategies vary across centers. At our program, we prospectively monitor BKV monthly within the first year post-transplant then quarterly thereafter. Treatment approach is standardized based on serum BKV levels. The purpose of this analysis is to describe the outcomes of our BKV monitoring and management protocol.
*Methods: Recipients transplanted between 4/1/17 – 6/30/18 with positive serum BK PCR within 1 year post kidney transplants were retrospectively reviewed. The time period was selected given change in standardized immunosuppression protocol and to allow for at least 1 year of follow-up post-transplant. Patients were excluded if they were a multi-organ/non-renal transplant or had first detectable serum BK PCR beyond 1 year post-transplant.
*Results: Of 151 total KT recipients, 35 (23.2%) had BK viremia within 1 year post transplant. Demographics are described in Table 1. Time to first BK detection are depicted in Fig. 1. Per management protocol, 30 (86%) received reduced/discontinued antimetabolite dosing, 15 (43%) had decreased calcineurin inhibitor goals, 12 (34%) received intravenous immunoglobulin, 8 (23%) received cidofovir treatments, and 2 (5.7%) were converted to sirolimus-based immunosuppression. Two patients (5.7%) with peak BK PCR less than 1000 copies/mL did not receive any immunosuppression reduction or treatment. Following immunosuppression reduction due to BKV, 4 (11.4%) experienced ACR 1a. At median follow-up of 618 days, 4 (11.4%) did not achieve clearance of BKV and 1 (2.9%) had biopsy-proven BKV induced-nephropathy. Incidence of graft loss was 1 (2.9%) among patients with BKV, and 5 (4.3%) among those without BKV.
*Conclusions: BKV were detected early following kidney transplant and should be closely monitored especially during the first 6 months. Standardized prospective monitoring and early intervention may help to mitigate risk of BKV induced nephropathy and rejection associated with aggressive reduction of immunosuppression.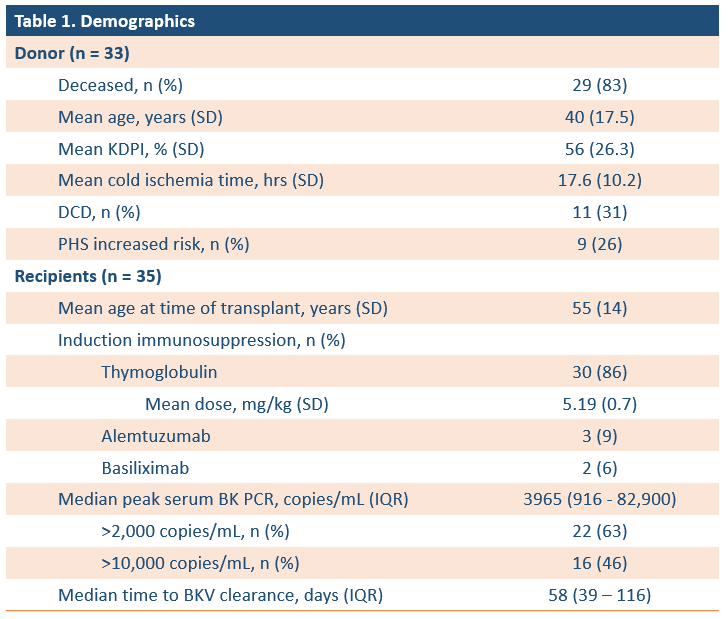 To cite this abstract in AMA style:
Dao A, Madhrira M, Allam S. Diligent Prospective BK Virus (BKV) Monitoring and Management Post Kidney Transplant to Mitigate Risk of BK Nephropathy and Rejection: A Single Center Experience [abstract].
Am J Transplant.
2020; 20 (suppl 3). https://atcmeetingabstracts.com/abstract/diligent-prospective-bk-virus-bkv-monitoring-and-management-post-kidney-transplant-to-mitigate-risk-of-bk-nephropathy-and-rejection-a-single-center-experience/. Accessed December 1, 2023.
« Back to 2020 American Transplant Congress