Session Information
Session Time: 5:30pm-7:30pm
Presentation Time: 5:30pm-7:30pm
Location: Hall C & D
*Purpose: Delayed graft function (DGF) post renal transplant (RT) is associated with adverse patient and graft outcomes. Early tacrolimus (FK) initiation with high trough levels may delay recovery from ischemic injury due to acute vasoconstriction. However, delayed FK initiation is associated with acute rejection and shortened graft survival. Belatacept lacks the vasoconstrictive effect of FK but has been associated with higher long-term rejection rate. Per our center standard of care protocol, recipients are initiated on de novo belatacept followed by conversion to FK once DGF is resolved. The aim was to analyze outcomes of RT recipients who received de novo belatacept to delay FK initation in the setting of DGF.
*Methods: EBV seropositive recipients transplanted between July 2016 and July 2018 who received dialysis within 7 days post RT and de novo belatacept followed by conversion to FK were included in the analysis. In a retrospective review, donor/recipient characteristics, immunosuppression (IS) strategies, and clinical outcomes (allograft function, graft/patient survival) were collected.
*Results: Fifteen RT recipients were included for analysis with a median follow up of 300 days. Table 1 summarizes donor/recipient characteristics. 73.3% (11/15) received T-cell depleting induction therapy. All recipients received concomitant corticosteroid (CS) taper followed by low-dose CS and mycophenolic acid maintenance therapy. Median time to belatacept initiation and last dose of belatacept was 4 days (IQR 2 – 5) and 14 days (IQR 15 – 42) respectively. Median time to first therapeutic FK level per programmatic protocol was 24 days (IQR 18 – 46). Rate of biopsy-proven acute rejection (BPAR) was 6.7% (1/15). One patient deceased at 102 days post RT due to respiratory failure. Table 2 summarizes IS strategies and clinical outcomes.
*Conclusions: This retrospective series represents a novel IS approach with a 6.7% BPAR rate in DGF recipients. Utilizing short-term de novo belatacept to delay FK initiation may be an effective strategy to minimize early FK-associated nephrotoxicity and acute rejection rate in DGF.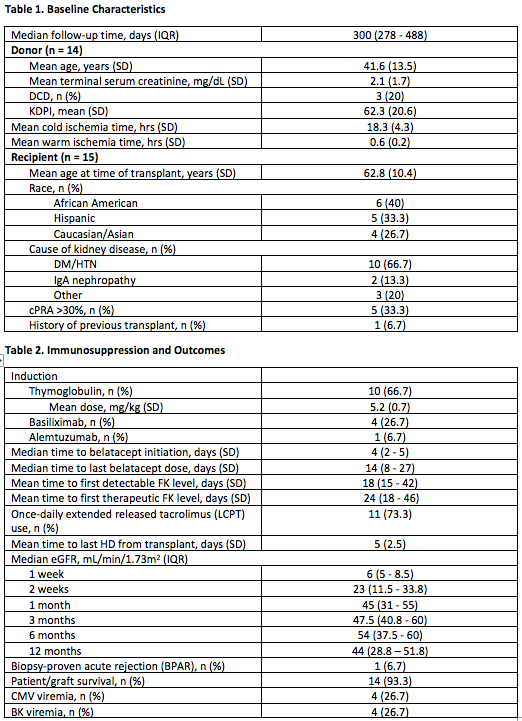 To cite this abstract in AMA style:
Dao A, Reyad A, Kautzman L, Madhrira M, Memon I, Elmhishi O, Sankarapandian B, Johnson J, Patel S, Allam S. De Novo Belatacept to Delay Tacrolimus Initiation in Renal Transplants with Delayed Graft Function [abstract].
Am J Transplant.
2019; 19 (suppl 3). https://atcmeetingabstracts.com/abstract/de-novo-belatacept-to-delay-tacrolimus-initiation-in-renal-transplants-with-delayed-graft-function/. Accessed May 9, 2021.
« Back to 2019 American Transplant Congress