Session Information
Session Time: 6:00pm-7:00pm
Presentation Time: 6:00pm-7:00pm
Location: Hall C & D
*Purpose: Allografts and polytetrafluoroethylene (PTFE) grafts are suitable for middle hepatic vein (MHV) reconstruction during living donor liver transplantation (LDLT). We experienced other complications depending on the type of interposition graft.
*Methods: Variety of interposition grafts such as cadaveric cryopresereved vessels (iliac vein, iliac artery and aorta) ringed PTFE graft have been used for middle hepatic vein resonstruction.
*Results: There were two migrations of the ringed PTPF to the adjacent organ and there was one fistula of allograft, cryopreserved aorta from cadaveric donor, to duodenum. In the case of migrations, gastroduodenoscopy detected ringed PTPF in the duodenal lumen without any symptom at several years later after LDLT. We performed operation to remove the migrated synthetic graft. The patient who had fistula of the graft to duodenum was admitted via the emergency room because of syncope at posttransplantation 8 months. For the first time, we did not know the reason for syncope until melena was found. We separated the duodenum and allograft and performed simple close of the both. And gastrojejunostomy was done. They were discharged without any problem.
*Conclusions: Artificial graft and even allograft for middle hepatic vein reconstruction can make problem to the adjacent organ.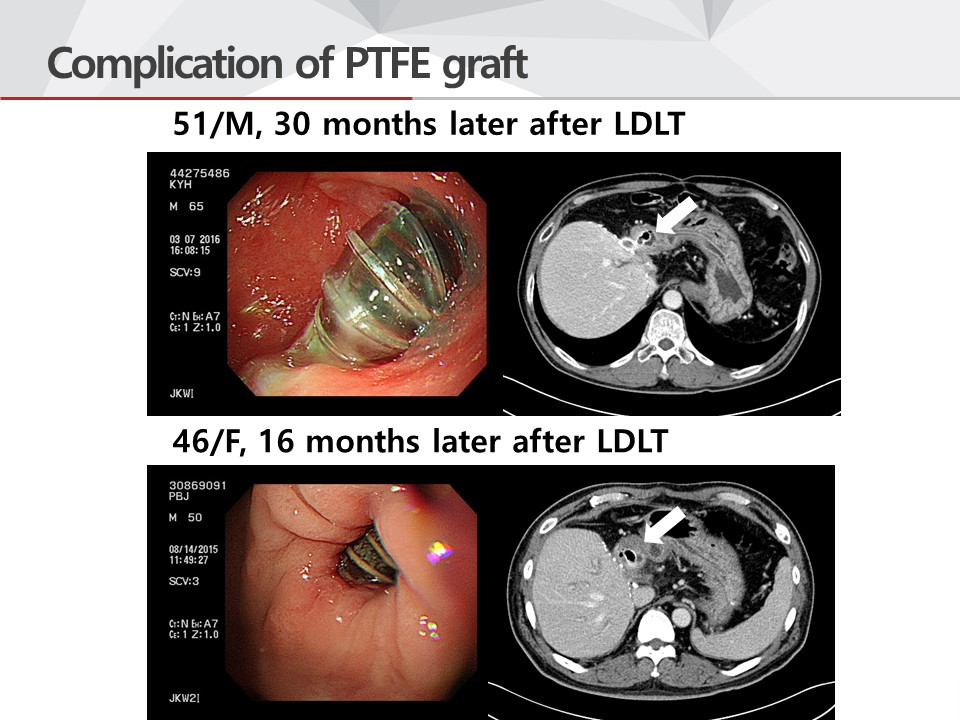 To cite this abstract in AMA style:
Kim S, Chun G, Song I. Complications of Interposition Grafts for Middle Hepatic Vein Reconstruction in Living Donor Liver Transplantation [abstract].
Am J Transplant.
2019; 19 (suppl 3). https://atcmeetingabstracts.com/abstract/complications-of-interposition-grafts-for-middle-hepatic-vein-reconstruction-in-living-donor-liver-transplantation/. Accessed April 20, 2021.
« Back to 2019 American Transplant Congress