Coexistence of BKPyV Lytic Infection and Viral Integration in the Development of BKPyV Diseases After Renal Transplantation
1Department of Organ Transplantation, Nanfang Hospital, Southern Medical University, Guangzhou, China, 2Departments of Urology & Pathology, Massachusetts General Hospital, Harvard Medical School, Boston, MA
Meeting: 2021 American Transplant Congress
Abstract number: 266
Keywords: Kidney transplantation, Polyma virus
Topic: Clinical Science » Infectious Disease » Kidney: Polyoma
Session Information
Session Time: 6:00pm-7:00pm
Presentation Time: 6:05pm-6:10pm
Location: Virtual
*Purpose: To understand the role of BK Polyomavirus (BKPyV) infection and integration in the pathogenesis of BKPyV-associated diseases.
*Methods: Sixteen patients with BKPyV-associated diseases were included, 3 with BKPyV-viruria, 3 with BKPyV-viremia, 5 with BKPyV-associated nephropathy (BKVAN), and 5 with BKV-related urothelial carcinoma (Table 1). Viral copy numbers and virome capture sequencing were conducted in the samples of allograft, tumor, blood and urine.
*Results: BKPyV integration was detected in all 16 patients (Table 1), including 5 of 5 biopsies of BKVAN allograft (1 of them also had viral integration in blood and urine), 5 of 5 tumor samples of BKPyV-associated urothelial carcinoma, in both urine and blood samples of 3 of 3 patients with viremia and 1 of 3 with viruria, and in urine samples of 2 of 3 patients with viruria. There is a significant difference in the average supporting reads of viral integration sites among the above samples (Fig. 1A). Similarly, increased microhomology-mediated end joining (MMEJ) patterns at the integration sites were also observed in the tumor and BKVAN samples (Fig. 1B-C). Renal allografts from BKVAN recipients showed SV40-LTAg-positive cells by immunohistochemistry (Fig. 1D-E) and a large number of viral inclusions detected in renal tubular epithelial cells by electron microscope, indicating an active BKPyV lytic infection (Fig. 1F). Well-amplified integration sites (supporting reads > 300) were detected in the BKVAN allograft tissues, indicating a significant BKPyV integration.
*Conclusions: We report in the study, for the first time to our knowledge, viral integration in patients with BKPyV-associated non-cancer diseases, including BKPyV viruria, BKPyV viremia, and BKVAN. In BKPyV-affected non-cancerous tissues, lytic infection and viral integration can co-exist. The increase of viral integration sites, likely affecting more key cellular genes, and the increased proportion of MMEJ integration pattern likely may contribute to the pathogenesis of the BKPyV-associated diseases.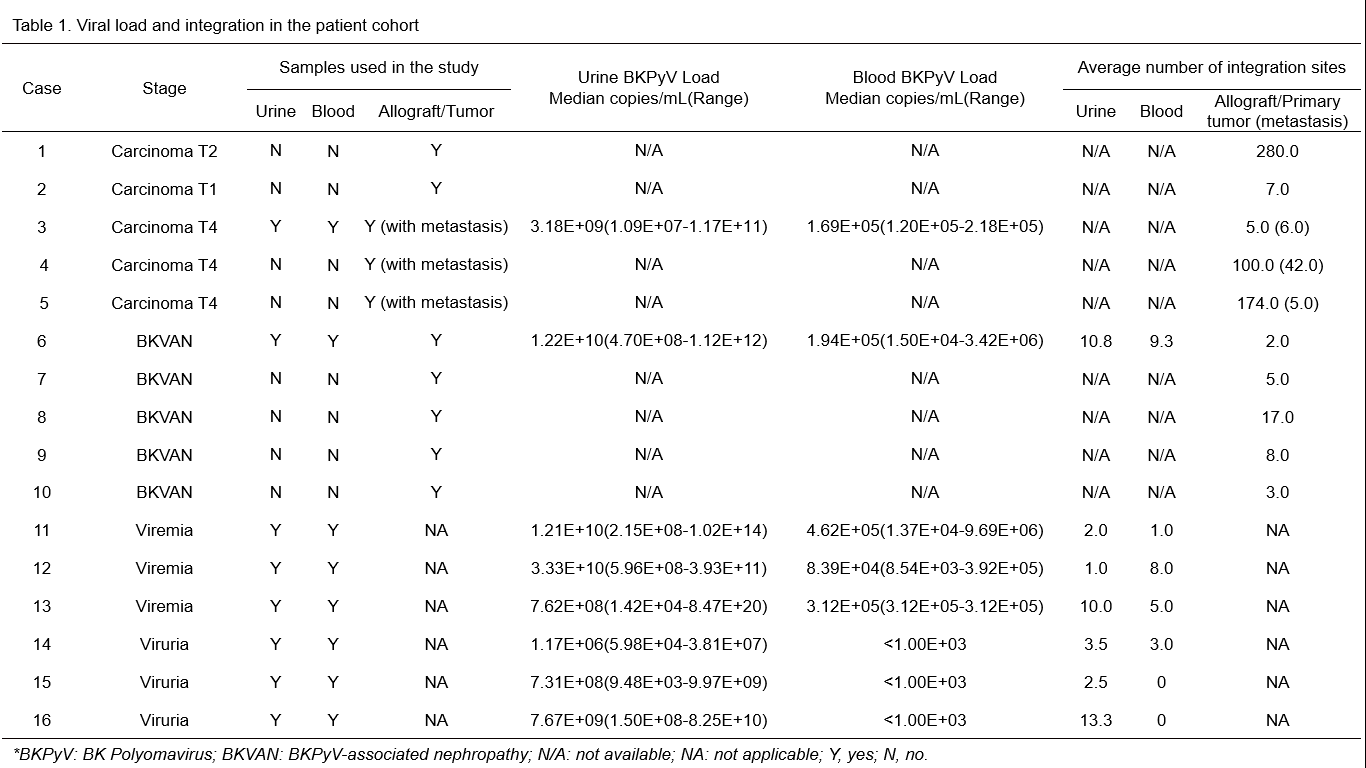 To cite this abstract in AMA style:
Yan S, Wang Y, Liu Y, Deng W, Yan Z, Xu J, Wu C, Miao Y. Coexistence of BKPyV Lytic Infection and Viral Integration in the Development of BKPyV Diseases After Renal Transplantation [abstract].
Am J Transplant.
2021; 21 (suppl 3). https://atcmeetingabstracts.com/abstract/coexistence-of-bkpyv-lytic-infection-and-viral-integration-in-the-development-of-bkpyv-diseases-after-renal-transplantation/. Accessed July 24, 2021.
« Back to 2021 American Transplant Congress