Changing Demographics of HIV+ Liver Transplant Candidates
C. Durand, S. Gustafson, J. Locke, J. Snyder, B. Shelton, R. Reed, P. MacLennan, S. Mehta, A. Nellore, D. Segev.
Johns Hopkins University, Baltimore, MD
Scientific Registry of Transplant Recipients (SRTR), Minneapolis Medical Research Foundation, Minneapolis, MN
University of Alabama, Birmingham, Birmingham, AL.
Meeting: 2015 American Transplant Congress
Abstract number: D275
Keywords: HIV virus, Liver, Waiting lists
Session Information
Session Time: 5:30pm-6:30pm
Presentation Time: 5:30pm-6:30pm
Location: Exhibit Hall E
Liver transplant (LT) is considered a reasonable therapeutic option for certain HIV+ patients with end-stage liver disease (ESLD). As OPTN does not collect HIV status at waitlisting, no study has examined the epidemiology of HIV+ candidates awaiting LT. We identified HIV+ candidates on the LT waiting list by linking IMS Health pharmacy data (nearly 75% of all medication refills in the US) with SRTR data, 1/1/01-10/1/12. HIV+ status was determined by >1 fill of an antiretroviral medication approved only for HIV treatment; 93% of candidates had >1 fill. Simultaneous listings were collapsed. We identified 465 HIV+ candidates on the LT waiting list. As of 2012, 76.7% of prevalent HIV+ candidates were aged 50 years or older; 62.8% were white, 23.3% African American, and 14% Hispanic. Proportions of African Americans and Hispanics were increasing; the proportion of women (<10%) was unchanged. Reasons for liver failure included HCV (46.5%) and HBV (11.6%); malignancy, alcoholic liver disease, cholestasis, and other (including non-alcoholic fatty liver disease) accounted for 41.9% of cases. Demographic characteristics of HIV+ candidates on the LT waiting list changed substantially over time. An increasing proportion were older. Racial diversity increased, but HIV+ women were rarely listed. Finally, liver malignancy and other diseases increasingly accounted for higher proportions of diagnoses than HCV- or HBV-related cirrhosis, likely reflecting an aging HIV+ population with more comorbid conditions such as diabetes and hypertension.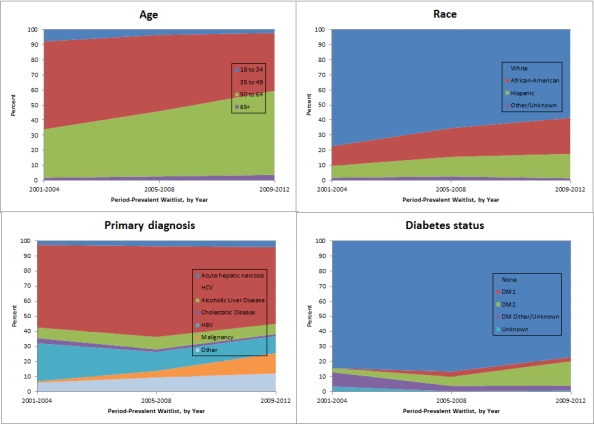 To cite this abstract in AMA style:
Durand C, Gustafson S, Locke J, Snyder J, Shelton B, Reed R, MacLennan P, Mehta S, Nellore A, Segev D. Changing Demographics of HIV+ Liver Transplant Candidates [abstract].
Am J Transplant.
2015; 15 (suppl 3). https://atcmeetingabstracts.com/abstract/changing-demographics-of-hiv-liver-transplant-candidates/. Accessed June 11, 2021.
« Back to 2015 American Transplant Congress