Session Information
Session Time: 3:15pm-4:00pm
Presentation Time: 3:30pm-4:00pm
Location: Virtual
*Purpose: Prolonged cold ischemia (CI) is a known risk factor for acute kidney injury (AKI) after kidney transplantation. However, the mechanism by which CI leads to AKI is unknown. Caspase-1 mediates inflammation by cleaving precursor IL-1β to its mature form. Caspase-1 knockout mice (Casp1KO) are protected from AKI after warm ischemia/reperfusion injury (Melnikov, JCI 2001). We observed significantly increased expression of Caspase-1 in WT kidneys subjected to transplantation after CI. Since Caspase-1 plays a central role as an inflammatory response initiator, we hypothesized that Caspase-1 knockout (KO) mice would be protected from Acute Kidney Injury (AKI) following transplant.
*Methods: C57Bl/6J wild type or C57Bl/6J Casp1KO kidneys were subjected to CI for 30 min and then transplanted into wild type recipients (CI+Txp). The recipients underwent bilateral native nephrectomy at the time of transplant. Serum creatinine (sCr) was measured 24hrs after native nephrectomy to assess transplant function. Tissue was scored for apoptosis and ATN.
*Results: We observed significantly increased expression of NLRP1 inflammasome protein, caspase-1 and serum IL-1β in WT kidneys subjected to CI+Txp. Survival was significantly increased and tubular cell apoptosis was significantly decreased in transplanted Casp1KO vs WT kidneys. Renal function, ATN scores including brush border injury, cast formation, tubular simplification were similar in both groups and not significantly different.
*Conclusions: Our data suggest that deletion of Caspase-1 improves survival and tubular cell apoptosis after CI followed by transplantation. Caspase-1 deletion did not prevent renal injury and necrosis in kidneys subjected to CI+Txp, suggesting that other triggers of inflammation and programmed necrosis may need to be inhibited in addition to deletion of Caspase-1 to fully prevent AKI after kidney transplant.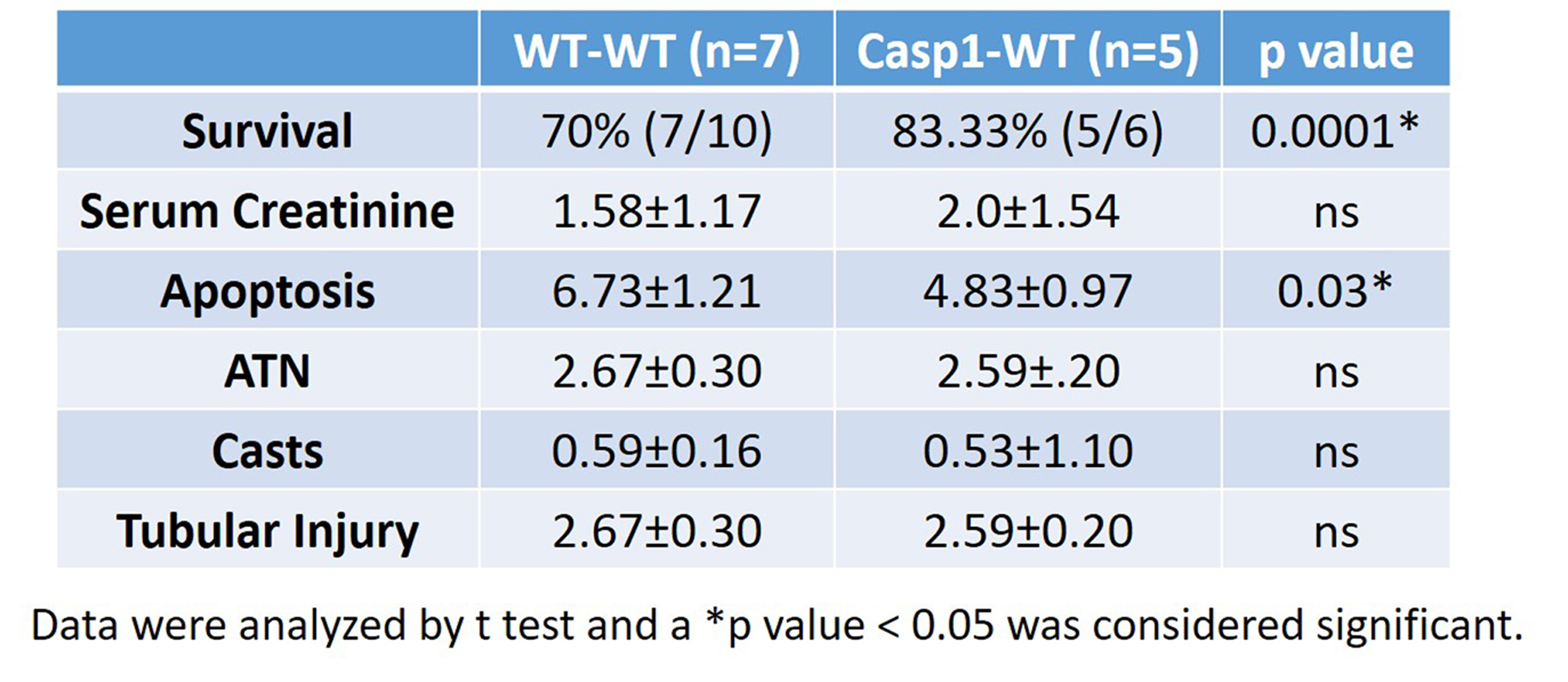 To cite this abstract in AMA style:
Jain S, Plenter R, Nydam T, Jani A. Caspase-1 Knockout Mice Have Increased Survival after Cold Ischemia in a Murine Kidney Transplant Model [abstract].
Am J Transplant.
2020; 20 (suppl 3). https://atcmeetingabstracts.com/abstract/caspase-1-knockout-mice-have-increased-survival-after-cold-ischemia-in-a-murine-kidney-transplant-model/. Accessed July 30, 2021.
« Back to 2020 American Transplant Congress