Blockade of IL-1β and TNF-α Does Not Significantly Pose Risk or Affect Outcomes in Patients Infused with Microbial-Positive Autologous Islet Preparations
1Baylor Scott and White Research Institute, Dallas, TX, 2Baylor University, Waco, TX, 3Baylor Simmons Transplant Institute, Dallas, TX
Meeting: 2019 American Transplant Congress
Abstract number: D280
Keywords: Adverse effects, Bacterial infection, Islets
Session Information
Session Time: 6:00pm-7:00pm
Presentation Time: 6:00pm-7:00pm
Location: Hall C & D
*Purpose: We recently demonstrated that the combined use of anakinra (IL-1β blocker) and etanercept (TNF-α blocker) improved outcomes of islet autotransplantation after total pancreatectomy (TPIAT). However, the combination is associated with severe infections when used to treat autoimmune diseases. We studied the impact of positive islet cultures on post-operative outcomes of TPIAT patients receiving anakinra and etanercept perioperatively.
*Methods: TPIAT procedures performed between 2014 and 2017 (n=58) at our center were retrospectively reviewed. There were 23 (39.6%) cases of bacterial contamination of the islet preparation. Outcome measures between patients receiving clean (Group 1) vs contaminated (Group 2) islet products were compared up to 1 year after TPIAT, for post-operative complications, length of hospitalization, readmission, insulin requirements, hemoglobin A1c (HbA1c), and C-peptide.
*Results: Baseline age, sex, BMI, pre-transplant HbA1c were not different between two groups (Table 1). There were more post-operative complications during the initial admission in Group1 when compared to Group2 (57% vs 26% respectively; p<0.05). There was no significant difference in length of hospitalization (13.6 d±5.2 vs 12.2 d±5.5, Mean±SD), readmission rate (68.5% vs 47.8%), 6month HbA1c (7.1±1.7 vs 7.6±1.1, %), C-peptide (1.4±0.97 vs 1.5±1.56, ng/mL), exogenous insulin use (11.1±10.4 vs 17.5±12.4, U). Enterococcus species were the most frequent contaminating bacteria (Figure.1).
*Conclusions: Combined use of anakinra and etanercept is safe and well tolerated in TPIAT patients. Post-operative course and islet graft function were not impacted negatively by islet preparations with positive microbial cultures.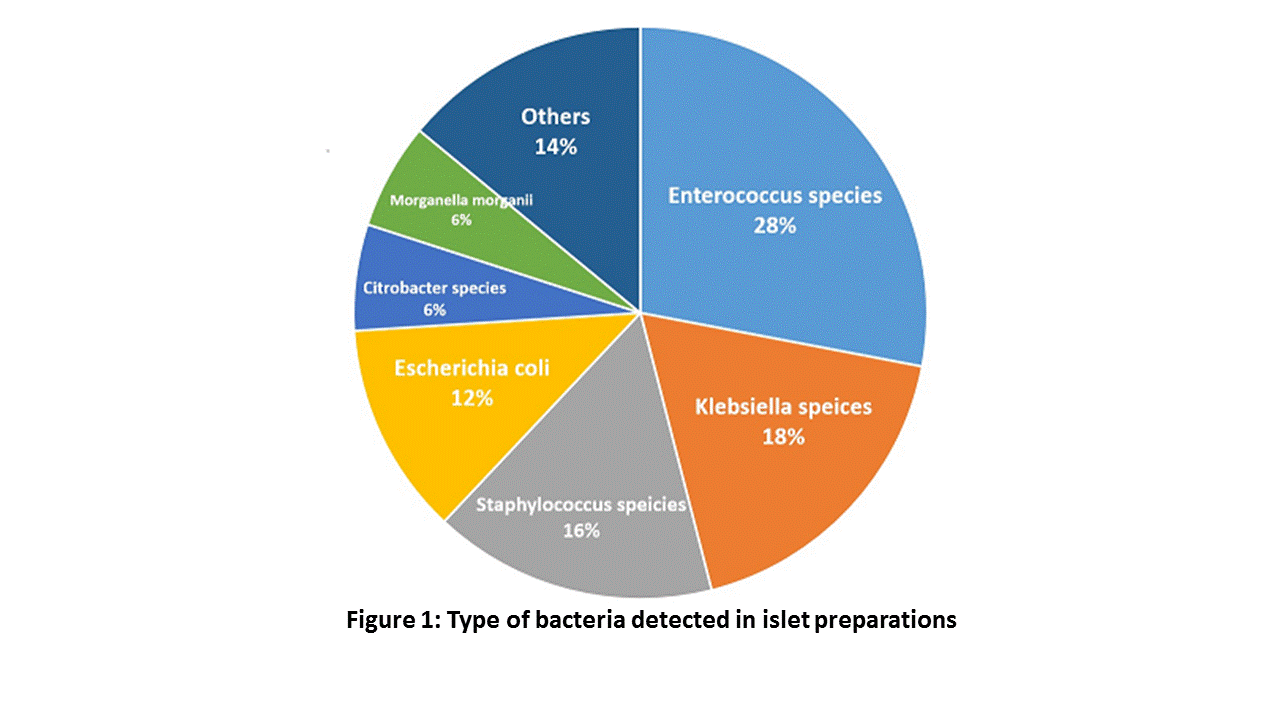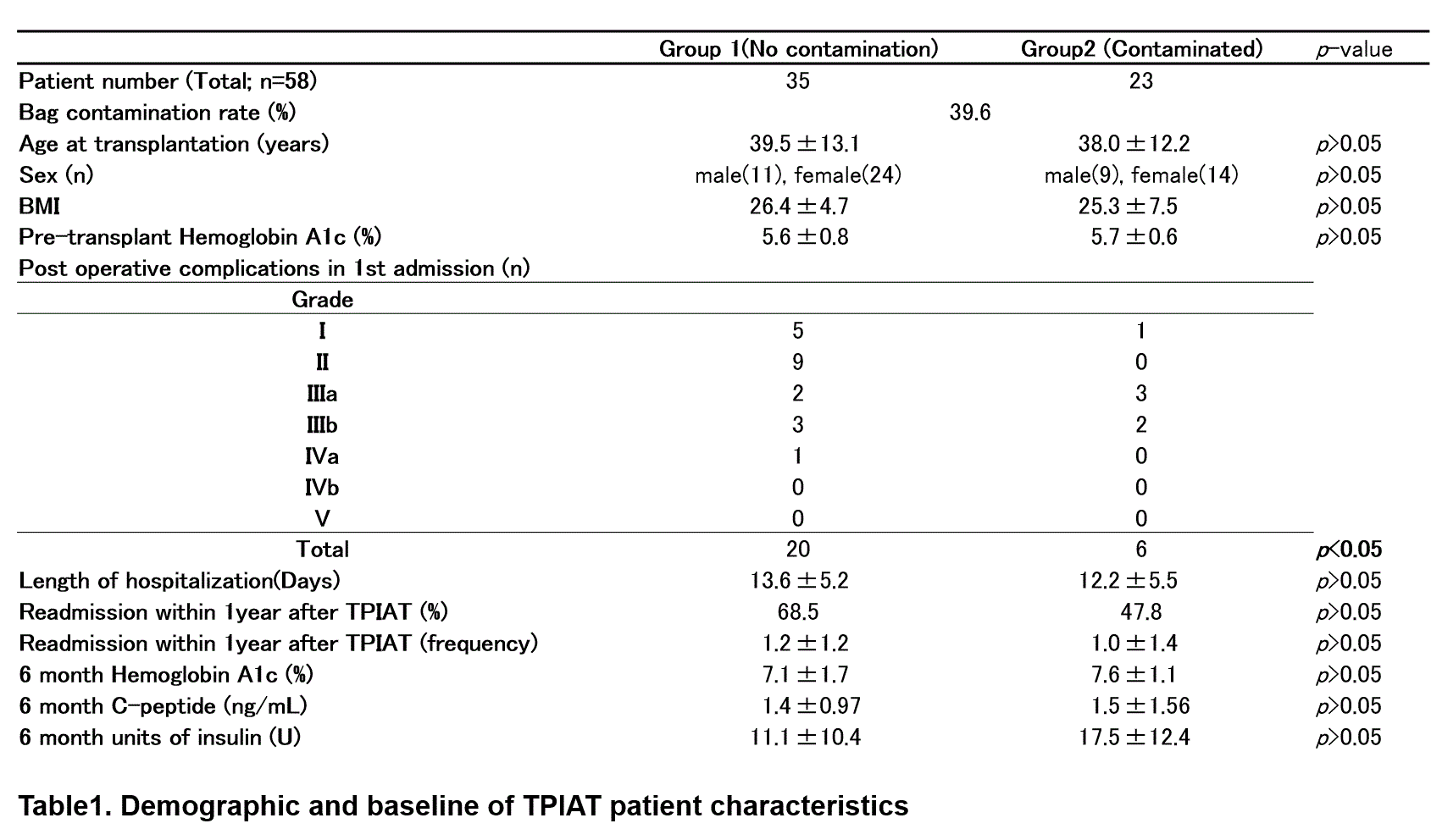 To cite this abstract in AMA style:
Kumano K, Darden C, Vasu S, Lawrence M, Naziruddin B, Gupta A, Beecherl E, Onaca N. Blockade of IL-1β and TNF-α Does Not Significantly Pose Risk or Affect Outcomes in Patients Infused with Microbial-Positive Autologous Islet Preparations [abstract].
Am J Transplant.
2019; 19 (suppl 3). https://atcmeetingabstracts.com/abstract/blockade-of-il-1%ce%b2-and-tnf-%ce%b1-does-not-significantly-pose-risk-or-affect-outcomes-in-patients-infused-with-microbial-positive-autologous-islet-preparations/. Accessed September 24, 2021.
« Back to 2019 American Transplant Congress