Anemia and Hemolysis on Dapsone Despite Normal Glucose-6-Phosphate Dehydrogenase Activity in Heart Transplant Recipients
Cedars-Sinai Smidt Heart Institute, Los Angeles, CA
Meeting: 2019 American Transplant Congress
Abstract number: B101
Keywords: Heart
Session Information
Session Time: 6:00pm-7:00pm
Presentation Time: 6:00pm-7:00pm
Location: Hall C & D
*Purpose: Dapsone has been considered an acceptable alternative for pneumocystis jirovecii pneumonia (PCP) prophylaxis in sulfa-allergic or -intolerant transplant patients with normal glucose-6-phosphate dehydrogenase (G6PD) activity. Although anemia is a known side effect of dapsone use, it is usually associated with either treatment doses or G6PD deficiency.
*Methods: A retrospective review of 53 heart transplants on dapsone performed at Cedars-Sinai Medical Center between 01/2016 and 06/2018 was performed. Of these, 36 were on dapsone for >2 weeks. G6PD activity was checked in all patients started on dapsone and was in the normal range. We identified 8 patients that discontinued dapsone due to anemia or hemolysis during this period. Clinical data was obtained via chart review.
*Results: Dapsone was initiated for PCP prophylaxis 3-63 days after heart transplant for a mean of 52+/-24 days. The mean hemoglobin and mean cell volume (MCV) at the start of dapsone were 9.9+/-1.3 and 95+/-6, respectively. The mean decrease in hemoglobin after starting dapsone was 22% while the mean increase in MCV was 16%. Only 2 of 6 patients had undetectable haptoglobin (< 8 mg/dL). Only four patients had an LDH measured, which all had above normal levels (> 220 units/L). Six patients had a reticulocyte percentage measured and all were greater than 3.5. Two patients were rechallenged with dapsone and had repeat hemolysis symptoms or anemia. Two of the patients were admitted to the hospital for anemia monitoring, with one patient also having a concomitant infection and requiring blood transfusions. Once dapsone was discontinued, it took 33 +/-14 days to increase hemoglobin by at least 2 mg/dL from the nadir and 43 +/-12 days to normalize MCV. Figure 1 displays the time course of the change in hemoglobin during dapsone therapy for each patient.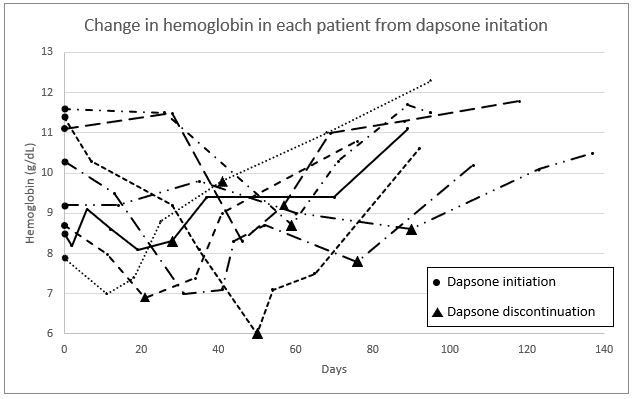 *Conclusions: Anemia and hemolysis were common following dapsone initiation in our post-transplant cohort despite normal G6PD activity. Alternative therapies such as atovaquone should be considered for transplant patients intolerant to sulfa medications for prophylaxis of PCP.
To cite this abstract in AMA style:
Lor K, Kransdorf E, Patel J, Kittleson M, Chang D, Kobashigawa JA. Anemia and Hemolysis on Dapsone Despite Normal Glucose-6-Phosphate Dehydrogenase Activity in Heart Transplant Recipients [abstract].
Am J Transplant.
2019; 19 (suppl 3). https://atcmeetingabstracts.com/abstract/anemia-and-hemolysis-on-dapsone-despite-normal-glucose-6-phosphate-dehydrogenase-activity-in-heart-transplant-recipients/. Accessed February 29, 2020.
« Back to 2019 American Transplant Congress