YAP Phosphorylation Is Altered during Liver Regeneration in a Rat Hepatectomy Model
Department of Surgery, Boston Children's Hospital, Boston, MA
Department of Stem Cell and Regenerative Biology, Harvard University, Boston, MA
MassGeneral Institute For Neurodegenerative Disease, Massachusetts General Hospital, Boston, MA
Meeting: 2013 American Transplant Congress
Abstract number: A750
Purpose:
The transcription factor YAP has been shown to stimulate hepatocyte proliferation. Furthermore, overexpression of YAP results in liver overgrowth leading to transformation into malignancy. Phosphorylation of YAP (pYAP) has been shown to inhibit its function as a transcription factor and inhibit the expression of YAP activated genes involved in cellular growth. Interestingly, the YAP /Hippo signaling pathway has been implicated in organ size regulation; however, its role in liver regeneration (LR) has not been fully elucidated. We hypothesized that the YAP/Hippo pathway plays a critical role in LR and we sought to characterize alterations in functionally active (total YAP) and inactive YAP (pYAP) levels during LR.
Methods:
A 70% partial hepatectomy (PH) model in rats was used for these studies. Resected livers represented quiescent livers (control). The remnant livers were subsequently collected at 1, 7, 10, and 14 days after PH. Liver extracts were subjected to western blot analysis using anti YAP and phosphorylated YAP (pYAP) antibodies. Each animal served as its own control.
Results:
Our results indicate that there is an initial increase in YAP following 1 day post PH that remained constant up to 14 days post PH. Furthermore, there was a progressive and statistically significant decrease in pYAP following 1 day post PH that continued through day 14 post PH.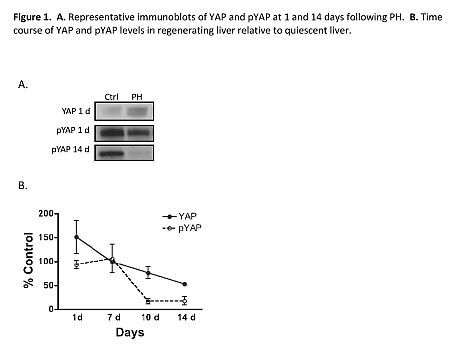 Discussion:
Our findings demonstrate a significant increase in YAP levels following 1 day post PH. More importantly, there is a progressive decrease in pYAP, the inactive form of YAP, following PH that lasts up to 14 days, suggesting that YAP plays a role in LR. These findings highlight the role of YAP in LR and provide a new target for augmentation of LR following acute liver injury or small-for-size syndrome following transplantation.
To cite this abstract in AMA style:
Grijalva J, Camargo F, Sadri-Vakili G, Vakili K. YAP Phosphorylation Is Altered during Liver Regeneration in a Rat Hepatectomy Model [abstract].
Am J Transplant.
2013; 13 (suppl 5). https://atcmeetingabstracts.com/abstract/yap-phosphorylation-is-altered-during-liver-regeneration-in-a-rat-hepatectomy-model/. Accessed December 7, 2021.
« Back to 2013 American Transplant Congress