Who Says Yes to Vascularized Composite Allografts (VCA) Donation?
1Systems Science and Industrial Engineering, Binghamton University, Binghamton, NY, 2Quality Assurance and Process Improvement, Live On NY, New York, NY, 3Preservation, Live On NY, New York, NY
Meeting: 2020 American Transplant Congress
Abstract number: D-239
Keywords: Donation, N/A, Patient education
Session Information
Session Time: 3:15pm-4:00pm
Presentation Time: 3:30pm-4:00pm
Location: Virtual
*Purpose: To analyze psychosocial factors associated with affirmative authorization for VCA donation.
*Methods: In an IRB approved protocol, individuals (authorized parties, AP) who previously authorized both organ donation and research in one organ procurement organization (OPO) between July 2014 and July 2018 were offered the opportunity to participate in a one-hour research interview. Qualitative analysis was used to analyze common themes contributing to the AP providing a YES.
*Results: Demonstrated below, we approached a large number of APs (N = 262) in order to facilitate 20 interviews. APs for those who died from drug intoxication were more inclined to participate in the study, than from other causes. (p = 0.043). Overall, N = 20, 1 hour, open-ended interviews were conducted for discussion of issues such as trust in the medical system, beliefs and cultural issues about donation, former experience with donation/transplantation, prior discussions of donation, perception about VCA transplant and preferences about the recipient. APs for donors with drug overdoses preferred to share donor achievements and personalities. Thematic analysis led to focus on the reality of helping others, caring for people, accepting death, comfort with death, wholesomeness, meaning of death, tangiblity of death factors, awareness of VCA, clear information, nature of the relationship between AP and donor, and trust in the system. Key themes that are the main physiological drive behind the AP's decision about VCA donation were identified as goodness, death, face transplant, closure, and humanity. We identified a global theme as "the only thing that makes sense".
*Conclusions: These interviews provided profound insights into the factors associated affirmatively with organ donation, permission for research, and the likely authorization for VCA donation. This study is funded by the Department of Defense (W81XWH-17-1-0646).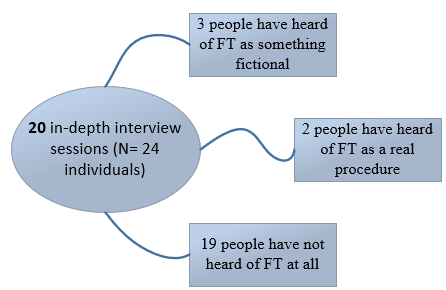 To cite this abstract in AMA style:
Gharibdousti MS, Martucciello C, Khasawneh MT, Friedman AL. Who Says Yes to Vascularized Composite Allografts (VCA) Donation? [abstract].
Am J Transplant.
2020; 20 (suppl 3). https://atcmeetingabstracts.com/abstract/who-says-yes-to-vascularized-composite-allografts-vca-donation/. Accessed July 24, 2021.
« Back to 2020 American Transplant Congress