Viremic Hepatitis C (HCV) Donors a Viable Option for Lung Transplant Recipients Treated with Real World Delayed Therapy
Duke University, Durham, NC
Meeting: 2020 American Transplant Congress
Abstract number: 186
Keywords: Allocation
Session Information
Session Time: 3:15pm-4:45pm
Presentation Time: 3:15pm-3:27pm
Location: Virtual
*Purpose: We present an IRB-approved trial of nucleic acid test (NAT) positive HCV donors (D+) used for HCV-negative recipients (R-) at Duke University for patients with expected longer wait times (low lung allocation score (LAS) and high calculated panel reactive antibodies (cPRA)) treated with a real-world strategy of delayed outpatient antiviral therapy.
*Methods: A retrospective review was done on all HCV D+/R- lung transplants from September 2018 to December 2019. We analyzed baseline donor and recipient demographics, HCV viral load (VL) kinetics, treatment course, toxicity and clinical outcome.
*Results: 14 patients received bilateral orthotopic lung transplant, 1 heart-lung and 1 lung-liver transplant. Recipients were white (83%), women (63%) with a median (x ̃) age of 52. The most common indication was COPD (31%). X ̃ LAS was 36.5 and x ̃ waitlist time was 23.5 (IQR 18-44) days. Donors were white (93%), male (69%), intravenous drug users (IVDU) (88%) and 69% died from anoxic brain injury mostly related to IVDU. All patients received induction therapy with basiliximab/solumedrol (94%), followed by standard immunosuppressive therapy as tolerated. By post-op day 5, 88% were viremic and with a peak x ̃ VL of 18.7 million copies. The most common HCV genotype was 1a (81%) and a 3-month antiviral therapy was initiated at a x ̃ 57 days after transplantation. 50% of the patients received sofosbuvir/velpatasvir (sof/vel). There was a x ̃ delay of 18 days from prescription to initiation mostly due to insurance approval; 2 needed peer-to-peer discussion every time and 1 prescription was rejected completely requiring internal financing. 3 had transaminitis that exceeded 3x the upper limit of normal with peak ALT (189, 779, 863 U/L) and AST (147, 1012, 822 U/L) likely due to to multiple confounders and of short duration – all self-resolved. 12 patients completed therapy; 11/12 achieved SVR12, 1/12 (treated with sof/vel) relapsed 51 days after clearance. Antacids might have played a role and she is treated again with sof/vel/voxilaprevir. 3 are still pending therapy completion, 1 did not start yet. The hospital x ̃ length of stay was 21 days. Acute cellular rejection (ACR) was 38% but the x ̃ post-transplant course is only 6 months. 1-month survival is 100% with 0 mortality to date.
*Conclusions: HCV D+ to R- is a viable possibility with the potential to increase the organ donor pool. Delayed HCV treatment was successful, tolerated well and it is a practical approach for these complex patients. Still, further careful characterization of this population is needed.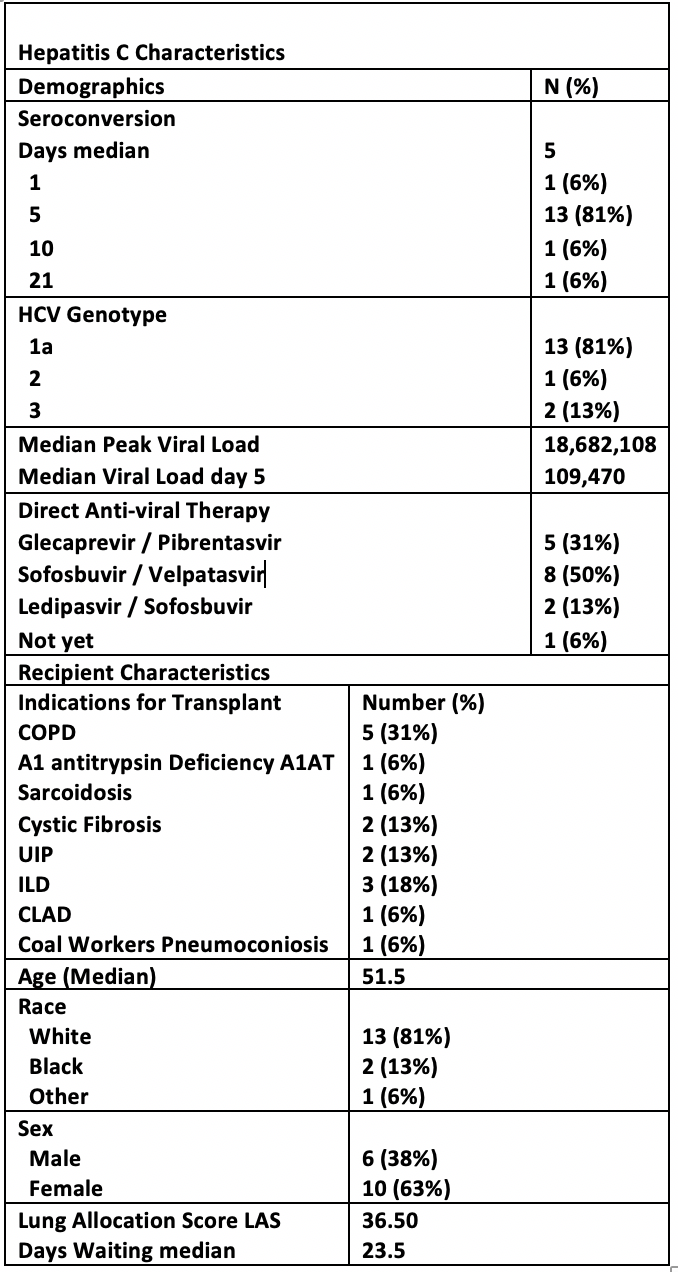 To cite this abstract in AMA style:
Kakoullis SA, Eichenberger EM, Steinbrink JM, Maziarz E, Ali H, Berry H, Haney J, Klapper J, Reynolds JM, Wolfe CR. Viremic Hepatitis C (HCV) Donors a Viable Option for Lung Transplant Recipients Treated with Real World Delayed Therapy [abstract].
Am J Transplant.
2020; 20 (suppl 3). https://atcmeetingabstracts.com/abstract/viremic-hepatitis-c-hcv-donors-a-viable-option-for-lung-transplant-recipients-treated-with-real-world-delayed-therapy/. Accessed September 30, 2020.
« Back to 2020 American Transplant Congress