Trends in Usage and Outcomes for Expanded Criteria Donor Kidney Transplantation
Duke University Medical Center, Durham, NC
Clinical Trials and Consulting Services, Cincinnati, OH
Meeting: 2013 American Transplant Congress
Abstract number: 304
Expanded criteria donor (ECD) kidneys have been incorporated into the donor pool over the past decade to combat organ shortages. We sought to analyze the trends in usage and outcomes for ECD transplants.
METHODS: Adult, first time, kidney-only transplants per the OPTN/UNOS database from 2003-2011 were analyzed. The Cochran-Armitage trend test was used to assess trends in ECD kidney utilization. Patient and graft survival curves were estimated by the Kaplan-Meier method and compared by the log-rank test. Risk of graft failure, patient death, and delayed graft function (DFG) in relation to transplant year were assessed using multivariable Cox proportional hazard and logistic regression modeling.
RESULTS: 13,032 ECD recipients were analyzed (mean age 60 years, 32% black, 36% female). The percent of ECD transplants increased from 18.3% in 2003 to a peak of 21.8% in 2008 and declined thereafter to 19.4% in 2011 (p<0.0001).
ECD recipients had a significantly increased trend in diabetes, BMI≥30 kg/m2, hypertension, and age≥60 years (p<0.001 for all). Unadjusted graft and patient survival significantly improved over time [Figure 2], which retained significance upon multivariable adjusted Cox proportional hazard modeling [adjusted hazard ratio (AHR) per one year increase: 0.96, 95% confidence interval (CI): 0.94-0.97, p<0.001; AHR: 0.93, CI: 0.91-0.95, p<0.001, respectively].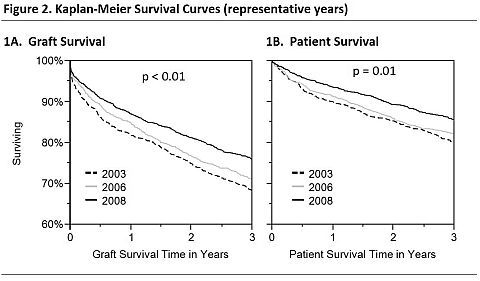 The rate of DGF also significantly decreased over time (adjusted odds ratio 0.98, CI 0.96-0.99, p=0.01).
CONCLUSIONS: Outcomes for ECD kidney transplant have improved over time, notwithstanding worsening recipient risk profiles. Despite these findings, the usage of ECD kidneys is declining, which warrants further investigation into potential causative factors.
To cite this abstract in AMA style:
Castleberry A, Ravindra K, Vikraman D, Worni M, Barbas A, Englum B, Ellis M, Irish W, Sudan D. Trends in Usage and Outcomes for Expanded Criteria Donor Kidney Transplantation [abstract].
Am J Transplant.
2013; 13 (suppl 5). https://atcmeetingabstracts.com/abstract/trends-in-usage-and-outcomes-for-expanded-criteria-donor-kidney-transplantation/. Accessed October 20, 2020.
« Back to 2013 American Transplant Congress