Transplantation Tolerance That Depends on Regulatory T Cells Induced by TGF-beta-Producing Regulatory B Cells
Surgery, Massachusetts General Hospital, Boston, MA
Surgery, Sichual Provincial People's Hospital, Chengdu, Sichuan Province, China
Tufts Medical School, Boston, MA
Meeting: 2013 American Transplant Congress
Abstract number: B1109
Regulatory B cells (Bregs) have been shown to play a critical role in immune homeostasis and in autoimmunity models. We have recently demonstrated that combined anti-TIM-1 and anti-CD45RB antibody treatment generates regulatory B cells necessary for long-term mouse islet allograft survival in a full MHC-mismatch donor-recipient pair. Here we provide evidence that the induction of tolerance by regulatory B cells requires regulatory T cells, specifically: adoptive transfer of Bregs results in an increase in absolute number of Tregs in grafted recipients and depletion of Tregs abrogates transplant tolerance conferred by adoptive transfer of regulatory B cells. We hypothesize that Bregs induce the expansion of Tregs, and demonstrate that Bregs from transplanted but not naive mice express TGF-beta complexed to latency-associated peptide (LAP). Furthermore, Bregs but not naive B cells induce Foxp3 expression in CD4+CD25- T cells by adoptive transfer in vivo and Breg mediated graft prolongation is abrogated by neutralization of TGF-beta activity.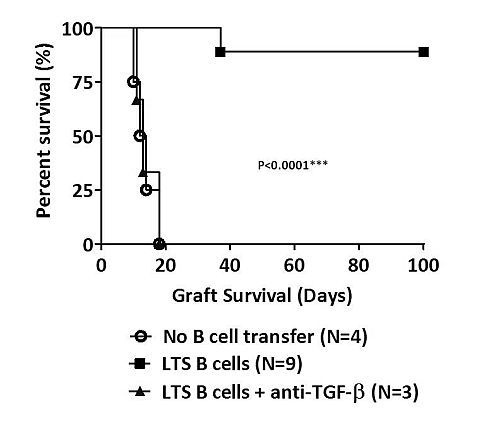 Collectively, these findings suggest that in this model antibody induced Bregs promote tolerance by inducing Tregs, possibly via TGF-beta production.
To cite this abstract in AMA style:
Kim J, Lee K, Zhao G, Stott R, Soohoo J, Lian M, Fitzgerald L, Yeh H, Deng S, Markmann J. Transplantation Tolerance That Depends on Regulatory T Cells Induced by TGF-beta-Producing Regulatory B Cells [abstract].
Am J Transplant.
2013; 13 (suppl 5). https://atcmeetingabstracts.com/abstract/transplantation-tolerance-that-depends-on-regulatory-t-cells-induced-by-tgf-beta-producing-regulatory-b-cells/. Accessed October 21, 2020.
« Back to 2013 American Transplant Congress