Transplant Center Experiences with Social Media Campaigns for Living Donation
1UNOS, Richmond, VA, 2Mayo Clinic, Rochester, MN, 3Virginia Mason Medical Center, Seattle, WA, 4OPTN Living Donor Committee, Richmond, VA, 5Scripps Green Hospital, La Jolla, CA
Meeting: 2020 American Transplant Congress
Abstract number: C-054
Keywords: Living donor, Patient education
Session Information
Session Time: 3:15pm-4:00pm

Presentation Time: 3:30pm-4:00pm
Location: Virtual
*Purpose: The OPTN Living Donor Committee surveyed U.S. transplant (TX) programs to assess their experiences with social media campaigns intended to identify potential living donors (PLDs) for TX candidates.
*Methods: A REDCap survey was distributed to living donor program directors, TX administrators, and quality directors in September 2019. Topics included social media education and resources; patient challenges; program concerns, challenges and best practices; and program preparedness to handle a sudden influx of PLDs from a social media campaign.
*Results: We received 174 responses, predominantly from kidney programs. 72% (N=125) of respondents indicated their program provides patient education on the use of social media to find a PLD. Of the 153 respondents who indicated their programs track referral source information, 63% (N=97) reported referrals from social network sites. Of these, 62% (N=60) reported an increase in the number of social media referrals in the past year. Just 20% of respondents (N=35) said that their program has a special protocol for PLDs referred by social media. 28% of respondents (N=49) said their program has concerns regarding patients' social media use. Referral volume, PLD motivation, PLD viability, and privacy were the main themes identified from the qualitative responses. 65% of respondents (N=113) indicated that patients have shared challenges regarding use of social media campaigns; the most common patient challenges were limited knowledge of social media, privacy concerns, and limited access to technology. 40% (N=70) reported that their program has experienced challenges related to social media; the most common theme identified was unprepared/uneducated PLDs. Best practices developed in response to social media challenges included enhanced screening questions, enhanced education for candidates, and enhanced/early education for potential donors. 51% (N=89) said their program was mostly or very prepared to respond to a sudden influx of PLDs for a single recipient.
*Conclusions: This survey provides insight into TX programs' experiences with patients' social media campaigns to identify PLDs.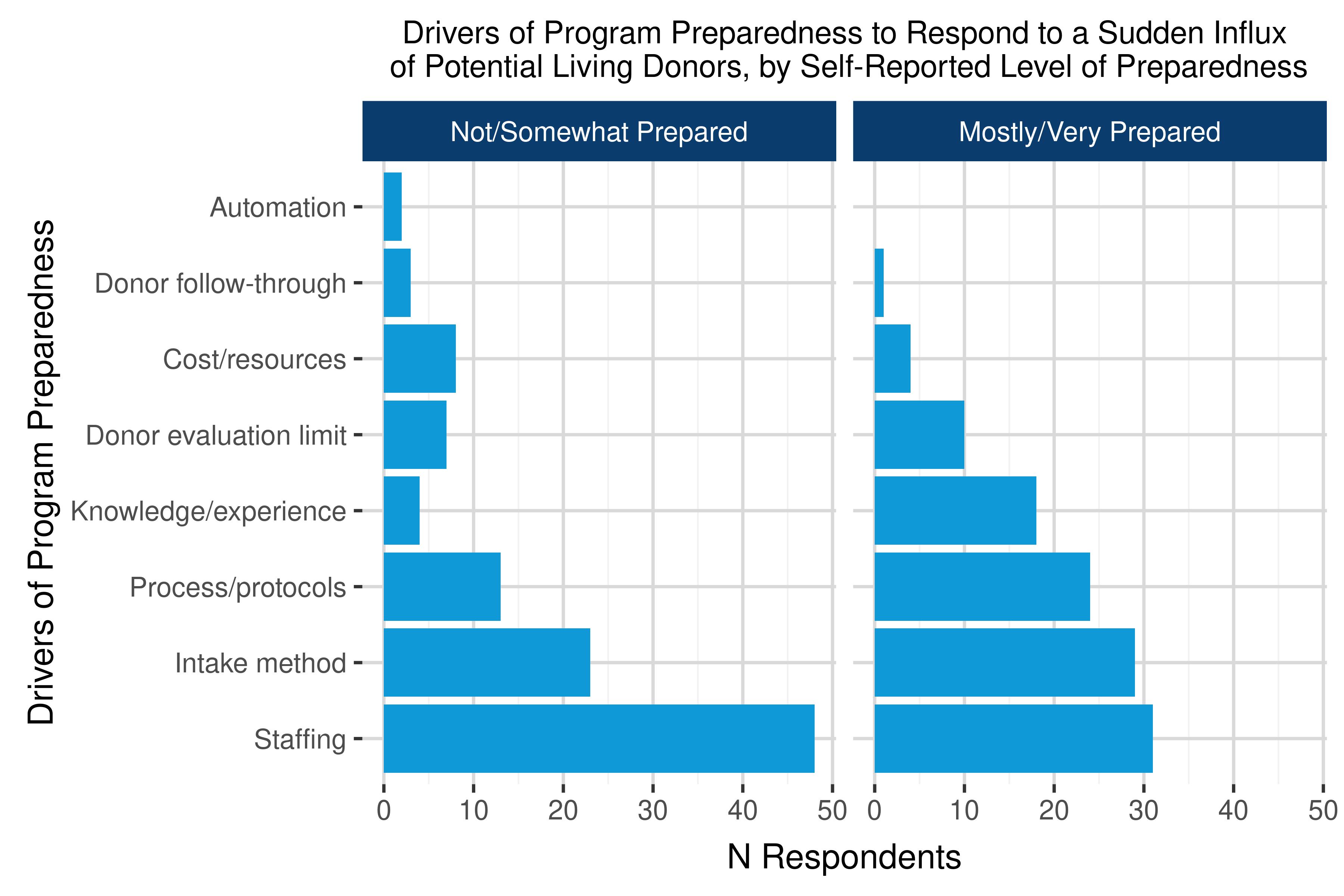 To cite this abstract in AMA style:
Booker SE, King L, Spiers J, Hunt H, Schaffer RL. Transplant Center Experiences with Social Media Campaigns for Living Donation [abstract].
Am J Transplant.
2020; 20 (suppl 3). https://atcmeetingabstracts.com/abstract/transplant-center-experiences-with-social-media-campaigns-for-living-donation/. Accessed March 24, 2023.
« Back to 2020 American Transplant Congress