Session Information
Session Time: 4:30pm-6:00pm

Presentation Time: 5:18pm-5:30pm
Location: Room 304
*Purpose: IL-6 blockade may play a role in reducing human leukocyte antigen donor specific antibodies (HLA DSA) production and stabilizing allograft function. We aimed to determine the benefit of tocilizumab therapy in treatment-refractory pediatric KTRs with AMR.
*Methods: Pediatric KTRs with refractory late AMR (defined as continued AMR on biopsy despite treatment with IVIG and rituximab +/- plasmapheresis and bortezomib >24 months post-transplant) were offered rescue treatment with monthly tocilizumab and monitored for changes in HLA DSA (Luminex), biopsy findings (Banff 2013), and allograft function (eGFR by Schwartz equation) before and 6-9 months after the start of tocilizumab. Symptomatic infections, viremia (EBV, BK, CMV), neutropenia/thrombocytopenia, lipids, and liver enzymes were monitored monthly. Hypogammaglobulinemia was monitored and treated for <650 mg/dL.
*Results: Five patients age 7-20 years developed refractory late AMR (mean 65 months post-transplant) and were treated with 3-7 doses of tocilizumab over 6-9 months. Doses were held for BK viremia in patients 2 and 3. Mildly elevated liver enzymes in 3 patients self-resolved. We observed no neutropenia, thrombocytopenia, increased hyperlipidemia, or serious infections. Four patients had HLA DSA (2 Class II, 2 Class I and II) and 1 (#3) had angiotensin II type 1 receptor antibody (AT1R-Ab). Change in eGFR and HLA DSA peak MFI are shown in Figure 1a and 1b. AT1R-Ab increased from 9 to 40units/mL in patient 3. Two patients had improvement in microvascular inflammation (Table 1).
*Conclusions: Tocilizumab may have a modest effect in pediatric KTRs with refractory AMR and was safe in this population with close clinical monitoring. We observed stable renal function in patients with eGFRs >70ml/min/1.73m2 at the start of therapy. There was a trend towards a more dramatic reduction in Class I vs Class II HLA DSA.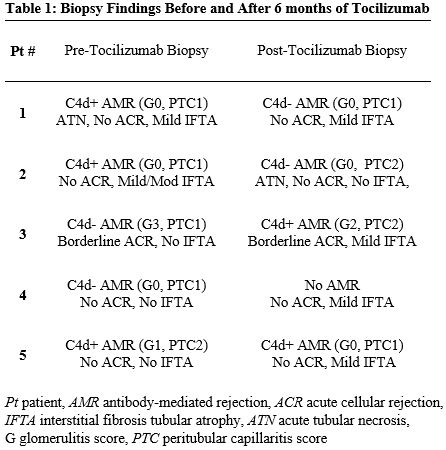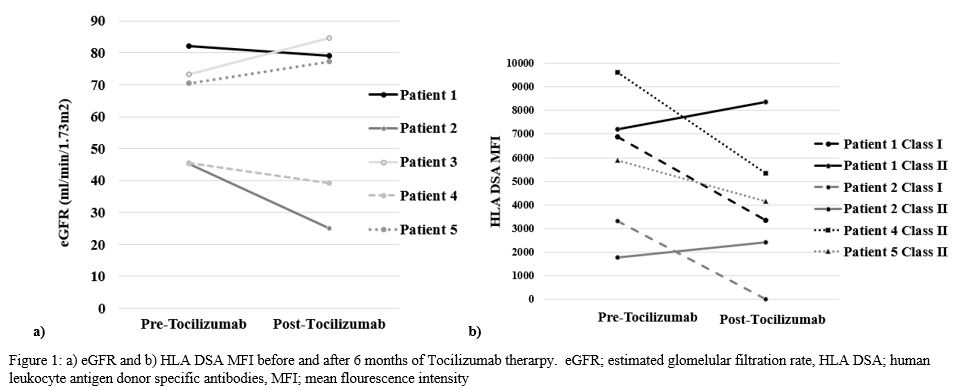 To cite this abstract in AMA style:
Dokras A, Butler C, Zhang Q, Reed E, Ettenger R, Weng P, Pearl M. Tocilizumab for Refractory Antibody-Mediated Rejection in Pediatric Kidney Transplantation [abstract].
Am J Transplant.
2019; 19 (suppl 3). https://atcmeetingabstracts.com/abstract/tocilizumab-for-refractory-antibody-mediated-rejection-in-pediatric-kidney-transplantation/. Accessed June 29, 2022.
« Back to 2019 American Transplant Congress