Session Information
Session Time: 3:15pm-4:00pm

Presentation Time: 3:30pm-4:00pm
Location: Virtual
*Purpose: Donor-derived cell-free DNA (ddcfDNA) is a promising biomarker for monitoring the allograft health status, however, its relationship with the pathological characteristics is still elusive.
*Methods: Sixty-two patients of which 10 non-rejection and 52 rejection recipients received allografts biopsy and whole blood samples reserved at biopsy. The rejection patients included 13 antibody-mediated rejection (ABMR) and 39 T-cell mediated rejection (TCMR) which composed of 12 with borderline change or type IA or type IB rejection (TR), 18 type IIA or IIB rejection (VR), and 9 tubular injury with TR (TR+TI). The ddcfDNA level was measured by human SNP loci capture hybridization.
*Results: The level of ddcfDNA in the ABMR group was significantly higher than that in the TCMR group. In the subgroups of TCMR, the ddcfDNA was the highest in the TR+TI group, while that was the lowest in TR group. All groups showed no significant difference between donation after circulatory death and living donor subgroups. Peritubular capillaries significantly enhanced the increase of ddcfDNA level in ABMR. The fibrotic area was negatively correlated with the ddcfDNA concentration in both TR and ABMR groups.
*Conclusions: The ddcfDNA level was elevated in both ABMR and TCMR with intimal arteritis and tubular injury patients, and it was correlated with the fibrosis severity in the ABMR and TR groups. The assay showed promising potential applicability of ddcfDNA as a non-invasive biomarker.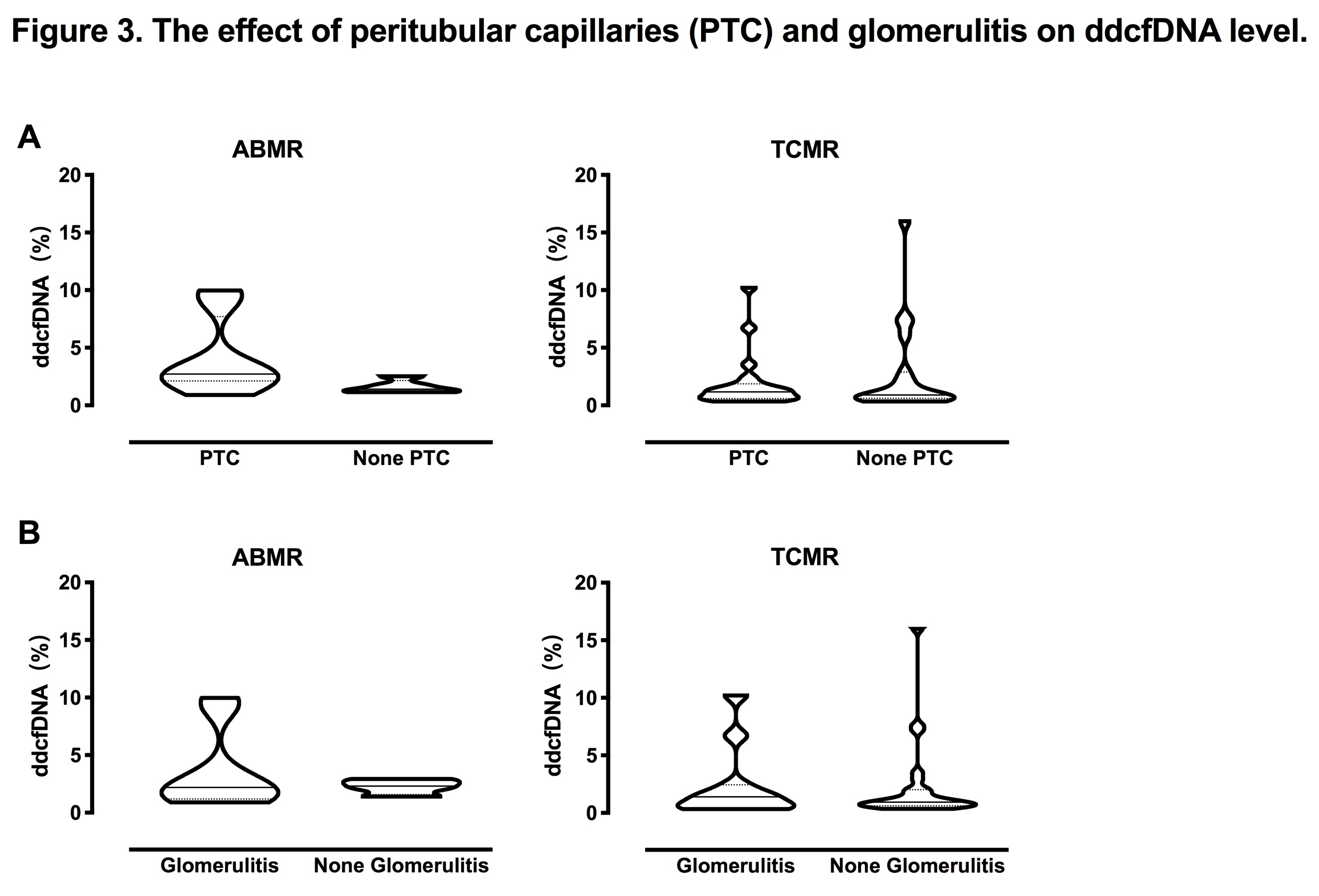 To cite this abstract in AMA style:
Wang R, Shen J, Wu J, Chen J. The Plasma DdcfDNA Level Associates with the Pathological Characteristics in Renal Allograft [abstract].
Am J Transplant.
2020; 20 (suppl 3). https://atcmeetingabstracts.com/abstract/the-plasma-ddcfdna-level-associates-with-the-pathological-characteristics-in-renal-allograft/. Accessed December 6, 2023.
« Back to 2020 American Transplant Congress