The Landscape of Non-Directed Living Liver Donation in the United States
L. R. Herbst, L. Zeiser, A. Massie, K. Herrick Reynolds, E. King, A. Gurakar, D. L. Segev, J. Garonzik Wang, A. M. Cameron
Johns Hopkins University, Baltimore, MD
Meeting: 2021 American Transplant Congress
Abstract number: 1129
Keywords: Allocation, Donors, unrelated
Topic: Clinical Science » Liver » Liver: Living Donor Liver Transplant and Partial Grafts
*Purpose: Non-directed donation (NDD) for kidney transplantation has increased substantially over the past decade, however the landscape of NDD for liver transplantation has yet not been described. Here, we quantify changes in liver NDD over time and characterize NDD liver donors and recipients.
*Methods: We retrospectively analyzed SRTR data between 2000-2019 and compared 133 NDDs liver donors and recipients to 2725 directed living liver donors (DLD) and recipients.
*Results: There were 133 liver NDD donors during our study period, increasing from 1% of all LDLTs in 2014 to 3% in 2017 and 2018, and then 10% of LDLTs in 2019 (Figure 1). Compared to DLDs, NDDs were younger (35 vs 40, p=0.002), more likely to be college educated (87.2% vs 76.5%, p=0.004), White (92.5% vs 77.8%, p<0.001), and have a lower BMI (24.9 vs 26.1, p=0.001) (Table 1). Compared to DLD recipients, recipients of NDDs were more often pediatric (39.1% vs 15.7% p<0.001) and had public insurance (51.1% vs. 32%, p<0.001). In comparison to DD recipients, more Black transplant candidates received an NDD liver (10.5% vs 4.1%, p=0.008) (Table 2).
*Conclusions: NDD LDLT has increased substantially over time and pediatric patients are prioritized recipients. As liver NDD continues to expand, it is essential to understand historical trends to guide equitable allocation of NDD liver grafts.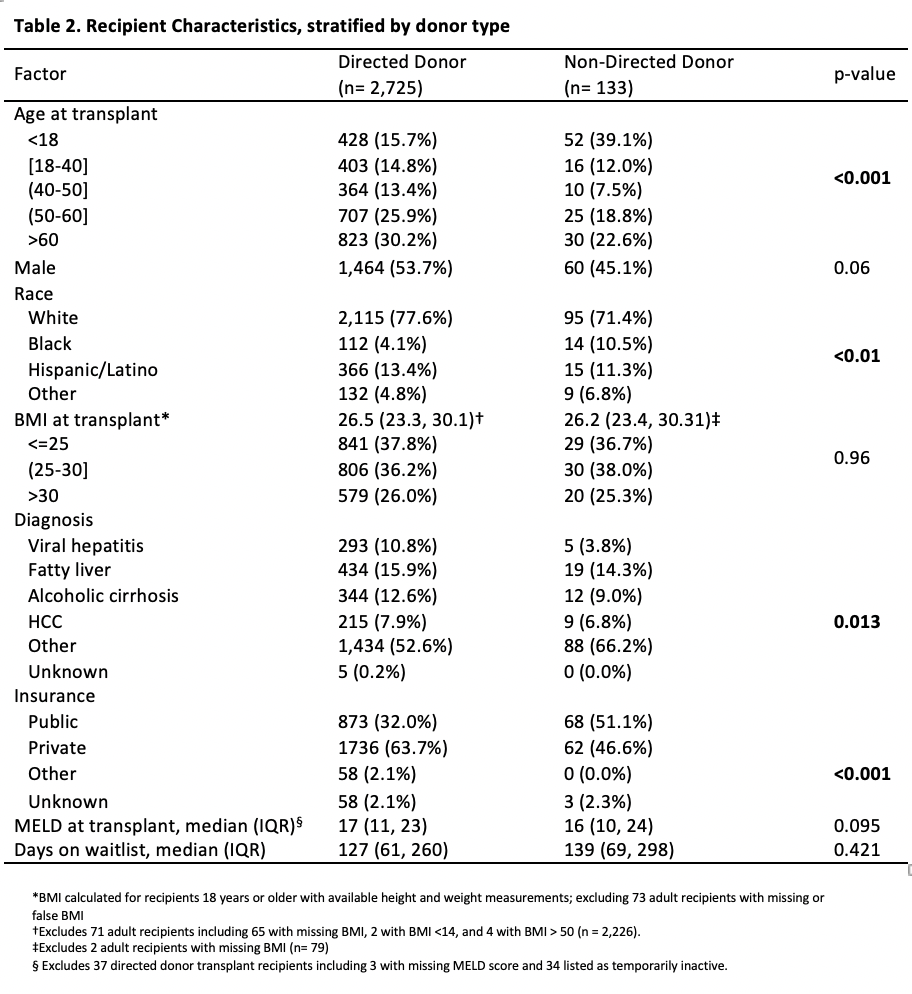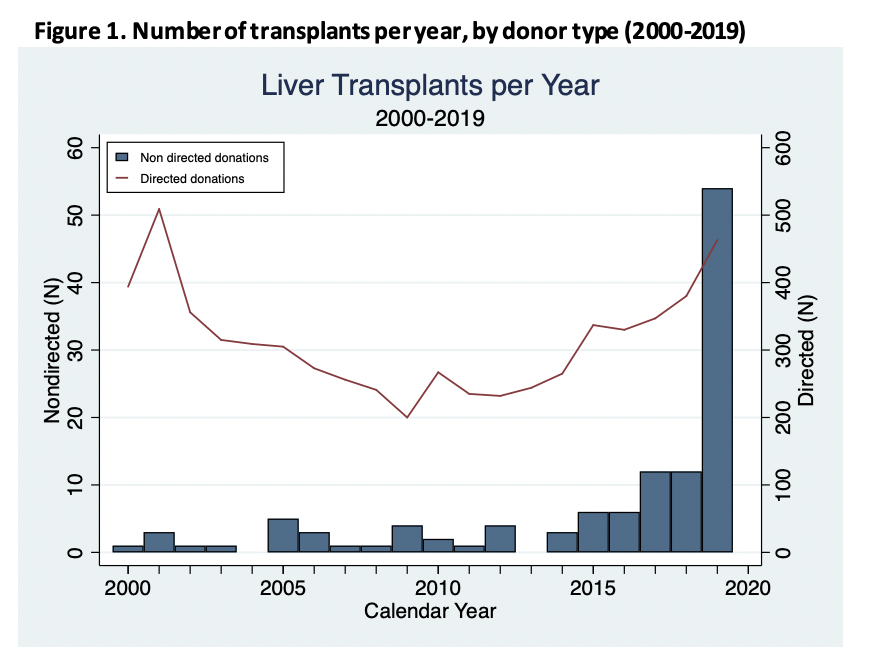 To cite this abstract in AMA style:
Herbst LR, Zeiser L, Massie A, Reynolds KHerrick, King E, Gurakar A, Segev DL, Wang JGaronzik, Cameron AM. The Landscape of Non-Directed Living Liver Donation in the United States [abstract].
Am J Transplant.
2021; 21 (suppl 3). https://atcmeetingabstracts.com/abstract/the-landscape-of-non-directed-living-liver-donation-in-the-united-states/. Accessed September 21, 2021.
« Back to 2021 American Transplant Congress