*Purpose: A national shortage of immediate release (IR) tacrolimus (FK) fully impacted our center in May 2020. The conversion process was immediately challenging during the peak of the COVID-19 pandemic in our state. The aim of this analysis was to assess the healthcare burden that resulted from a national IRFK shortage.
*Methods: This is a retrospective analysis of the conversion from IRFK to tacrolimus XR for all adult kidney recipients transplanted during the 2019 calendar year who had a functioning graft at the start of conversion (May 2020). Pts were divided into converted and not converted cohorts. Health care resource utilization as evidenced by notes in the EHR and encounters for therapeutic drug monitoring (TDM) were captured for 180 days for all pts; for converted pts these data were collected pre and post-conversion. The avg salary for a RN coord is $75K/yr or $38.46/hr. For each EHR encounter the average est cost was 30 mins ($19.23) and TDM was 15 mins ($9.62). Est PharmD costs per 17$/15 mins based on average base salary of $150K and a phone call time was est at 10 mins/call, provider costs estimated on avg base salary $75/hr consider 30 mins, $37.50 required for conversion and education for single post-conversion visit that would not have been required if conversion were not necessary.
*Results: 226 pts were transplanted in 2019 with 113 pts included for analysis (Figure 1). Pts without conversion had less EHR encounters during the study period (Table 1). TDM did not differ significantly pre and post-conversion among groups but did between groups. For the converted cohort total provider estimated costs was $3187.50 however if this were expanded to the estimated 2000 patients currently in follow-up the cost of provider time for conversion would be estimated around $75K. PharmD fielded an average of 10-15 calls/day (150 mins/day) for 6 wks following the initial conversion period for all patients. The cost for this time period was estimated at $4500.
*Conclusions: Converted pts overall had more healthcare encounters and TDM encounters pre and post-conversion compared to those that were not converted. Additional provider, coordinator and PharmD time were required for conversion efforts.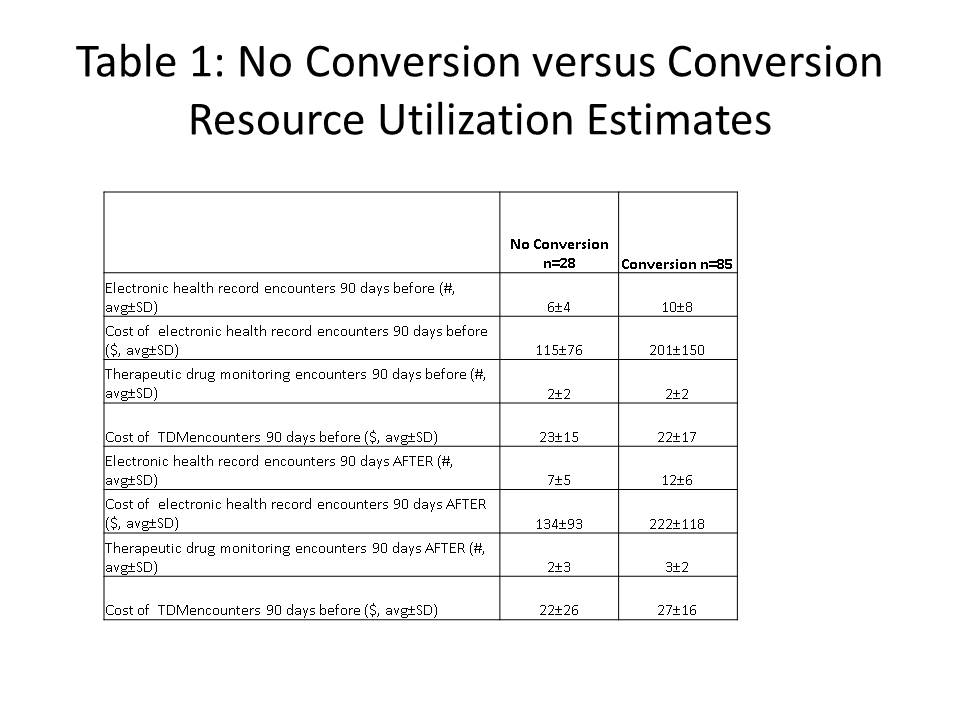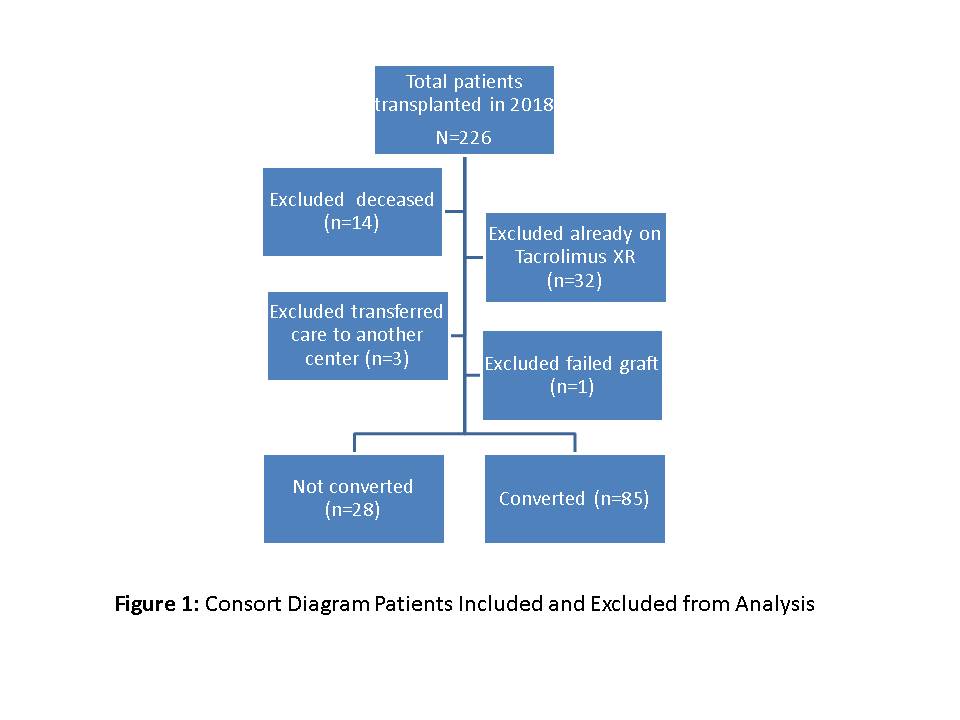 To cite this abstract in AMA style:
Pilch N, Johnson L, Aldoughaim M, Patel N, Bartlett F. Tacrolimus Shortage and the Rush to Convert: An Unexpected Burden on the System During the Covid-19 Pandemic? [abstract].
Am J Transplant.
2021; 21 (suppl 3). https://atcmeetingabstracts.com/abstract/tacrolimus-shortage-and-the-rush-to-convert-an-unexpected-burden-on-the-system-during-the-covid-19-pandemic/. Accessed June 22, 2021.
« Back to 2021 American Transplant Congress