Sustained Expression of CD39 Protects Acutely from Renal IRI but Promotes Fibrosis
Immunology Research Centre, St Vincent's Hospital, Melbourne, Victoria, Australia
University of Melbourne, Melbourne, Victoria, Australia
Beth Israel Deaconess Medical Centre, Harvard Medical School, Boston, MA
Meeting: 2013 American Transplant Congress
Abstract number: C1206
Background: The adenosinergic axis is involved in renal ischemia reperfusion injury (IRI) and the generation of adenosine by the action of CD39 and CD73 is protective. However, chronic elevation of adenosine has been linked to the development of renal fibrosis.
Aim: To access the effect of sustained versus transient increase in CD39 activity at 24 hours and week 4 post IRI
Methods: CD39 over-expressing (CD39Tg) mice and wild type (WT) littermates were subjected to unilateral renal ischemia for 23.5 min at 37°C. In a separate experiment, C57BL6 WT mice were treated with vehicle or apyrase 30 minutes prior to ischemia. Mice were euthanised at 24 hours or week 4 post-reperfusion and serum creatinine (Cr) and kidneys were assessed. At 24 hours, tubular injury was measured by blinded assessment of sections stained with H&E, using a semi-quantitative score of 0-5. At week 4, the degree of fibrosis was measured by computer-assisted analysis of sections stained with Masson's trichrome.
Results: At 24 hours, CD39Tg mice and apyrase-treated WT mice had significantly lower Cr and less tubular injury than WT littermates and vehicle-treated WT controls, respectively.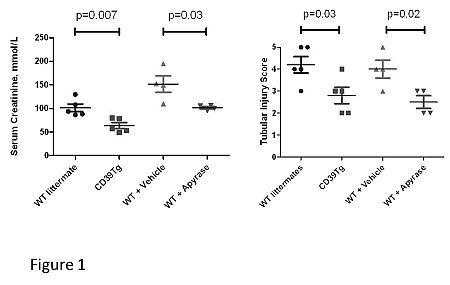 By week 4, CD39Tg mice had significantly more fibrosis than WT littermates, but apyrase-treated WT mice had significantly less fibrosis than vehicle-treated WT mice. Creatinine levels were no different between the groups.
Conclusion: Acute protection from IRI may not always translate to better long term outcomes. Over-expression of CD39 or treatment with apyrase protects the kidney acutely from IRI, but sustained exposure to high CD39 promotes the development of fibrosis.
To cite this abstract in AMA style:
Roberts V, Lu B, Cowan P, Robson S, Dwyer K. Sustained Expression of CD39 Protects Acutely from Renal IRI but Promotes Fibrosis [abstract].
Am J Transplant.
2013; 13 (suppl 5). https://atcmeetingabstracts.com/abstract/sustained-expression-of-cd39-protects-acutely-from-renal-iri-but-promotes-fibrosis/. Accessed May 16, 2021.
« Back to 2013 American Transplant Congress