Supporting "The Decision Project:" Understanding Perceptions of Organ, Eye, and Tissue Donation among Baltimore City Community Members
M. Johnson1, A. Saha1, M. Waldram1, I. Johnson2, L. Price2, A. Coleman2, C. Alexander2, D. Segev1, M. Henderson1
1Johns Hopkins, Baltimore, MD, 2The Living Legacy Foundation of Maryland, Halethorpe, MD
Meeting: 2020 American Transplant Congress
Abstract number: B-230
Keywords: African-American, Donation, Psychosocial, Waiting lists
Session Information
Session Time: 3:15pm-4:00pm

Presentation Time: 3:30pm-4:00pm
Location: Virtual
*Purpose: Using information provided by the Maryland Motor Vehicle Administration (MVA), it was found that the zip code 21205 in Baltimore City had one of the lowest organ designation rates, despite the large proportion of individuals on the transplant waiting list residing in this zip code. We partnered with the Living Legacy Foundation, the organ procurement organization for Maryland, to understand why individuals in this community are not registering as organ donors and to explore strategies to increase organ designation rates in Baltimore City.
*Methods: Three focus groups were conducted with Baltimore City community members living in zip code 21205 (N=24, 88% female, 100% black, 25% registered donors). Audio recordings from the focus groups were transcribed and subjected to thematic analysis. Two independent investigators reviewed the transcripts and coded them for thematic content by using the constant comparative method of analysis to synthesize findings.
*Results: Four parent themes emerged from focus group data: (Figure 1): 1) Addressing barriers to donation (lack of knowledge, distrust in the medical community); 2) Addressing myths and misconceptions (allocation, consent and acquisition, eligibility); 3) Mechanisms to overcome barriers and outreach recommendations (youth engagement, incentives); and 4) Targeted messaging for outreach (testimonies, relatable brochures and advertisements).
*Conclusions: Study findings suggest that building a strong community presence, engaging high school students, debunking myths, and using testimonies from the community in education and outreach may be powerful tools in increasing organ designation rates in Baltimore City and addressing disparities in organ donation.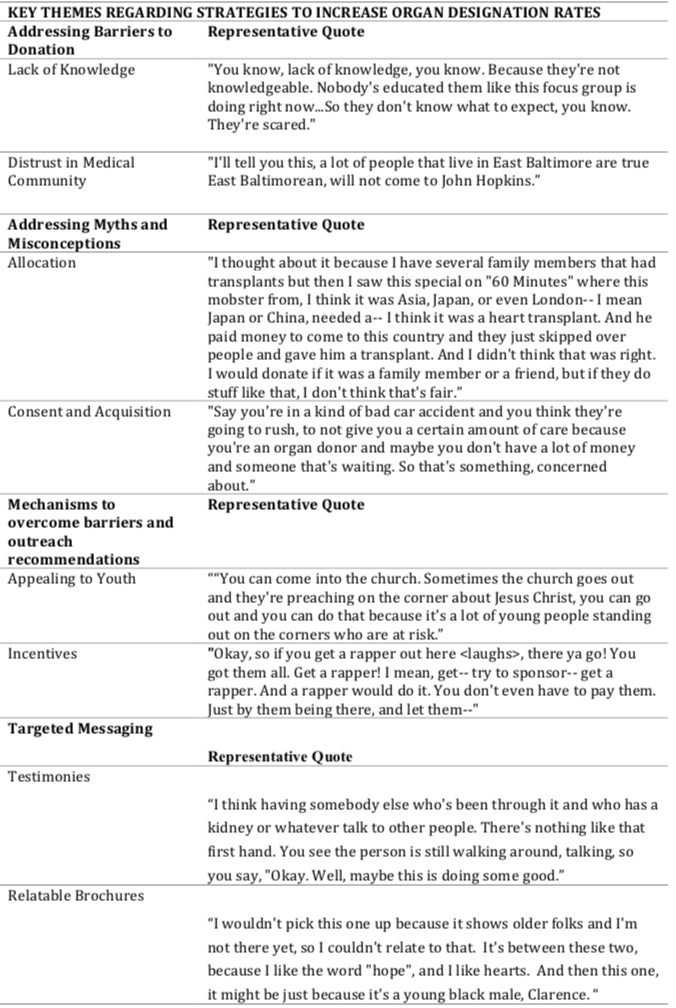 To cite this abstract in AMA style:
Johnson M, Saha A, Waldram M, Johnson I, Price L, Coleman A, Alexander C, Segev D, Henderson M. Supporting "The Decision Project:" Understanding Perceptions of Organ, Eye, and Tissue Donation among Baltimore City Community Members [abstract].
Am J Transplant.
2020; 20 (suppl 3). https://atcmeetingabstracts.com/abstract/supporting-the-decision-project-understanding-perceptions-of-organ-eye-and-tissue-donation-among-baltimore-city-community-members/. Accessed December 1, 2023.
« Back to 2020 American Transplant Congress