*Purpose: In April 2020, the OPTN made several policy and system modifications in response to the growing COVID-19 pandemic including updates to candidate lab data, relaxing data submission requirements, incorporation of donor COVID-19 infectious disease testing, and the addition of new COVID-19 specific offer refusal and candidate cause of death codes. The changes were intended to reduce institutional burden in a time of unprecedented challenge to the US healthcare system and to protect transplant candidates/recipients from unnecessary potential COVID-19 exposure.
*Methods: OPTN candidate, donor, and recipient data was analyzed by week from March-November 8, 2020.
*Results: The percent of candidates that appeared to carry labs forward to maintain waiting list status has been low and varied by organ and candidate age group (0-17% in any given week). The number and percent of TRF and LDF forms in amnesty status at form due date has grown since policy implementation, remaining at ~25-30%, and varied by OPTN Region and organ.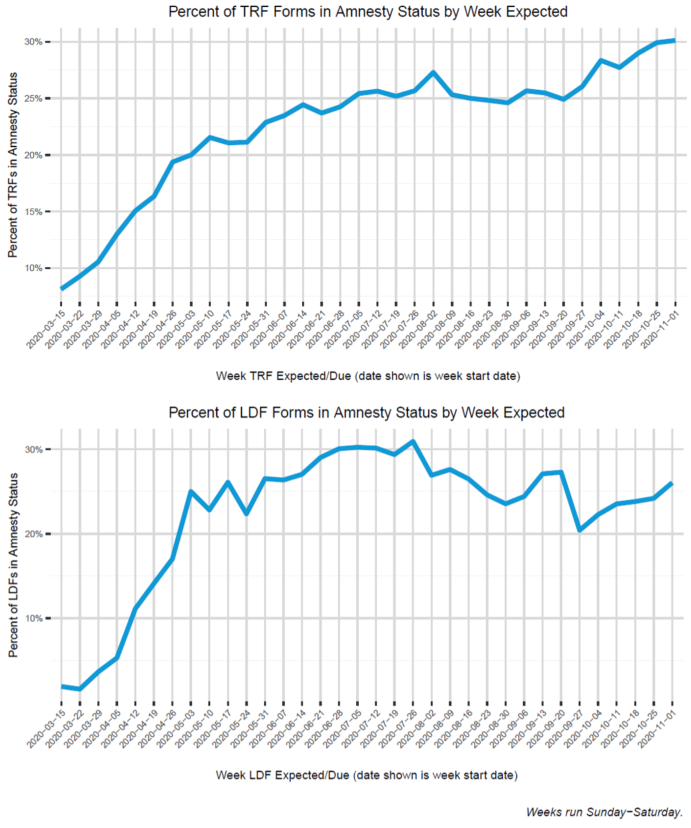 There continues to be a decline in the percent of matches with at least one COVID-19 refusal reason for all organs from a peak of over 60% in March to <20% in November.
The proportion of COVID-19 related waiting list deaths among all reported deaths was highest for kidney, and decreased from a high of 26% in mid-April to an average of 6% per week in October. All OPOs that recovered deceased donors reported COVID-19 donor testing results through the optional donor infectious disease fields in DonorNet or via free response donor text fields or attachments. At the time of this analysis, no donors with a known active COVID-19 infection were transplanted.
*Conclusions: As the COVID-19 pandemic continues to evolve, the OPTN Executive Committee has been committed to monitoring the usage and impact of these modifications and is weighing committee feedback and public comment responses in determining a path forward. There was broad support from the community during public comment to maintain these changes until the healthcare system is able to resume normal operations despite concerns regarding missing data from follow-up forms in amnesty status. There continues to be remarkable transplant community involvement in responding to the evolving challenges faced by the nation's healthcare system.
To cite this abstract in AMA style:
Wilk A, Taranto S, Jett C, Cartwright L. Summary of the OPTN's Policy and System Modifications in Response to the COVID-19 Pandemic [abstract].
Am J Transplant.
2021; 21 (suppl 3). https://atcmeetingabstracts.com/abstract/summary-of-the-optns-policy-and-system-modifications-in-response-to-the-covid-19-pandemic/. Accessed June 2, 2023.
« Back to 2021 American Transplant Congress