*Purpose: With the advent of anti-retroviral therapy in the treatment of HIV, mortality in HIV-infected individuals has become less due to complications from viral infection and more due to chronic issues such as organ failure and dysfunction. Organ transplantation has thus become a more popular therapeutic method to treat issues commonly seen in HIV+ patients. Although transplantations involving organs like livers and kidneys into HIV-infected individuals have become increasingly common over the past decade, pancreas transplantation into HIV+ recipients is rarely performed. This is despite the fact that type II diabetes and insulin resistance remain a large problem for this population.
*Methods: Using the UNOS database and SPSS, we examined the 31 incidences of pancreas transplantation that have occurred in HIV+ patients in the US. All of these transplantations were simultaneous pancreas-kidney (SPK) procedures, with the first occurring in 2009 and the most recently recorded occurring in 2017.
*Results: When compared to SPK transplantations in HIV-uninfected individuals over a similar timeframe, pancreas graft function was similar (80.6% for HIV+ vs 85.3% for HIV-) and pancreas graft survival was higher (583 days for HIV+ vs 533 days for HIV-) in the HIV+ recipients.
*Conclusions: These results suggest that, similar to outcomes seen in kidney and liver transplantations for their respective diagnoses, pancreas transplants might provide a viable therapeutic option for the treatment of diabetes and insulin resistance in HIV+ individuals. More research has to be done on the rates of patient survival of HIV+ SPK recipients, which we found to be much lower than their HIV-uninfected counterparts (647 days for HIV+ vs 1059 days for HIV-), but the successes in both graft function and graft survival provide an optimistic outlook on the role of SPK transplantation in the treatment of common complications seen in HIV+ individuals.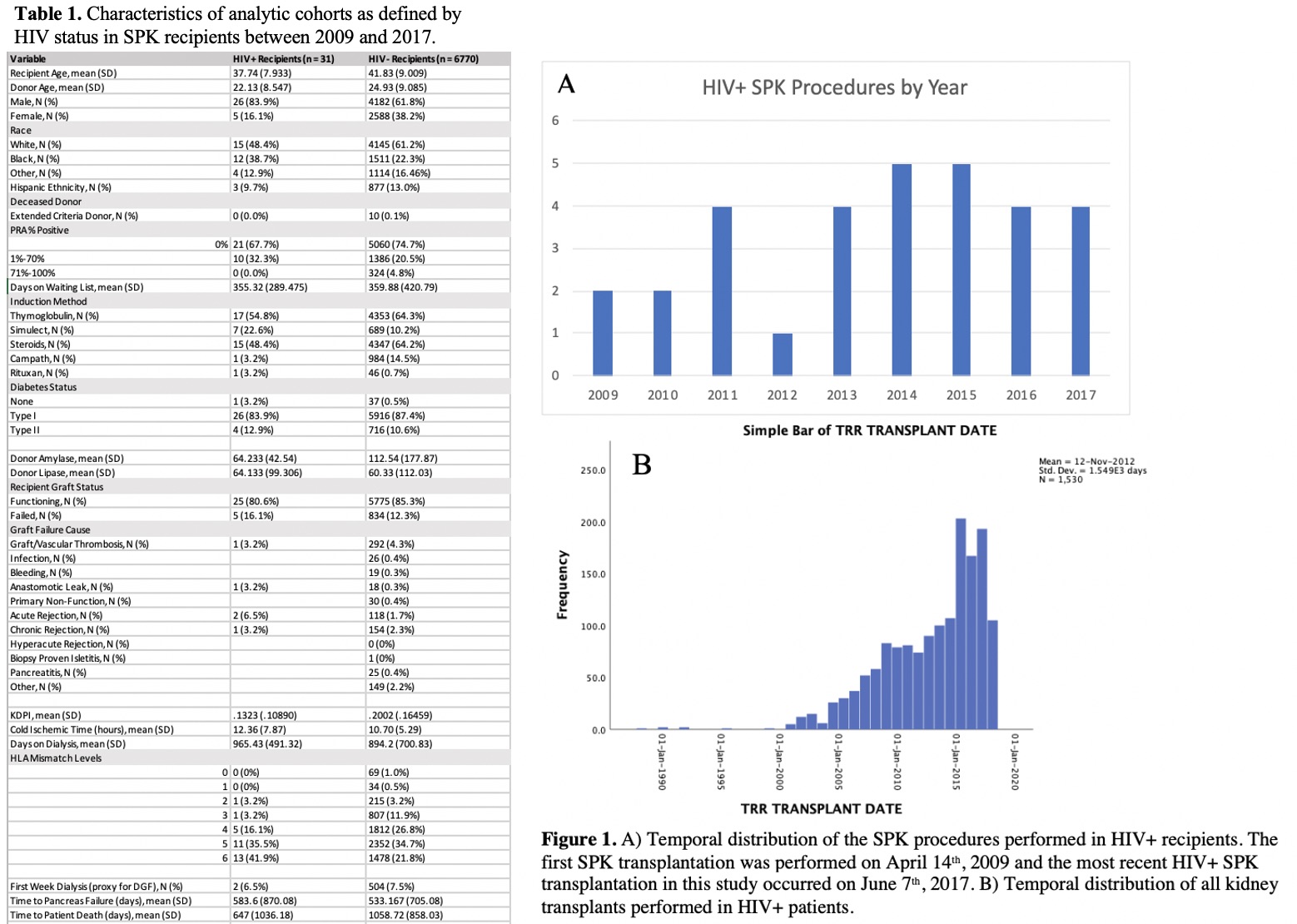 To cite this abstract in AMA style:
Resweber H, nguyen k, Curtis H, Panichella J, Carlo ADI, Karhadkar S. SPK Transplantation in HIV-positive Recipients [abstract].
Am J Transplant.
2021; 21 (suppl 3). https://atcmeetingabstracts.com/abstract/spk-transplantation-in-hiv-positive-recipients/. Accessed August 11, 2022.
« Back to 2021 American Transplant Congress