Session Information
Session Time: 3:15pm-4:00pm
Presentation Time: 3:30pm-4:00pm
Location: Virtual
*Purpose: Patients with Autosomal Dominant Polycystic Kidney (ADPKD) progressing to end-stage renal disease (ESRD) often are symptomatic due to cystic kidneys and require surgical intervention. Laparoscopic bilateral native nephrectomy (BNN) using a hand-assisted method at the time of kidney transplant (KT) for patients with symptomatic disease was implemented to prevent multiple surgeries. We analyzed our cohort of simultaneous BNN with KT to study early post-surgery outcomes and one-year allograft related outcomes.
*Methods: We retrospectively reviewed our cohort of simultaneous laparoscopic BNN with KT from January 2014 till October 2019. Patients who underwent unilateral NN (n=5), no NN (n=120) at the time of KT were excluded.
*Results: 178 adult patients with ADPKD underwent solitary KT. A total of 53 patients had hand-assisted laparoscopic BNN at the time of KT. The median age was 53.1 years, 56.6% were males, and the median BMI was 28.8 kg/m2. All but one received a kidney from a living donor, a majority (84.8%) was induced with Alemtuzumab, and 86.8% were pre-emptive. The median cold ischemia time was 1.9 hours (IQR: 0.9-3.7). 56.6% patients required high acuity care after surgery with the median length of stay (LOS) in the high acuity unit of 1 day. One patient required a short segment small bowel resection at the time of BNN due to intraoperative small bowel injury. There was no solid organ injury during the procedure. The median duration of urethral catheter and ureteric stent was 3 days. All patients showed immediate allograft function. 13 (24.5%) patients were readmitted during the first month; however, median LOS, including readmissions, was only 5 days. The most common indication of readmission was for delayed recovery of bowel function (n=3). 4 patients required another intervention in first month (2 laparotomies with adhesiolysis, 1 Spigelian hernia repair, and 1 perinephric drain placement). There were no graft losses in the first year and median creatinine at 1 year was 1.5 mg/dl (IQR: 1.3-1.7; Range: 0.8-2.5).
*Conclusions: Hand-assisted laparoscopic BNN is a treatment option for patients with symptomatic ADPKD undergoing KT. These patients may need higher acuity care for a short period. Overall, the procedure is safe without compromising graft viability.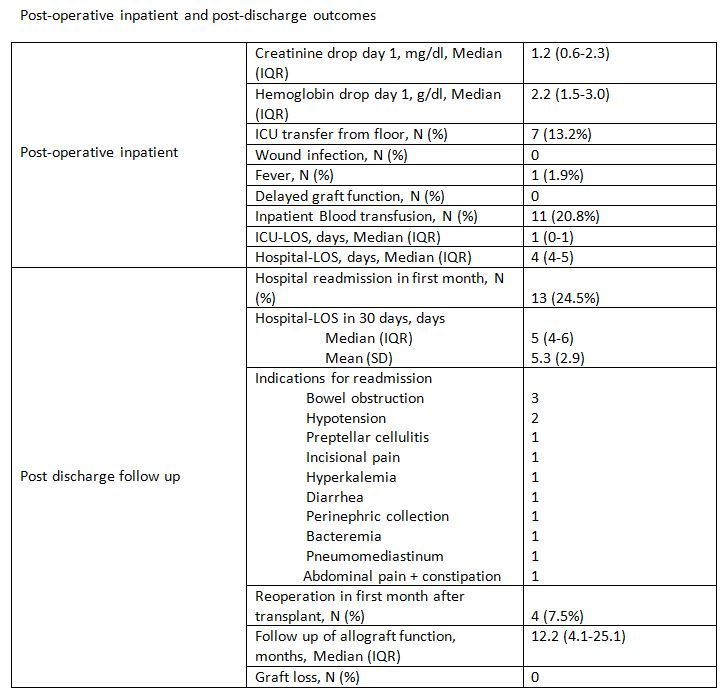 To cite this abstract in AMA style:
Abrol N, Bentall A, Torres V, Prieto M. Simultaneous Laparoscopic Bilateral Native Nephrectomy and Open Kidney Transplantation in Patients with ESRD Due to ADPKD: A Single Center Experience [abstract].
Am J Transplant.
2020; 20 (suppl 3). https://atcmeetingabstracts.com/abstract/simultaneous-laparoscopic-bilateral-native-nephrectomy-and-open-kidney-transplantation-in-patients-with-esrd-due-to-adpkd-a-single-center-experience/. Accessed January 19, 2022.
« Back to 2020 American Transplant Congress