Session Information
Session Time: 6:00pm-7:00pm
Presentation Time: 6:00pm-7:00pm
Location: Halls C&D
Purpose: Most techniques of Dual Transplantation are based on the sequential placement of each kidney. This requires more dissection, anesthesia time, and exposes the recipient to more complications. To avoid these drawbacks, a two-step technique is described.
Methods: First, using ex-vivo surgery, the arterial and venous patches carrying the left renal arteries and veins were used to cap the proximal donor aorta and vena cava, respectively.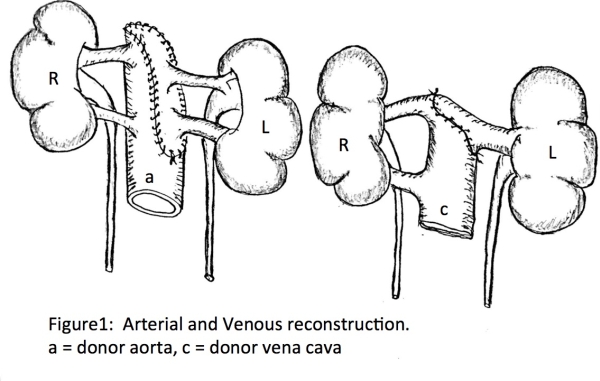 The reconstructed en-bloc kidneys were ready for transplantation via a right regular Gibson incision. The kidneys were inverted and the distal aorta and cava were anastomosed, end to side, respectively, to the external iliac artery and vein. Clamps were removed and both kidneys revascularized simultaneously. The medial kidney was then flipped over and stacked on top of the lateral kidney. The ureters were connected to the bladder through a common tunnel.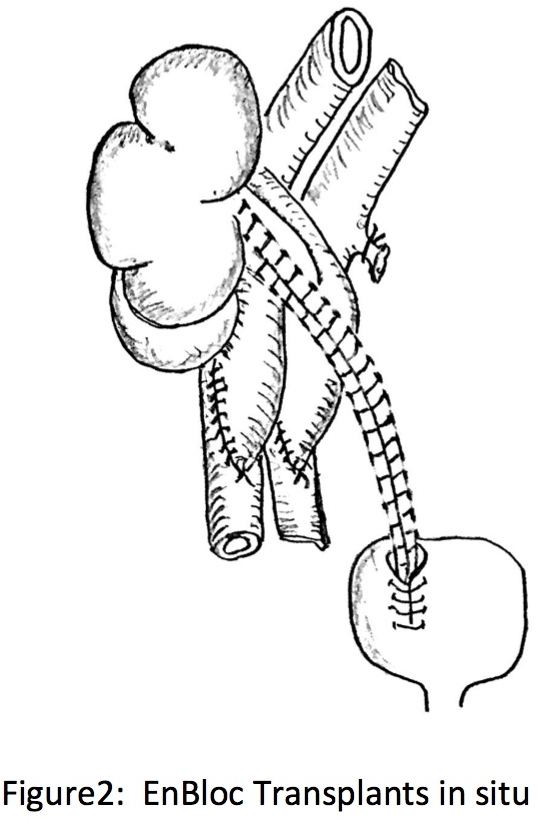 This procedure was performed in three patients. In two other cases, the kidneys had been recovered en bloc with the cephalad aorta and vena cava stapled, thus only step two was required expediting the surgical procedure.
Results: All bench reconstructions were performed while the patients were prepared by the anesthesia team. Because of the double ureter implantation, the operating time was slightly longer than the single kidney transplant procedure. At 1-year follow-up renal function was normal in all recipients.
Conclusions: This technique converts two complex vascular organs into one single vascular-conduit graft and requires only two vascular anastomoses. It allows the simultaneous revascularization of both kidneys. It halves the operating time of the dual transplant procedures described to date. I t is particularly suitable for kidneys with multiple arteries. Dual kidneys should be procured en-bloc and transplanted en-bloc.
CITATION INFORMATION: Nghiem D. Simultaneous En-Bloc Dual Transplantation: A New Approach. Am J Transplant. 2016;16 (suppl 3).
To cite this abstract in AMA style:
Nghiem D. Simultaneous En-Bloc Dual Transplantation: A New Approach. [abstract].
Am J Transplant.
2016; 16 (suppl 3). https://atcmeetingabstracts.com/abstract/simultaneous-en-bloc-dual-transplantation-a-new-approach/. Accessed March 4, 2021.
« Back to 2016 American Transplant Congress