Session Information
Session Time: 3:15pm-4:00pm
Presentation Time: 3:30pm-4:00pm
Location: Virtual
*Purpose: Past and present substance use is an important part of the psychosocial evaluation of potential living kidney donors. Increasing state legalizations and social acceptance of marijuana (MJ) use can create challenges for transplant centers. We investigated the frequency of reporting of MJ use on an electronic intake form as well as in-person interview, and the effect of MJ use on the donor evaluation.
*Methods: Retrospective chart reviews were performed on all donors from Jan 2017 to May 2019 for reports of MJ use both at electronic intake and in person interview with a licensed social worker (SW). Active MJ use was defined as current or use within a year of evaluation. We examined variables associated with MJ use along with its association with additional consults and testing during the donor evaluation. Finally, we examined overall approval and donation rates for living donors with active MJ use compared to nonusers.
*Results: 1,596 donor intakes were completed online and of those, 229 patients completed a face to face SW evaluation. Active MJ use was self reported in 25 of the 229 patients during the SW evaluation, with 15 (60%) reporting use online. Active MJ users were more likely to be male, biologically related, and had a trend for younger age and lower BMI (TABLE). Toxicology screens were requested by SW in 20% of MJ users vs. 1% of nonusers (p<0.001). In addition, 64% of MJ users were referred for a psychiatric evaluation (primarily for substance use) compared to 20% of nonusers (p<0.001). There was no difference in the time of evaluation between donors with MJ use vs. nonusers, but only 44% of active MJ users were approved for donation compared to 67% of nonusers (p=0.027). Psychosocial factors contributed to a lack of approval in 36% of MJ users vs. 6% of nonusers (p<0.001). Ultimately, donation occurred in 28% of MJ users vs. 49% of nonusers (p=0.050).
*Conclusions: We found a high rate of drug testing and psychiatric referral in donor candidates who admitted to MJ use. MJ use appeared to be a barrier to approval and ultimate living donation, despite favorable donor demographics. Further research is needed to assess the effects of MJ use on living donor candidacy, as well as any effects of MJ on long term donor outcomes.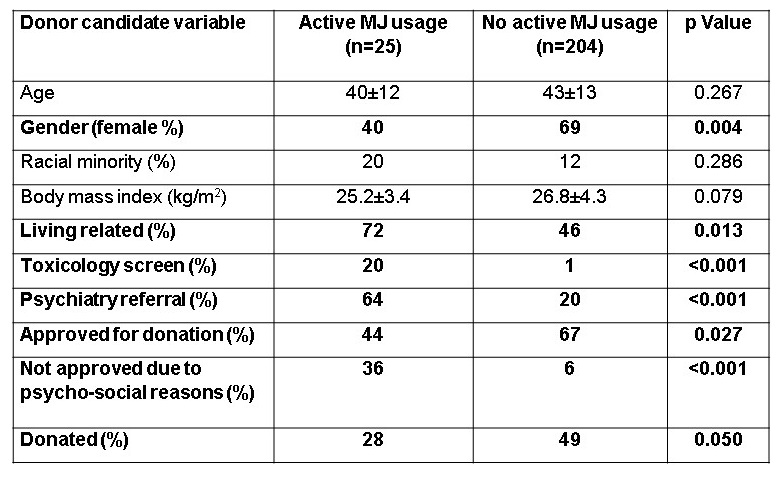 To cite this abstract in AMA style:
Delvalle C, Fatica R, Augustine J. Self-Reported Marijuana Use and its Effects on Overall Approval in Potential Living Kidney Donors [abstract].
Am J Transplant.
2020; 20 (suppl 3). https://atcmeetingabstracts.com/abstract/self-reported-marijuana-use-and-its-effects-on-overall-approval-in-potential-living-kidney-donors/. Accessed March 4, 2021.
« Back to 2020 American Transplant Congress