Role of Soluble FGL2 in Renal Ischemia Reperfusion Injury in a Porcine Auto-Transplantation Model
Urology, Zhongshan Hospital, Fudan University, Shanghai, China
Shanghai Key Laboratory of Organ Transplantation, Shanghai, China
Affiliated Hospital of Nantong University, Nantong, China
Meeting: 2013 American Transplant Congress
Abstract number: D1570
Background: Regulatory T cells (Treg) protect kidney against ischemia reperfusion (IR) injury via suppressing the innate immunity, while the mechanism has not been clarified. Soluble fibrinogen-like protein 2 (sFGL2), a novel effector of Treg, is up-regulated and displays immunosuppressive function in kidney injuries. This study investigated the dynamic change and role of sFGL2 in a porcine auto-transplantation model.
Materials and Methods: The left kidney was retrieved from mini pigs (n=15) and infused by University of Wisconsin solution into the renal artery with the renal artery and vein clamped for 24-h cold storage (CS). After the right nephrectomy, the left kidney was auto-transplanted into the right for 2 weeks. Blood samples were taken daily, and 3 pigs were sacrificed for sample collection at day 2, 5, 7, 10 and 14 posttransplantation respectively. All animal work was performed under the regulation layout by Chinese animal welfare authority.
Results: Serum creatinine and blood urea nitrogen sharply increased at day 1, peaked at day 3, gradually decreased from day 5, and closed to normal level at day 14. Pro-inflammatory cytokines, caspase 3, apoptotic cells and myeloperoxidase+ cells in the kidney showed the same trend, indicating that renal IR injury was maximized during day 3 to 5 and followed by gradual recovery. Serum sFGL2 presented a fluctuating increase and reached the peak at day 10, while FGL2 mRNA in the peripheral white blood cells kept raising from day 1 to 10 and sharply decreased after day 11. sFGL2 and its receptor FcΓRIIB were notably higher at day 5 and 7 in the kidney. The high expression of sFGL2 associated with FcΓRIIB during renal recovery revealed that sFGL2 may exert protective effects and contribute to kidney recovery.
Conclusion: Both local and peripheral change trend of sFGL2 was closely related to the recovery of renal injury throughout the 2-week auto-transplantation in porcine. This study suggested that sFGL2 might be a potential mediator of renoprotection.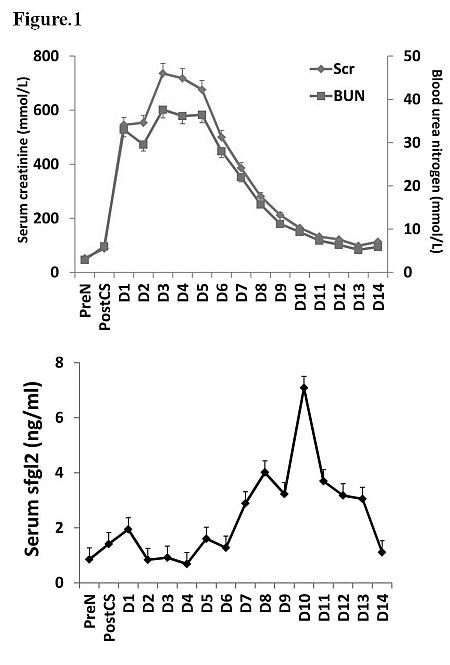 To cite this abstract in AMA style:
Zhao Z, Yang C, Li L, Zhao T, Rong R, Xu M, Yang B, Zhu T. Role of Soluble FGL2 in Renal Ischemia Reperfusion Injury in a Porcine Auto-Transplantation Model [abstract].
Am J Transplant.
2013; 13 (suppl 5). https://atcmeetingabstracts.com/abstract/role-of-soluble-fgl2-in-renal-ischemia-reperfusion-injury-in-a-porcine-auto-transplantation-model/. Accessed December 6, 2023.
« Back to 2013 American Transplant Congress